A look at the movement of arms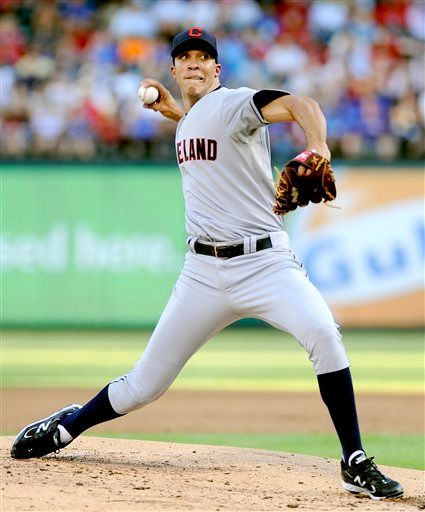 Ubaldo Jimenez (Photo: AP)
In the past year we have seen a rash of pitchers with major upside traded with multiple years left of team control. This is either a changing of views or an anomaly. Since Zack Greinke was traded last offseason there have been five such pitchers of note traded. This could go up to six if you include Shawn Marcum, who I am leaving out because he does not have the number one potential the other pitchers have that have recently been dealt.
The Indians were involved in one such deal so it seemed like a good chance to compare these players, the players each team received, and the haul of talent the Indians and others traded away. I will profile each trade in order of when they occurred and then compare the pieces. The goal is to see if the Indians made the right move or if maybe they overpaid and should have waited before acquiring a high upside arm.

The first of these deals was on December 20, 2010 when the Royals traded Zach Greinke, Yuniesky Betancourt, and cash for Jake Ordorizzi, Lorenzo Cain, Alcides Escobar, and Jeremy Jeffress. This trade started one noticeable trend in that almost every one of these pitchers was coming off a bit of a down year. Some argued that Betancourt was basically a salary dump for the Royals, but I think he might have had some value. He started all year at shortstop for the Brewers, and was resigned by the Royals this offseason.

In terms of the prospects that were traded I would put Ordorizzi's value in line with Alex White's at that time. He is a solid right handed pitcher who is in the 40-60 range of the best prospects in baseball. Lorenzo Cain was coming off a year where he got a look in the majors and was solid. He is projected to take over for the recently traded Melky Cabrera, had an excellent year at AAA, and his value has risen even more. Jeffress is the most talented player in this trade, but if he is caught with drugs one more time and he will have a lifetime ban from baseball. Because of suspensions and injuries Jeffress is viewed as a reliever, but the talent he has could only be matched in the Indians system by Jason Knapp. He was a lottery pick type of talent for the Royals.

The major piece of these deals though was Alcides Escobar. He was a ready to go shortstop that should be a Gold Glove candidate every season. The Royals had stated they wanted a middle infielder when they moved Greinke, and while Escobar has not shown much with his bat his defense should keep him in the majors for awhile.

So should the Indians have attempted to trade for Greinke, well outside of the fact that the Royals would never have traded him within the division? I think it is easy to argue that in retrospect the Brewers paid more than the Tribe. Escobar has not looked like more than a good defender with little offensive upside, but he is a Major Leaguer. Ordorizzi for White is a bit of a wash; yes White had a rougher year but he has made the majors while Ordorizzi has yet to hit AAA. Jeffress also made it to the majors and at worst should be a pen arm with explosive potential. Cain had a huge year at AAA, and could end up being the best player in this deal. So in a year three of the pieces will have made the majors and the fourth is still a valuable piece. While the Indians might have given up a bigger singular value piece in Drew Pomeranz, getting four Majors Leaguers over two has to be considered a better overall package.

The next pitcher to be traded was the Indians deal for Jimenez on July 20, 2011, but this has been talked about to no end, so instead the focus will be on the next deal to occur, which was the deal for Trevor Cahill on December 10, 2011. In this deal the A's traded Cahill and Craig Breslow to the Diamondbacks for Ryan Cook, Collin Cowgill, and Jarrod Parker.

Two years ago Cahill was an All Star and in spite of a bad year he still had an ERA in the low 4's. There is a concern because he had some wicked home and away splits, but is extremely common for an Oakland pitcher because of how much of a pitchers park it is. Breslow should be mentioned as the Diamondbacks insisted on him being included. A solid left handed reliever has value, and frankly it is hard for many teams to find, that's why someone like Darren Oliver has found a place in this league in spite of his advanced age.

So Arizona got two pieces to help them and the price they paid struck me as a bit light. The centerpiece is of course Parker who is a major prospect. He is comparable to Pomeranz - though Pomeranz is a better prospect - and they managed to get one of the top 20 prospects in baseball. The bigger issue to me is the secondary prospects in this deal. Cowgill to me is not much different from Aaron Cunningham or Thomas Neal. He is a better defender who can play all over but is just a right-handed fourth outfielder. The most interesting aspect to me about Cowgill is the year before he signed with the Diamondbacks he was drafted by Oakland, so they obviously liked him for awhile. Cook was a dominant reliever in the minors, but is not that highly thought of overall and does not have dominating stuff. So Oakland gave up a young starter with some warts (down year, bad splits, and a low K-rate) and a solid reliever and got back three guys who will play for them this year but only one player who has any type of significant upside.

So would the Indians have been better off with this type of deal? To me the answer is very much yes. The reason is Parker is a very good prospect but because of his red flags (major injury) to me at least he is a step below Pomeranz, who also gets a bonus for being a power lefty which is extremely hard to find. The secondary pieces are not much and something the Indians could have easily matched. The other major bonus is Cahill is under contract for SIX more years. The Indians seem loath to lock anyone up for that many years, but two of them are very reasonable team options. The contract is extremely team friendly and he would have cost a lot less to acquire, so this is one deal I wish the Indians had been able to consider.

In rapid succession the next deal to occur was on December 17, 2011 when the Padres traded Mat Latos to the Reds for Bruce Boxberger, Yasmin Grandal, Yondor Alonso, and Edinson Volquez. Latos had a year that was a little worse than the year before but he still had a sub 3.50 ERA.

The deal for Latos is interesting because in spite of a slight decline he still had a good year. He just went from Cy Young candidate to a good pitcher, and it was also the only deal where the buyer traded off an established Major Leaguer. The Reds to me paid the highest price of any team in these deals. Yasmin Grandal has some questions if he can stick at catcher, but his bat has produced in the minors, and catchers who can hit - even ones with question marks - are extremely valuable. Grandal should see time in the majors next year.

Alonso has been stuck behind Joey Votto for so long that a lot of people have forgotten just how good a prospect he has been. He is suffering from prospect fatigue in spite of the fact he has done nothing wrong. The Padres were smart to get top talent no matter the position, and they liked Alonso so much it allowed them to flip Anthony Rizzo to the Cubs and back to the man who acquired him in the first place for even more prospects. Alonso looked very good in the majors last year and will be given the first base job to start the year.

Boxberger strikes me as better version of Indians right-handed relief prospect Zach Putnam with good stuff and is ready to go. He might be the heir apparent to the closer position. I find Volquez an interesting piece as I heard some say he is in for a salary drop since he made $1.6M last year and was a candidate to be DFAed. Yet it is a very interesting gamble if you are the Padres, you get a guy with good stuff who might rebound in the best pitchers park in the league. If this does happen then you have another trade asset, and if not you have a vet to put in the rotation for a year.

Should the Indians have waited and been on Latos? This is a hard one for me to say yes. The reason is the Padres get four guys who will play for them next year, and overall the package is better than what the Indians gave up for Jimenez. No piece is as good as Pomeranz, but I would argue Alonso and Grandal are better than White. The other issue with Latos is his splits as he goes from excellent to good based on playing at home or on the road, and in addition if you add in switching leagues he would have become a major candidate for a rough year. He is not signed long term and in another year he will get very pricey in arbitration. That said, it is hard to argue against your team acquiring a pitcher who has been this good thus far, just realize that White and Pomeranz would not have been enough to get it done.

The last pitcher traded was Gio Gonzales on December 23, 2011, a pitcher who has been so well thought of that this is the fourth time he has been traded in his young career. Unlike the other pitchers mentioned here he is actually coming off the best year of his career. He was a first time All Star and had excellent numbers. In exchange for him and Robert Gilliam (a 23 year old starter who got rocked in high A) the Nationals gave up AJ Cole, Brad Peacock, Derek Norris, and Tom Milone.

The players in this deal could end up rivaling what was given up by the Reds. I will skip over Gilliam, as he doesn't seem like a potential big leaguer, but AJ Cole was thought to be one of the best high school arms in his draft year, a first rounder who fell because of money demands. It should be noted that he is the anti-Moneyball player: pricey and far away. Yet he is extremely well thought of and posted solid numbers his first year in the minors. He will be a top 100 candidate and is another solid arm in the A's system.

Derek Norris shows that catchers who can get on base with power will always have value. He has never hit well in the minors, but thanks to walks and power he is still an interesting prospect. He has dropped a bit in people's eyes after hitting only .210 last year and his walk rate dropped as well. Yet the chance for a power hitting catcher is something that no team will pass on. If Nick Weglraz had never gotten hurt, I think he would be the player from the Indians who is the most comparable to Norris.

Tom Milone has made the Major Leagues and pitched well. He has pitched extremely well in the minors, and is really not that well thought of because he has such low velocity. He could be a Tomlin like pitcher or he could be a total bust, only time will tell, but reports say Oakland loved him and insisted on him being included in the deal. Milone is the perfect moneyball guy as someone who fails the eye test but passes the stat test.

The last piece and the one I found the most intriguing was that of Brad Peacock. He was untouchable in his short time in the Major Leagues and really seemed to have everything click this year in the minors as well. Between AA, AAA and the majors he posted a sub 1.00 WHIP. He might not be more than a mid-rotation arm, but he will be able to step right into Gonzales' place in the rotation and possibly put up numbers extremely close to what Gonzales put up. So to sum it up they got two guys that could make the team out of spring training, a power hitting catcher that should get another year in AA, and a high upside arm in the lower levels.

Should the Indians have tried to get in on this bidding? I say no way. The reason is simple as the cost to acquire him was very high as the Indians would have had to trade someone to fill his rotation spot, a power bat at a rare position, and a high upside arm. Plus Gonzales has most of the same issues as Cahill, yet his asking price was at least twice as much and he is much closer to free agency.

So there we go. There have been a lot of high profile deals with a lot of front of the rotation arms changing places in the past year. In the end looking at these deals I can't help but feel like the Indians might have overpaid by buying when they did and bid against themselves. They might have been better off waiting and seeing what their prospects could have gotten them this offseason.

That said, while the Indians gave up the most valuable piece of any deal in these trades when they dealt Pomeranz, they did come out a bit lucky to only give up two real pieces as many teams had to give up three or four legit prospects in the pursuit of a young arm. The really interesting thing is that in each case except one, I think every team gave up more than the Indians got when they traded C.C. Sabathia and Cliff Lee, which leads me to also believe we are seeing a significant changing of the landscape with veteran for prospect trades where teams are once again willing to deal top talent for proven Major League talent.
Follow Jeff on Twitter @jeffmlbdraft, or email him at jellis121@yahoo.com
User Comments
No comments currently. Be the first to comment!