A Major League Sequel to the 1990s?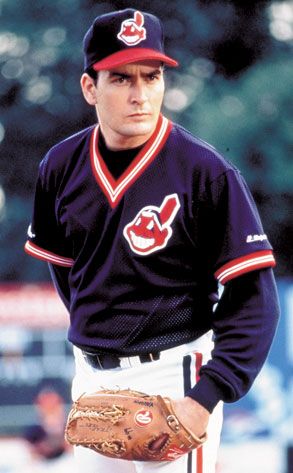 (Photo: Paramount Pictures)
The Cleveland Indians are the talk of the national media.

It seems the buzz is there and a comeback is at hand.

Our lovable losers are about to shed the failures of the past several years and return to prominence.
OK, so the buzz is actually about
another sequel to the 1989 movie Major League
.

But considering the turnaround the real Indians experienced just a few short years after the original film debuted, isn't it kind of fun to dream?
And really, who is to say life doesn't imitate art? Chris Perez certainly thinks so, recently tweeting, "It's like a cast reunion on here…where's Jake, Cerrano?"
Well, according to reports, the sequel would find Pedro Cerrano (Dennis Haysbert) in camp as a coach for the imitation Indians.

He'll be joined on the coaching staff by Willie "Mays" Hayes (Wesley Snipes).

Even
Ricky "Wild Thing" Vaughn (Charlie Sheen)
would be back to serve as a mentor to a young pitching staff.
It's kind of like the situation the Tribe currently employs, with Sandy Alomar Jr. and Kenny Lofton serving as a coach and special instructor.

What better way to connect with a glorious past than by bringing yesterday's heroes to work with today's young players?
But where do the similarities end?

Are these Indian coaches similar enough to Jake Taylor or Cerrano to satisfy Perez?

And would they really want someone like Cerrano teaching their young players the fine art of hitting a Major League curve ball?
So, maybe they should avoid Cerrano.
But Alomar and Jake Taylor (Tom Berenger) do have a striking resemblance to each other as players.

Both men were the heart and soul of their respective teams.

The fictional '89 team would have fallen apart without Taylor's leadership and that magical '97 World Series run would have been impossible without Alomar's contributions. Their ability to impart wisdom upon a new generation should not be in doubt.
Likewise Hayes and Lofton would cancel each other out. Both men were demons on the base path and fine center fielders; truly a case of art and life imitating each other. They undoubtedly would have an abundance of tips for running the bases and playing some defense.
But would any team really want Vaughn as a mentor?
Sheen's recent outbursts
have led to claims that he is an anti-Semite. His personality is probably most akin to former Tribe reliever John Rocker who famously went on a hate-filled rant about foreigners when he was a member of the Atlanta Braves.
But in the new screenplay, Vaughn is said to have been out of baseball since giving up a walk-off home run in the seventh game of the World Series.

So…should the Indians consider bringing in Jose Mesa as a mentor?
Maybe it's best not to think too deeply about this.

But if this new film can inspire another run of greatness from the real-life Tribe, then fans, coaches, and players of all incarnations of the Indians should be very happy.
User Comments
No comments currently. Be the first to comment!