A way too early look at the 2011 Draft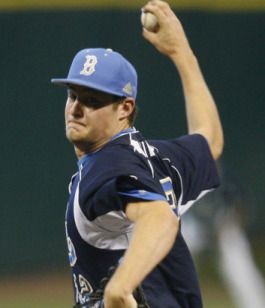 UCLA right-hander Gerritt Cole
(Photo: AP)
This is what I call the way too early draft predictions.
I love all things draft in all sports. It's a Cleveland sports thing for me. When you are as bad as we have been here the hope that a draft brings is exciting. Even still people are getting excited and wondering about who the Indians might take this year in the draft.
The reason that this is a way too early predication, is that the college baseball season is about half over so a lot can change yet. At this point last year Anthony Ranaudo was still being talked about as a top 5 pick, but he ended up in Round 2 in spite of his talent because of a less than stellar year. Since it is still early this will only be about the top ten picks as I am not prepared enough to do a full draft yet. So enjoy as this is sure to change as the draft gets closer.
1. Pittsburgh - Gerritt Cole, SP, UCLA
This is the one that got away from the Yankees as Cole has been amazing all year. The Yankees drafted Gerrit Cole one pick before the Indians took Chisenhall in 2008. Remember this time last year there were more than a few GM's who said they would have taken Rendon over Harper, and Cole is so good he has now passed Rendon. I know Pittsburgh took a pair of high priced arms last year, but you never draft for need in baseball. Cole is just too good and he is an ace who should be in the majors very quickly. He is a step down from Strasburg, but only one step.
2. Seattle - Anthony Rendon, 3B, Rice
This guy can not only hit, but should win a few gold gloves at third base. If you see him play I think he would remind most people of Evan Longoria. He has a skill set that is just that good. He has struggled coming back from injury, and that has made a few people worried. Even still talent is talent, and Rendon is very good. Seattle has never shied from paying talent, so I think Rendon will be the pick.
3. Arizona - Danny Hultzen, SP, Virginia
Arizona the past few years has passed on talent for the sake of signability. Hultzen has been maybe the best pitcher in the college baseball this year. He has been dominating, but he doesn't really have what many would view as ace stuff. In a class this deep, Hultzen should not be a top 3 pick, but I think Arizona will take the signable lefty.
4. Baltimore - Dylan Bundy, SP, Owasso HS
Bundy is a name to watch. This class has a lot of great prep arms, and the best one is Bundy. He compares well to the previous top arms like Tallion and Matzek. Baltimore, except for 2009, has shown little problem paying for top talent. Bundy has been picking up speed and looks like a top 5 lock. He has dominated all year, and just has an easy approach that scouts love to see in a power arm.
5. Kansas City - Bubba Starling, OF, Gardner-Edgerton
The top prep talent in the entire draft. He could be a pitcher or an outfielder, but most seem him as an outfielder. The problem is you have to buy him out of a football scholarship, and Starling won't come cheap. Kansas City has paid for players like Hosmer, Crow, and others. Starling would make Kansas City's farm system even better, which is a lot to say when you consider they have more blue chip prospects than any team in baseball. He might just be the top overall talent in the draft.
6. Washington - Jed Bradley, SP, Georgia Tech
Here is a lefty who has hit 97 MPH at points this year. He is a true power lefty who has looked very good this year. He already has two average secondary pitches along with an above average fastball. He has had some mechanics issues, but the talent is undeniable. If you asked me this is where Pomeranz would go if he was in this draft. I know many people last year said we should punt the pick to get two high picks this year. I think we are see signing Pomeranz was the right move.
7. Arizona - Taylor Jungman, SP, Texas
Arizona got this pick since they failed to sign their first rounder last year, which means if they don't sign this pick they lose it. With two picks in the top 10, I expect them to go for two guys who are seen as more signable, although they might grab a player like Starling with the higher pick and just take the risk that they can sign him. I think they take a pair of signable arms who can move quickly. Jungman is the only college pitcher who might be pitching better than Hultzen. He doesn't have dominant stuff, and there is the worry about his work load this year, but he is a top 15 talent who has performed all year. Zona gets another arm that can move quickly and should pitch in the majors for them.
8. Cleveland - Francisco Lindor, SS, Monverde Academy
There are a lot of ways the Indians could go, but I am betting they will pay the money to sign Lindor. Lindor reminds me of a better version of Wolters. He is an excellent defender and switch-hiter who will definately stay at shortstop. He is smaller, so there are the same questions that there are when it comes to Wolters, but Lindor shows an excellent eye at the plate. He has also shown good power, but he doesn't project as a power guy. He is the top shortstop in this class, and seems a top ten lock in spite of his small stature.
9. Chicago Cubs - Sonny Gray, SP, Vanderbilt
Gray should be a top ten pick, but there are size concerns. I know many teams worry that with his size and the type of pitcher he is that he is headed to the pen. Chicago has shown in the past to have no concern about drafting smaller pitchers if they believe that player is the best player on their board. If Gray had four more inches he would be the third player in this draft. Gray has also struggled with command and might end up falling in this draft if he does not start to pitch better.
10. San Diego - Blake Swihart, C, Cleveland HS
Swihart is a player from New Mexico who has played all over this year. This pick was the hardest because San Diego has been both cheap and spenders in the draft. When they did spend it was on athletic bats, and last year they drafted a player with power potential. Swihart is both an excellent athlete who shows great power potential. He profiles at a hard to fill position, and has the talent to go in the top ten for sure.
So there is my initial top ten mock draft. I imagine this will change as we get closer to the draft, and we might get a good laugh at how I went 0-for-10 with the picks. Even still, I hope if nothing else this helps fans get to see a few names that might be on the Indians radar for their top selection. The fun of the draft is always the hope that we might find another Belle, Rameriz, or Sabathia. So keep checking back, and I will periodically have a new article up profiling players for the draft.
User Comments
No comments currently. Be the first to comment!