AFL Spotlight: 2011 Arizona Fall League Preview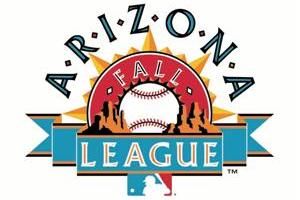 The "AFL Spotlight" is a weekly feature piece on a player from the Cleveland Indians farm system that is participating in the Arizona Fall League (AFL) this fall and will post every Tuesday from now until the end of the AFL season. Please note that the "Instructs Spotlight" will post on Wednesday this week and next week for the last two weeks of Instructional League.

The 20th season of the Arizona Fall League (AFL) gets underway today. This means that top prospects and potential near future Major League players from every organization will get a chance to hone their skills against some of the top competition in the minors. Most importantly, it gives every player a chance to show off their abilities to tons of baseball executives and scouts from every organization over a seven week period of games.

The AFL originally started back in 1992 as an alternative to some of the offseason leagues in the Caribbean. MLB teams created the AFL to provide a more easily accessible offseason league so teams could better monitor their minor league players and give the players an option to continue playing baseball stateside in the offseason.

By having a league that is governed and monitored by MLB it helps ensure players are used appropriately and that any injuries to players are handled correctly. MLB teams provide all of the managers, coaches and training staff in order to help ensure players get the best care and instruction. The creation of the AFL also helped reduce costs for teams with regard to travel for offseason leagues and provide better scouting opportunities.

The AFL is not just for the players as it is also a great development opportunity for coaches and managers with big league aspirations, and it allowed umpires in the Umpire Development Program to get more experience as well. But in the end it is still almost all about the players.

Five MLB organizations make up each of the six AFL teams, and each MLB team sends seven players to their AFL team for a total of 35 players per team. The Indians are partnered up with the Reds, Athletics, Yankees, and Blue Jays to make up the Phoenix Desert Dogs roster. While each team has 35 players, only 30 players are active. The other five players are deemed "taxi-squad" players, which are players that are only eligible to play on Wednesdays and Saturdays.

As to who is selected to go, Major League teams hold a position draft in August to determine who goes and who the priority players will be at each position on each team. Most of the players that are sent are considered near Major League ready options or players that a team wants to see play in a more competitive environment.

There are some specific rules that apply in regard to who a team can send to the AFL, though at times there are exceptions made to these rules. The rules are as follows:
All Triple-A and Double-A players are eligible, provided the players are on at least a Double-A level roster no later than August 1st.
Only one player below the Double-A level is allowed per Major League team.
One foreign player is allowed as long as the player does not reside in a country that participates in winter ball, as part of the Caribbean Confederation or the Australian winter league.
No players with more than one year of credited Major League service as of August 31st are eligible; except a team may select one player picked in the most recently concluded Major League Rule 5 Draft.
To be eligible, players on Minor League disabled lists must be activated at least 45 days before the conclusion of their respective seasons.
The seven players that the Indians are sending to the AFL this year are catcher Roberto Perez, outfielder Chad Huffman, first baseman Jesus Aguilar, first baseman Chad Huffman, outfielder Tim Fedroff, right-handed pitcher Tyler Sturdevant, left-handed pitcher T.J. McFarland, right-handed pitcher Cory Burns, and right-handed pitcher Preston Guilmet. There are eight players actually listed there, but this is because Aguilar will play first base the first few weeks before being replaced on the roster by Huffman near the end of October.

The Indians were initially supposed to send left-handed pitcher Matt Packer and right-handed pitcher Austin Adams to the AFL, but they decided not to send them for workload reasons. They also feel both had very good seasons so want them both to just concentrate on their offseason workouts instead of pitching more innings this year.

Here is a quick capsule on each of the eight players the Indians are set to send to the AFL. Please note none of these players will be on the taxi-squad and that additional players may be sent over the course of the AFL season due to injuries, etc.

Jesus Aguilar (First Baseman): Aguilar, 21, had one of the best seasons of any player in the Indians minor league system this year. In 126 combined games at Low-A Lake County and High-A Kinston he hit .284 with 23 HR, 82 RBI, and .865 OPS. He moved up to Kinston for the last month-plus of the season and held his own there, and really shined in the playoffs with four homers in eight games. He along with Guilmet and Perez makes three players below Double-A that are being sent to the AFL, something not usually allowed. He is only expected to play in the AFL for a few weeks before being replaced on the roster later this month by Huffman.

Cory Burns (Right-handed Pitcher): Burns, who turns 24 years old this weekend, had a record breaking year at Double-A Akron where in 54 games he went 2-5 with a 2.11 ERA and had 35 saves (59.2 IP, 47 H, 3 HR, 15 BB, 70 K). The saves were the most for a player in Akron history, and he now has 88 saves in his three year minor league career covering 130 appearances. He has a funky Hideo Nomo-like delivery that creates a lot of deception and it has given hitters fits at all levels, so the AFL will be an opportunity to see if the delivery can continue to deceive some of the best hitters in the minors. He is a guy whose prospect value continues to rise each year even without a dominating pitch in his arsenal, and if he has a good showing in the AFL it should only help him.

Tim Fedroff (Outfielder): Fedroff, 24, had a nice bounce back season this year where in 132 combined games between Double-A Akron and Triple-A Columbus he hit .308 with 3 HR, 63 RBI and .793 OPS. This is actually his second go-round in the AFL as he played there in 2009 albeit minimally as he appeared in just 10 games and had 36 at bats (.111 AVG, 0 HR, 2 RBI, .286 OPS). He is a solid defender and has some versatility, but to separate himself and be an everyday big league option he will need to continue to hit. He is up for roster protection this offseason and he appears to be on the fence as a player to be added to the roster, so his performance in the AFL could go a long way in helping make that roster decision on him.

Preston Guilmet (Right-handed Pitcher): Guilmet, 24, was the Relief Pitcher of the Year in the Carolina League and in 52 games for High-A Kinston went 1-1 with a 2.16 ERA and 35 saves (58.1 IP, 43 H, 4 HR, 11 BB, 60 K). His numbers this year are taken with a grain of salt because he was old for a prospect in High-A, but because right-handed Cory Burns and other relievers were at Double-A Akron it limited his chance for a callup. The AFL will provide a great opportunity for him to showcase his unorthodox straight over the top delivery against some much better competition, and a good showing could help boost his standing as a prospect.

Chad Huffman (First Baseman): Huffman, 26, is a bit old for a prospect in the AFL but the Indians still control him for at least for one more season. He has had a good six year minor league career, but he had a disappointing season at Triple-A Columbus this year where in 124 games he hit .246 with 13 HR, 58 RBI, and a .766 OPS. He has mostly been an outfielder in his career though played 16 games at first base this year and has played 50 total games at the position in his six year career. Given his age he has few development opportunities left, but the Indians plan to have him play first base in the AFL which is a sign that they want him to play there next season or make it more of an option in his skill set. He will not join the roster until later this month when he replaces Aguilar on the team.

T.J. McFarland (Left-handed Pitcher): McFarland, 22, had a nice first season at Double-A Akron this year. In 27 starts (including two at High-A Kinston) he went 9-10 with a 3.74 ERA (149.1 IP, 149 H, 11 HR, 51 BB, 115 K). He already logged a lot of innings this year so will only pitch out of the bullpen and log between 10-15 innings this fall. It is an opportunity to see him in a more competitive environment, especially considering he is up for roster protection this offseason. The Indians love his sinker and his continued development, so the hope is that while out in the AFL he can continue to hone in on his fastball command and develop his secondary offerings.

Roberto Perez (Catcher): Perez, 22, is making his second straight appearance in the AFL this year. Players do not often play a second season in the AFL, but last year he was limited to just 11 games of action and 44 at bats (.159 AVG, 0 HR, 5 RBI, .418 OPS). Hopefully this time he gets to play more and can improve upon his performance from last year. His play in the AFL could help decide his roster fate this offseason as he is up for roster protection from the Rule 5 Draft. He is considered a Major League ready backstop with his throwing and receiving abilities, but has a ways to go still offensively. In 94 games at High-A Kinston this season he hit .225 with 2 HR, 30 RBI, and a .675 OPS.

Tyler Sturdevant (Right-handed Pitcher): Sturdevant, 25, had another very good season this year across three levels of the Indians minor league system. In 42 combined appearances between High-A Kinston, Double-A Akron and Triple-A Columbus he went 7-3 with a 2.65 ERA (74.2 IP, 67 H, 5 HR, 19 BB, 82 K). He is old for a prospect, but mostly because he missed some time in college for Tommy John surgery and was signed as a senior in 2009. The Indians are very intrigued with him - especially with his powerful fastball and cutter combination – and he is yet another quality relief pitching prospect in the Indians system. Even though he is a reliever the Indians have him as their "starter" in the AFL (each club can only have one pitcher as a starter), though he may not start right away as he is still being built up.

Follow Tony and the Indians Prospect Insider on Twitter @TonyIPI. Also, his latest book the 2011 Cleveland Indians Top 100 Prospects & More is available for purchase for $20.95 to customers in the US (shipping and handling extra).
Follow Tony and the Indians Baseball Insider on Twitter @TonyIBI. Also, his new book the 2014 Cleveland Indians Baseball Insider which profiles the Indians' Top 100 Prospects and more is available for sale.
User Comments
No comments currently. Be the first to comment!