AFL Spotlight: Cory Burns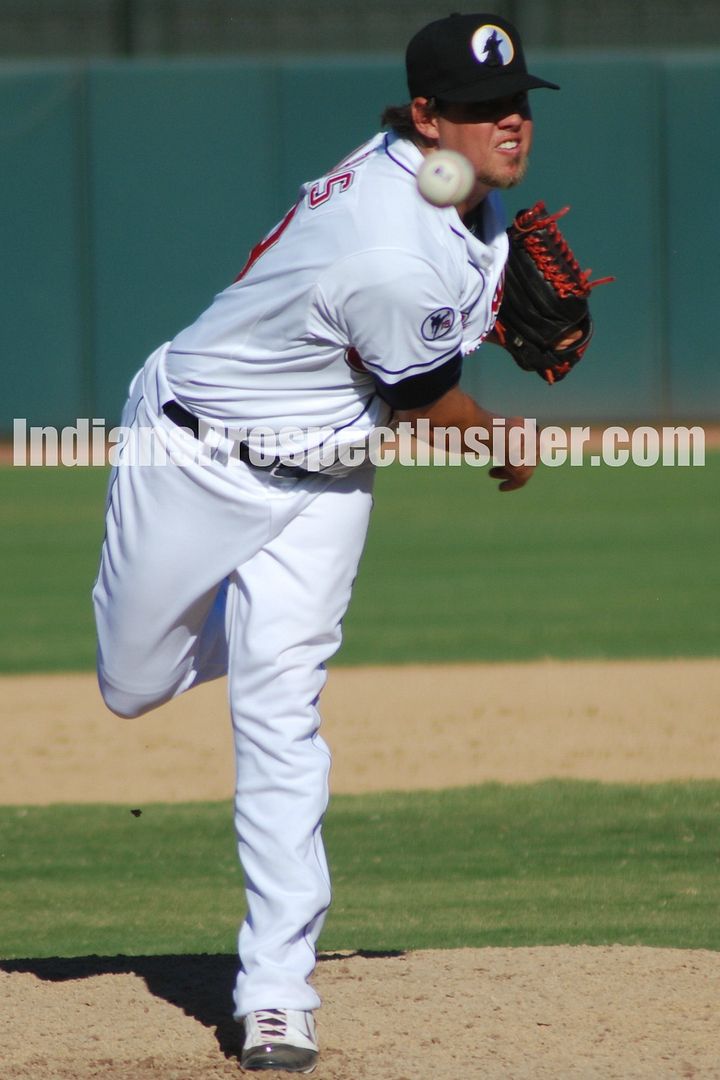 Cory Burns (Photo: IPI)
The "AFL Spotlight" is a weekly feature piece on a player from the Cleveland Indians farm system that is participating in the Arizona Fall League. League play wraps up on November 19th.
Yesterday the Arizona Fall League (AFL) unveiled their rosters for their Rising Stars game to be played this Saturday night in Surprise, Arizona. Two Indians right-handed relief pitching prospects were named to the team, Preston Guilmet and Cory Burns. The game is at 7:00 p.m. EST and can be seen live on the MLB Network.
For Burns it is yet another achievement to add to his ever growing list of accolades the past few seasons. His AFL numbers are not all that great as in eight appearances he is 1-1 with a 6.30 ERA and in 10.0 innings has allowed 15 hits, 3 BB, and has 9 strikeouts; however, a lot of times the Rising Stars nominations come on reputation. The reputation was certainly there for him as he was named by MiLB as the Double-A Reliever of the Year this past season after going 2-5 with a 2.11 ERA and 35 saves (59.2 IP, 47 H, 15 BB, 70 K) at Double-A Akron.
Burns, 24, was an 8th round draft pick of the Indians in 2009 out of the University of Arizona. Because he lacks a blazing fastball and was projected as a reliever coming out of college he came into the professional ranks as an undervalued prospect. There were still doubters coming into the 2011 season even after a sensational year in 2010 where he racked up an impressive 45 saves and 1.96 ERA in 54 combined appearances at High-A Kinston and Low-A Lake County.
Burns may have been overlooked some coming into the 2011 season, but that is no longer the case after three straight dominating seasons in the minors and his last one coming at the Double-A level. It has been a very successful season for Burns and he is now on the big league radar as a potential bullpen option down the road for the Indians or someone else.
"I can't feel much better about my year," Burns said in a recent interview for the IPI. "I got a chance to throw well in Double-A and also got a chance to throw some in Triple-A. I just tried to seize every opportunity I could."
Burns pitched the entire season at Akron before getting a promotion to pitch for Triple-A Columbus in the playoffs. He made two appearances for Columbus in the playoffs and threw 1.1 shutout innings.
"It was awesome and a great experience, especially with Columbus winning everything," Burns said. "It gave guys like me, Tyler Sturdevant, Kelvin De La Cruz and guys like that a chance to experience winning at the highest point in the minors. So it was great to experience that and hopefully we can do it again next year."
It will be interesting to see what happens next year for Burns. Right now the strength of the Indians farm system is their depth of right-handed relief arms at the Double-A and Triple-A level. There may be close to a dozen arms at both levels which could pitch in the big leagues someday.
Because of all that depth Burns currently projects to open next season by returning to Double-A Akron, but even if he does he will likely pitch most of the season in Columbus. The Indians may also use some of that right-handed relief pitching depth this offseason in trades to fill needs for the big league team which may open a spot for him in Columbus to start the season, or he could even be traded himself.
Those are all things out of Burns' control. But the one thing he can control is how he prepares for next season and what he does to get better and help separate himself from the pack.
Burns' tornado-like delivery gives him something unique, and while he has just an average 88-91 MPH fastball he complements it with a very good changeup and knuckle curveball. But even with the gimmicky delivery and two solid secondary pitches he needs to get better with his fastball.
"I think I just need to keep doing what I am doing," Burns said. "I am out here [in the AFL] really working on fastball location. I have been throwing a lot of fastballs and sinkers so that I am ready to have a full arsenal next year instead of just an offspeed arsenal like I have right now."
During the latter parts of this past season the Indians challenged Burns to develop his fastball use and command and it has continued into the offseason. He often relies on his changeup-curveball combination and there is no questioning the results so far in his career, but he knows improving his fastball is something that he needs to get better at in order to continue having success at Triple-A next year and potentially in the big leagues someday.
"The scouting reports and video are not really available in the lower levels like they are in Triple-A and the big leagues, so it helps guys like me to be able to get away with consistently going back to the same pitch," Burns said. "The best pitch in baseball is a located fastball, so if you don't have that there is a good chance you won't succeed."
The AFL is right in Burns' backyard as he is a Phoenix area native and lives about 20 minutes from the field, so once the AFL season ends in a little over two weeks there will not be much of a transition for him into his offseason.
Burns knows he had a good season and is satisfied with that, but he knows that next season brings new opportunity and that the slate is wiped clean. With that in mind he will continue to work hard this offseason on his strength and fine tune his fastball command and try to pick up some velocity.
"I just want to continue to do what I am doing and get on a good workout program," Burns said about his offseason. "Trying to pick up a couple MPH on my fastball is a big key. If you can add it when working out to your max then you can add it. If you are at your peak then you are at your peak, but that is something you do not know until you have tried it."
Follow Tony and the Indians Prospect Insider on Twitter @TonyIPI. Also, his latest book the 2011 Cleveland Indians Top 100 Prospects & More is available for purchase for $20.95 to customers in the US (shipping and handling extra).
User Comments
No comments currently. Be the first to comment!