AFL Spotlight: Preston Guilmet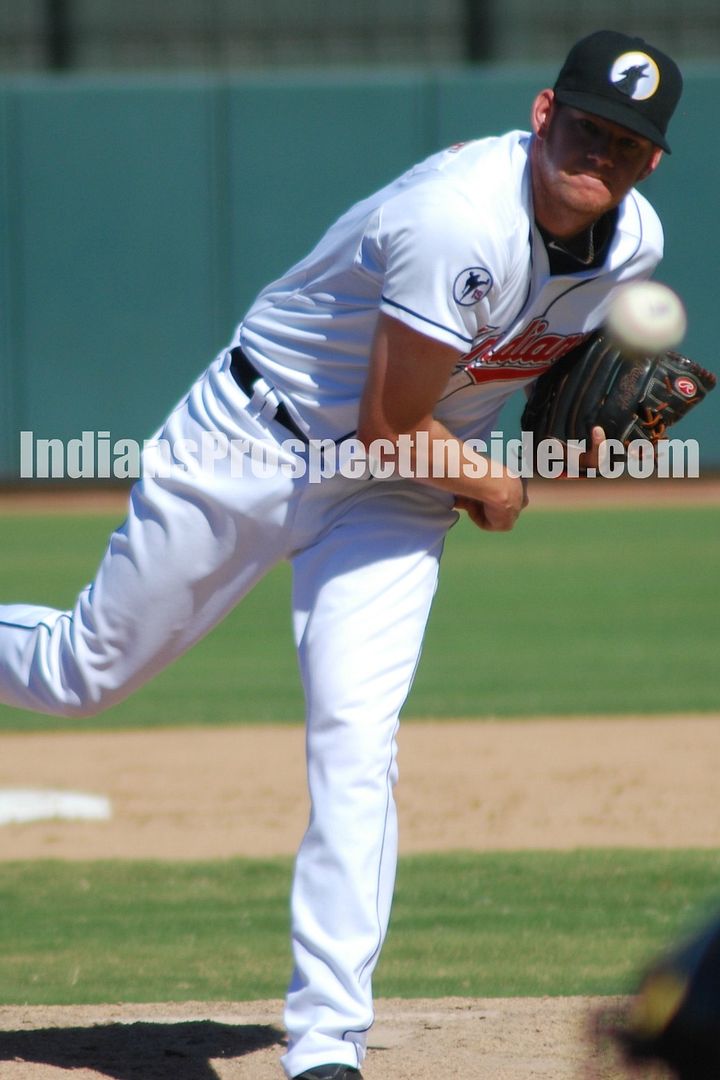 Preston Guilmet (Photo: IPI)
The "AFL Spotlight" is a weekly feature piece on a player from the Cleveland Indians farm system that is participating in the Arizona Fall League. League play wraps up on November 19th.
The Arizona Fall League (AFL) is not just a league for the top prospects to show they are ready for a big league opportunity next year. It is also a league for some of the lower rated prospects that may get overlooked to show what they can do against some of the top competition in the minor leagues.
Right-handed pitcher Preston Guilmet would qualify as one of those players. He is not a very highly rated prospect because of his age and the lack of a blazing fastball, wipeout slider, or knee buckling curveball, but he has been a performer in all three of his seasons as a pro.
In three seasons Guilmet has pitched in 97 games and compiled an 11-8 record with 46 saves and a 2.94 ERA. This past season at High-A Kinston he went 1-1 with 35 saves and a 2.16 ERA in 48 games out of the bullpen (58.1 IP, 43 H, 11 BB, 60 K), and was named the Carolina League's Reliever of the Year.
Guilmet is 24 years old which was on the high side for Single-A ball so the AFL is a good stop for him this offseason to prove himself at a higher level and in a league which is more age appropriate. So far things have not gone well as in six games for his Phoenix Desert Dogs team he is 0-0 with a 10.00 ERA (9.0 IP, 18 H, 0 HR, 7 BB, 7 K).
Guilmet has been hit around a lot more than usual, and his excellent 1.7 BB/9 rate from this season has disappeared as he has a 7.0 walk rate so far in the AFL. For a pitcher who does not have a dominating pitch in his arsenal he cannot afford to be off with his command, and so far that has been his problem and he has paid dearly for it.
There is still a long way to go this fall as the AFL has about four weeks left, which is more than enough time for Guilmet to get things right and level out his numbers. No matter how things shake out this fall he feels good about the season he had this year.
"It has gone pretty well and I am excited to be here and just going after it every day," Guilmet said in a recent interview for the IPI. "I haven't really taken a look at the numbers or anything, but I have just tried to stay on top of things and keep going at it. My goals for me were really simple with keeping the walks down and trying to get outs, and I think I accomplished that."
Guilmet was selected in the 9th round of the 2009 Draft out of the University of Arizona and actually pitched in the starting rotation in his pro debut at short season Single-A Mahoning Valley that same year going 6-6 with a 4.09 ERA (70.1 IP, 70 H, 16 BB, 62 K). The Indians moved him to the bullpen last year at Low-A Lake County and his performance there opened some eyes after he went 4-1 with 11 saves and 2.25 ERA in 30 games (52.0 IP, 35 H, 10 BB, 79 K).
Armed with a high 80s fastball and a splitter and slider, Guilmet has had to rely on excellent command and a unique straight-over-the-top delivery to consistently get hitters out. So far it has worked as for his career he has a miniscule 1.8 BB/9 rate and very nice 10.0 K/9 rate. That's impressive.
"There [was] not much of a change for me going from starting to the bullpen," Guilmet said. "It is just shorter outings and you have to do it more often. I can't say it has been any different except just going out there getting ahead and throwing strikes."
Guilmet has taken on the closer role with open arms the last two years at Lake County and Kinston. The unique delivery has worked wonders so far in the lower levels as when he releases the ball straight over his head the ball starts from about eight feet or so off the ground and then works its way down to the hitter. This gives him great leverage on hitters and helps provide the two plane action to his pitches that a lot of pitchers strive for.
"I don't know when I started doing it," Guilmet said. "I have always been up and definitely never been down to a three quarters slot of anything. I don't know when it got that high, but it helps in trying to get two plane action on the ball. I think that was the mindset at the time and somehow it just got up there."
Not only does Guilmet have a unique delivery, but he also has a unique career path outside of baseball. If baseball does not work out for him he plans to work with horses. When he signed with the Indians he still had one class left to take before he graduated with a degree in Equine Science from the University of Arizona. Equine science deals with horses and includes everything from nutrition and physiology to the selection and management of horses for racing.
If time permits this offseason Guilmet plans to finish that final class so he can get his degree.
"I am probably going to try and get my degree and finish my last class," Guilmet said. "The program I was in [at Arizona] was one of only two in the country, so it was pretty fun to be a part of that. It has a lot to do with the horse racing stuff from the front side with the front office stuff to the back side with training and breeding horses and everything. I started getting involved with horses probably my senior year in high school and have just kind of been into it ever since. It is a good passion and hobby to have outside of baseball."
In some ways the minor leagues are like a breeding ground themselves. Major League organizations eye up all the thoroughbreds in their minor league stable and of the hundreds at their disposal only but a small handful ever make it to the big show. For an underdog like Guilmet he has to continue to improve and has to work harder than most players to give him an edge as he moves up the minor league ladder.
Some hard work last offseason paid off as Guilmet saw an increase in his fastball velocity this year. Last year he was sitting 87-89 MPH with his fastball and occasionally touched 90 MPH, but this year he often sat 88-91 MPH and hit 93 MPH a few times. One of the main goals for him this offseason is to continue to improve his fastball.
"I really want to hit the offseason hard and try to pick up a couple miles an hour on the fastball," Guilmet said about his offseason plans. "A lot of people top out somewhere because of how you are made, but I want to hit the legs hard and refine the mechanics and try to get my lower half stronger and use it more."
Guilmet may not be a household name or a highly rated prospect, but he has been a performer so far and has shown he can pitch. Right-handed pitcher Josh Tomlin was considered a performer in the minors and was often overlooked because he lacked great stuff, but he continued to work hard and eventually made it to the big leagues and is now a big part of the big league rotation going forward.
Tomlin's path to the big leagues should serve as an example to Guilmet and other pitchers like him that if you continue to perform and work hard to improve as you move up the system that you always have a chance.
"I just want to refine my location and break down my mechanics again and get them back to where they need to be," Guilmet said. "A lot of stuff changes over the course of a 140 game season. I just want to try to tune things up and get everything better with my pitches, location, and movement. The best way to go about it is to just get everything a little better every year."
Follow Tony and the Indians Prospect Insider on Twitter @TonyIPI. Also, his latest book the 2011 Cleveland Indians Top 100 Prospects & More is available for purchase for $20.95 to customers in the US (shipping and handling extra).
User Comments
No comments currently. Be the first to comment!