Akron Aeros 2011 Season in Review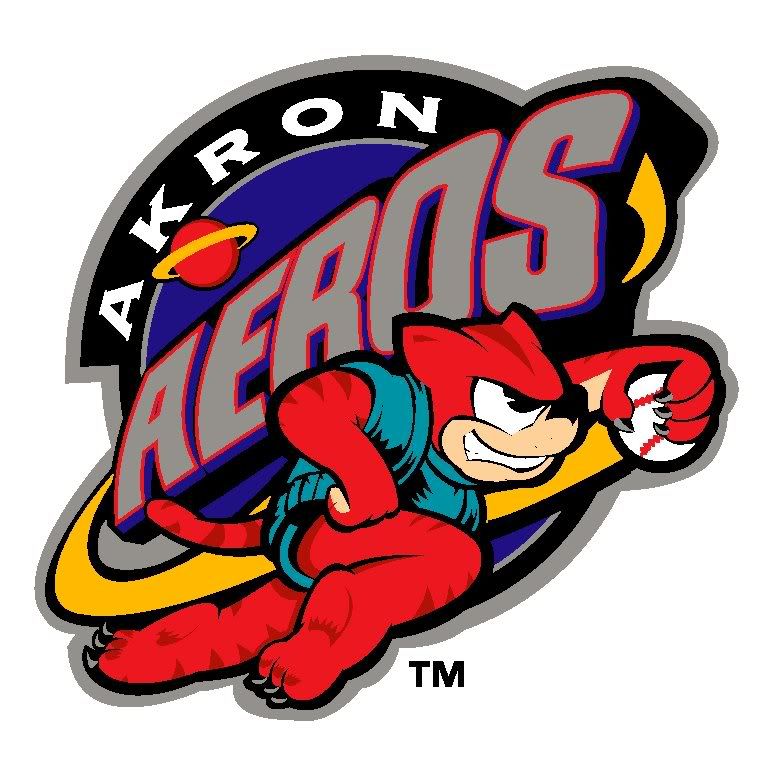 (MILB.com/Akron Aeros)
Fans in Akron are not used to this whole no-postseason thing. The Aeros have been used to postseason baseball, but at the turn of the decade, it's been two straight seasons of cleaning up Canal Park after the first few days of September.
This was still a team that fought to the end and it took until the final weekend to be eliminated from postseason contention. It was a club that had at times little offense and multiple injuries. Akron saw some high end prospects like Chun Chen and Drew Pomeranz, but there is a reason Columbus and Kinston are in the postseason and Akron only finished on the brink.
The highlight was no doubt the pitching, which at times would carry the team and at others, get no run-support. The rotation always had at least two or three arms firing on all cylinders and the bullpen looked as good as the parent club's Bullpen Mafia edition at certain points in the season.
Overall, the Aeros season gives a lot of hope for Columbus to continue to play well next season and Kinston's season can make the Aeros look forward to what they have coming their way. But the effort given in 2011 and some of the players the Aeros were able to suit up in the Rubber City were certainly fun to watch.
Few witnessed Drew Pomeranz and many missed-out, especially those that missed him the day he was slated to start but was traded (including myself). Others in it from the get-go saw a pitcher like Austin Adams make a season-long claim to being one of the answers to the White/Pomeranz trade, only to make that apparent to people after the deal was actually made.

Akron capped off their season on Labor Day, dropping their final contest to Eastern League Western Division winners Harrisburg 5-2. It finishes them at an overall record of 73-69 and in fourth place in the Western Division. If anything, the Aeros should be proud of their 10-8 record against the division winners.
We now look back at Akron's season that was for 2011.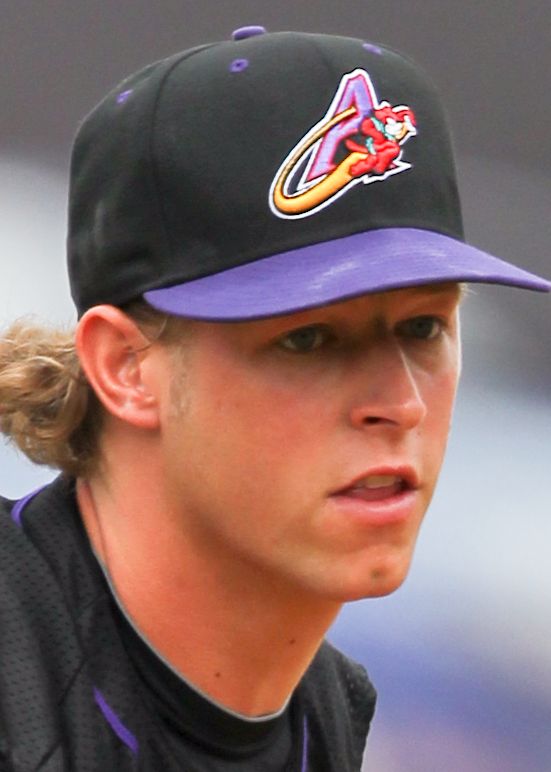 Starter of the Year: Austin Adams, RHP
11-10, 26 GS, 3.77 ERA, 136 IP, 6 HR, 63/131 BB/K
It was certainly a breakout season for Austin Adams, who began the year in the Aeros rotation as just as another arm, but ended it as the arm. The Alabama native spent last year in Lake County and Kinston in a split-roll with other starters. It wasn't until he got a full-time shot with Kinston that he proved to be someone who deserved a shot as a starter.
Adams took the opportunity in Akron and ran with it this year. At times, he reportedly touched 100 MPH on the radar gun, showing that he definitely has the power fastball.
If there was one problem that ailed Adams in 2011 it would be his inconsistencies in control. There were times he'd go out and walk five or six hitters in a game and others where he'd strike out seven and eight. Then there were games he'd walk two or three and strike out two or three.
Adams was the best the Aeors had to offer from start to finish though. Depending on how things shake out in Cleveland's rotation next year, he deserves an opportunity to start the season in Columbus.

Reliever of the Year: Cory Burns, RHP
2-5, 35 SV, 54 G, 2.11 ERA, 59.1 IP, 3 HR, 15/70 BB/K
Cory Burns is a little like Vinnie Pestano. There isn't much fan fare around him when it comes to being a top prospect and he isn't one of the names you go to when talking about future major leaguers, but he just gets the job done wherever he goes. He's been assigned closing duties (much like Pestano) at every stop he's made and he's answered the bell. He's never had an ERA higher than 2.30 in all four of his stops throughout the organization and he's saved at least 11 at each destination.
This year with Akron, he didn't save as many as he did last year (42 between Lake County and Kinston in 54 games), but he set the Aeros single-season saves record, previously held by Randy Newsom, and almost broke by Pestano in 2009 before injury.
Burns will probably now move on to Columbus, as is the trend with him has dictated. Then again with the way the Indians have moved relievers in the past, it may be a matter of not having a spot to move him into (especially with no one in Cleveland really deserving of being ousted). Burns brings a good fastball to the table and was dominant in the early season, striking out anything that moved.

Hitter of the Year: Chun Chen, C
112 G, .262 AVG, .331 OBP, 16 HR, 24 2B, 3 3B, 70 RBI, 58 R, 43/120 BB/K
Matter of fact, there really isn't anyone who lasted with the Aeros all season long and put up consistent numbers from start to finish. Chun Chen was the closest. It was a fall-back year for Chen in the average department, but it was unlikely to expect him to hit .315 at the Double-A level and at such a young age, when last year is the only pattern of him doing so.
What Chen did was really grow as a power and production threat. He struck out way too much and lost a little in the walks department (which combined with the lower average, gave his OBP a significant hit), but he had a career high in home runs with 16 and hit 24 doubles in a park not really meant for them.
Chen made strides, and it will be interesting to see (given the catching depth behind him and lack of depth in front of him) how the Indians approach his progression. He could benefit from starting the year in Akron just to establish some consistency, but you certainly wouldn't fault the Indians if they decided to bump him up to Columbus next year.
Gone But Not Forgotten
Matt McBride - Traded to Colorado
It became pretty clear that when McBride started the year back in Akron, the Indians did not have major plans for him in their future. With really no position, all the Indians could do was start him at first base at Double-A in place of an injured Beau Mills. This was after he hit .269 with four home runs for Columbus in 31 games last year. McBride was traded midseason in the trade that acquired Ubaldo Jimenez and finished the year hitting .235 in just six games for Tulsa. With the Aeors though he was a stud that carried the offense for spurts. He belted 14 home runs and 24 doubles in just 84 games and carried a great .359 on-base percentage. The Aeros certainly will remember McBride as a consistent contributor to their ball-club for the past two and half years.
Beau Mills - Promoted to Columbus
Beau Mills was bordering on the edge of Wes Hodges territory. He was slowly losing ground in the organization, but the former first-round pick returned from his season-opening injury and extended spring training stint with a vengeance. After spending the past two full-seasons in Akron and hitting just 24 home runs (after a 21 home run campaign in 2008 with Kinston), Mills unleashed some fire and hit 11 blasts in 61 games. More impressively he hit .300 and carried a .358 OBP with just 37 strikeouts. Mills got a well-deserved promotion to Columbus and is now a part of the Columbus post-season run. Hopefully he can continue to re-discover the reasons he was a first round pick and continue to move up the ladder and it was good that he ended out what was a very disappointing stint with the Aeros on a very positive note.
Tim Fedroff- Promoted to Columbus
It was becoming very aparent that after 70 games with Akron this season, Tim Fedroff had mastered the Double-A level's pitching. After topping the Eastern League in batting average for most of the first few months with a final .338 average, Fedroff was promoted to Columbus. The former Tar Heel spent 2010 in Akron and was more of a defensive player who brought some on-base ability to the lineup than the lethal hitter he was in 2011. Fedroff just hits, plain and simple. Time will tell if he is merely Jordan Brown with a glove, or if he can elevate his game to being a major league option.
Joe Gardner - Traded to Colorado
The 2010 Carolina League Pitcher of the Year had to live in the shadow of Drew Pomeranz, who hadn't even arrived in Akron yet, but was expected to. Joe Gardner was one of the bright spots in the Cleveland organization last year and was coming in to Akron with some high expectations. Gardner battled with some control issues though and wasn't the pitcher he was in Kinston last season. His strikeouts took a dip and until his trade to Colorado, his walk-rate was up. He has a 2.48 ERA since arriving in Tulsa for the Rockies and his stay with Akron will be just a blip on the radar. Some bright spots, but ultimately someone the Indians might have sold high on.
Eric Berger - Promoted to Columbus
Probably know more for his awesome mustache than his pitching, Eric Berger quietly put together one heck of a transition into the bullpen for the Aeros. Last year he was mostly a starter for the Aeros, going 5-5 with a 4.64 ERA. This season the Indians moved him to the bullpen and he thrived. Berger got a call-up mid-way through the season to Columbus, but returned rather quickly and was just as good, if not better. He's struggled in Columbus so far, but with Akron he was 2-0 with a 2.53 ERA and 67 strikeouts in 57 innings.
CC Lee - Promoted to Columbus
About time, right? The right-handed from Taiwan had put up solid numbers in 2010 and really should have been promoted from the outset. But the Clippers and Indians simply had no room to move Chen Lee up to that level. Then Lee made it impossibly to deny the opportunity and went 2-1 with a 2.50 ERA and 56 strikeouts in 39 innings. Since arriving in Columbus he went 4-0 with a 2.27 ERA with 99 strikeouts in 71 innings. There is some incredible bullpen depth with this organization.
Nick Hagadone - Promoted to Cleveland
Speaking of depth... The Aeros got the benefit of seeing Nick Hagadone's full transition into a reliever. Hagadone had struggled going deep into games a starter and the result was his move into a back-end reliever. That transition has quickly landed Hagadone into Cleveland and very much on their radar. Hagadone's stint with Akron goes all the way back to a few months into the 2010 season, but his 2011 stint was a short one. In just 12 appearances he struck out 24 hitters in 22 innings and surrendered just seven walks.
Where To Next?
Paolo Espino
Have we seen the last of the incredible Paolo Espino? The Panama native has done nothing but prove he can do any role at any time. Whether he was coming out of the Aeros bullpen or spot-starting, he was keeping his team in the game and getting the job done. He was 6-0 with the Aeros this year and made five starts and 17 relief appearances. Espino is clearly someone the Indians just use to fill spots, much like Josh Tomlin was used. That isn't to say he could follow the Josh Tomlin path, but he's beginning to make it hard justifying his placement in Akron.
Nick Weglarz
For his sake, he better be moving on. It appeared that Weglarz's stint with the Aeros was simply one of him rehabbing and getting his feet under him before an eventual move to Columbus. But whether or not it started as a rehab stint is irrelevant. Weglarz spent what little he played in 2011 in Akron. Most of his time was on the disabled list, injured, and rehabbing. Whether it is little dings or full-scale injuries that needed long amounts of time to heal, Weglarz has seemingly become an injury prone type of a player. He hit just three homer runs in 41 games for the Aeros, but his eye is still there, walking 36 times for a .360 OBP despite a poor .170 average. He is one player you can legitimately ask "Where to Next?" and not get a certain answer.
John Drennen
I think you can categorize Drennen's career as a frustrating one and nothing is a microcosmic of that better than 2011. Someone who started off his career with high hopes and just sort of hit a wall in 2008, but regained some steam in 2009, it was shaping up to be no-limits in 2011 for Drennen. He hit .300 with a .355 OBP and was seemingly destined for Columbus. But it was much of what kept Matt McBride from advancing, no space ahead. Drennen went into a tailspin from there, getting suspended for 50-game for testing positive for a banned substance under the MLB's drug testing policy and then not doing a whole heck of a lot after that. He maintained his OBP but you now wonder if the end has finally come for Drennen with Cleveland.
Juan Diaz
You really have to wonder where Juan Diaz goes from here. I think you can peg him as someone who will swing a consistent stick, not one to get too high or too low, with a decent glove at short. He has a little pop for a shortstop and really, with no real "prospect" left in Columbus, he could be pushed into action down there. Diaz put together a solid 2011 season in Akron, knocking in 60 runs and scoring 64. He was second on the team in both categories and does a lot of things well.
Adam Miller
Where do you start with this guy? The Indians said that as long as Adam Miller kept recording outs, he'd keep moving up. Well he kept recording outs to the point that he was promoted to Akron and kind of just stuck there. What more can you ask for a guy coming off multiple finger surgeries that has left a finger on his pitching hand practically as a obstacle every time he throws the ball? Miller had a 6.27 ERA in Akron and that was only after a 4.91 ERA in Kinston. It was good to see him out there and the fact that he threw 44 innings this season is nothing short of a miracle. I don't think the Indians are giving up on his comeback story quite yet, but the question is, where does this story take us?
Kelvin De La Cruz
With 40-man status, the future of Kelvin De La Cruz is very murky, at best. The DLC basically showed early on he has the stuff. Overall he struck out 95 hitters in 86 innings. The problem is inconsistency and going deep into games. He simply threw too many pitches and often times found himself in jams because of his inability to get out right-handed hitters. His .143 average against left-handers suggest that maybe he'd be better suited as a left-handed lefty specialist ala fellow Dominican Rafael Perez, and the Indians might be trending towards that after placing him in the bullpen at the end of the year after his disabled list stint. DLC threw eight scoreless innings with two saves in seven relief appearances to end the season.
Moving On
Bryce Stowell
The mere fact that the Aeros got to have Bryce Stowell in their bullpen for 13 games was a joy. Stowell was recovering from an injury and after having made it to Columbus just a season ago, is likely to start there in 2012 baring any further injuries. Stowell dominated for the Aeros, striking out 28 hitters in 19 innings.
Rob Bryson
Because the bullpen depth, this makes Rob Bryson's future status with the Aeros a little more likely, but he should be moving on soon enough. Bryson, like Stowell, battled an injury to open up the season and had to make some rehab stops before reaching Akron. Although with little experience (12 games) at the Double-A level, this was the spot for him to finish out 2011. Bryson struck out 23 hitters in 21 innings and held hitters to a .221 average against. He's the last part of the CC Sabathia trade and I think the Indians want to see if they got anything else from the ace they traded away years ago.
Bryan Price
Meet what is the third, of what is likely five relievers who could be chomping at the bit for a call-up. Price has potential and the Victor Martinez trade on his side. But he also has injuries working against him. Price battled through several this year, but otherwise was much improved off his 2010 season, that still wasn't all that bad. Price struck out 33 hitters in 51 innings, but carried a 2.79 ERA. He likely repeats though.
T.J. McFarland
He certainly deserves to move on after the job he did in 2011. Much like Austin Adams, McFarland did not have the run-support to match his performance this year, but the left-handed from Illinois simply found his groove around mid-season. After a struggle in May going 0-4, McFarland settled in and was 4-5 with a 3.34 ERA post All-Star break. Depending on what the situation is in the rotation, McFarland is likely second in line behind Austin Adams in consideration.
Repeat Performance
Donnie Webb
The former Oklahoma State Cowboy just does not stay down. He's one of those scrappy do-whatever-it-takes type of players that the Indians seemingly have filled their organization with in the past. He's one of the few that remain because he has that ounce of talent and heart that pushes him over the edge and in favor with the Tribe. Webb may just be depth at this point, but he's a valuable guy on the bench and could be back in the Rubber City next year, maybe even starting until a few of those bats in Kinston are fully ready.
Jordan Henry
Henry is one of my favorites and he falls very much in line with Donnie Webb as someone who does anything he can. He has no power, but lots of speed and he did place sixth in the Eastern League in stolen bases. He had a career and surprising year with the bat in 2010, but showed that you can't expect him to swing like that on a regular bases in 2011. He still has potential to be a valuable fourth outfielder type, but the Indians seem to be littered with those.
Kyle Bellows
After hitting 10 home runs and knocking in 66 RBI for Kinston, Kyle Bellows came to Akron with a spot open thanks to Lonnie Chisenhall's promotion. Bellows brings a sound glove, but much to be desired in terms of being a consistent hitter. He produced runs in 2010 but that was seemingly an abberation. Bellows could return to Akron for another year and start at third because of his glove, but Adam Abraham will make that decision a little tougher.
Matt Packer
The Pack Man had some ups and downs, but he really really succeeded in one specific area. He killed the left-handed hitters to the tune of a .219 average. He knows how to get his lefty hitters out, which suggest that maybe he too is suited for more of a relief role. Either way, Packer is a workhorse of a starter, leading the club in innings and someone who could consistently give the Aeros six, seven, and sometimes even eight innings. It would not surprise me to see the Indians put him in the bullpen full-time, but I think it's more likely he starts in Akron's rotation due to the starting depth after the White/Pomeranz trade.
Tyler Sturdevant
He's a little older, but a college player from New Mexico State made a rampant ascent up the Indians organization. After starting the year in Kinston, Sturdevant made it to Akron and showed some real flashes. Like Bryson, he may return to Akron based off depth and so far with the Clippers, he hasn't made a loud statement to stay for next year.
Matt Langwell
In a position much like Sturdevant, Langwell could be back in Akron based off the incredible depth in the bullpen. He certainly has proved he can get it done at the Double-A level though with a 2.66 ERA in 36 games.
The Overview

The Aeros put together a decent season. It was inconsistent, but in the end they were in contention until the final weekend in what was a very inconsistent year for the entire division. They could have many of the same faces starting out on the team in 2012, especially in the bullpen, which sets them up nicely to start out contending.
-
Nino covers the Akron Aeros season-long here at the IPI. He has his own blog at The Tribe Daily and you can follow him on Twitter @TheTribeDaily.
User Comments
No comments currently. Be the first to comment!