Akron Air Raid: A Rotation Foundation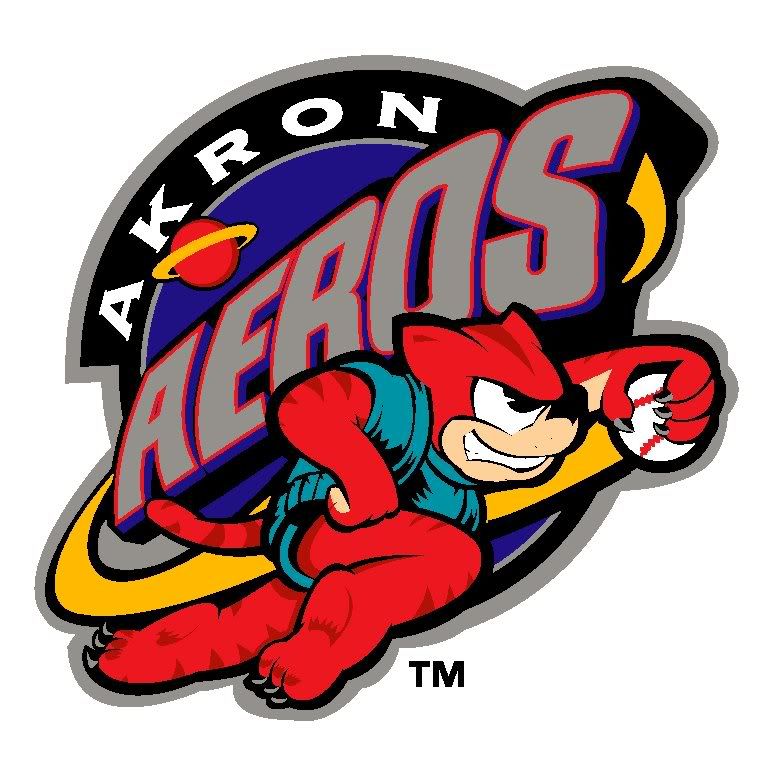 (MILB.com/Akron Aeros)
The world was pretty much ending last week for Akron. But all is good now in the Rubber City with the Aeros. All it took was some stabilizing starts from the rotation and some familiar faces to get this team back on track. With a successful 5-1 week in six games, the Aeros are now back to being four games behind division leading Harrisburg.

Akron could have went the other way with the trade. They could have continued to spiral with an unreliable offense and no arms to step up. But with some key re-additions and some solid pitching from the trio left, Akron is back on track. The offense could still be an issue, but the roving minor league additions that they've received seem to be contributing enough.

If the starting pitching continues to roll this way, the Aeros might just make a run at things with a faltering Harrisburg.
Latest Landings:
@ Trenton (3-0), Vs New Britain (2-1)
Future Itinerary: @ Portland (3), @ New Hampshire (3), Vs Harrisburg (3), @ Richmond (3)
As it Stands: Akron is currently in fourth place in the Eastern League Western Division and 4 games back of first place.
What an incredible week for the Aeros' new rotation. With the likes of Gardner and Pomeranz gone, the Aeros had to shake things up. They received old friends Steven Wright from Kinston and Paolo Espino from Columbus. Knuckleballer Steven Wright has been going through a transformation, and after going 1-2 with a 4.46 ERA in four starts for Kinston, his Knuckleball tour has reached Akron.

He was the lone starter to suffer a loss this past week. But the rotation as a whole put on a show and was 5-1 in their six starts. They foursome of Espino, Adams, McFarland, and Packer gave up four runs through 30 innings in five starts. Austin Adams got to start twice and picked up a pair of wins, while Espino and McFarland threw five and six innings of shutout ball respectively.

The best start of the week belonged to Matt Packer though, and he continues to to pitch very well. Continuing from his hot July, Packer has still not given up more then two runs in a start since his first start in July. He also struck out a personal season high nine hitters.
W, 5 IP, 3 H, 1 R, 3 BB, 7 K
W, 6.2 IP, 7 H, 2 R, 1 BB, 5 K

Paolo Espino
W, 5 IP, 4 H, 0 R, 0 BB, 6 K

T.J. McFarland
W, 6 IP, 3 H, 0 R, 1 BB, 8 K

Matt Packer
W, 8 IP, 8 H, 2 R, 0 BB, 9 K

Steven Wright
L, 6 IP, 9 H, 4 R, 4 BB, 3 K
It's always a good week when A) Your starters win all but one of their games and all pitch at least into the fifth inning, B) Your closer doesn't blow any saves, and C) Your entire bullpen gives up three earned runs.

The bullpen didn't need to work a whole lot, which obviously leads to less stress and more sharp arms. Also you always pitch with the lead and things are just generally good. Cory Burns was very good, picking up a pair of saves and giving up a single hit in three shutout frames. Adam Miller bounced back, giving up just a run in three innings and striking out a pair.

And Tyler Sturdevant picked up a save himself against Trenton despite walking a pair. It was good to see Bryan Price back on the mound, throwing a shutout inning for the Aeros, and as always, Eric Berger was a workhorse pitching three innings and striking out three.

Impressively the Aeros pen walked just six hitters in 17-plus innings of work.
Relievers for this past week:
3 IP, 1 H, 0 R, 0 BB, 3 K
Rob Bryson
2 IP, 2 H, 1 R, 1 BB, 1 K
2 SV, 3 IP, 1 H, 0 R, 0 BB, 1 K
3 IP, 3 H, 1 R, 0 BB, 2 K

Bryan Price
1 IP, 1 H, 0 R, 0 BB, 0 K
2.1 IP, 1 H, 2 R (1 ER), 3 BB, 4 K
1 SV, 3 IP, 3 H, 1 R (0 ER), 2 BB, 5 K
Stop the presses, this offense isn't as bad as we thought it was. Although stellar pitching will win you a lot of close games (they played three of them last week, won two out of them), the Aeros still managed to get some offense, especially on Sunday.when they busted out to score 10 runs.

First things first, Nick Weglarz is not only back, he appears to actually be back. He hit his first home run since June on Sunday and although he is 4-for-12 since returning from the Disabled List, that blast is encouraging to see.

No one really had a great week, but it was more of a collective effort from all the pieces Kyle Bellows, Juan Diaz, and Raul Padron all had seven hits, including a home run. Catchers Chun Chen and Michel Hernandez both had six hits, with Chen homering and Hernandez doubling twice and knocking in five runs.

Ben Copeland also homered and John Drennen was 4-13 with a double, a triple and a pair of RBI. It was a very even week for all the hitters, which is better than nothing and better than the effort the week before. Combined with some very good starting pitching, it produced a solid week for the Aeros.
7-23, 2 R, HR, 5 RBI, 3 R, 4 K
6-20, HR, 3 RBI, 4 R, 1 BB, 6 K
4-20, HR, 2 RBI, 2 R, BB, 2 K
7-26, HR, 2B, 2 RBI, 4 R, BB, 4 K
4-13, 2 RBI, 2B, 3B, 3 R, 1 K
6-25, 2 RBI, 3 R, 3 BB, 2 K

Michel Hernandez
6-16, 2 2B, 5 RBI, 3 R, 2 BB, K
7-23, HR, 3B, 3 RBI, 4 R, 2 BB, 4 K
4-12, HR, 2B, 2 RBI, 3 R, 2 K


The two-win week for pitcher Austin Adams earned him the honor of being named Eastern League Pitcher of the Week for August 1st through August 7th. Overall he was 2-0 with a 2.31 ERA in 11.2 innings. Like Matt Packer, Adamas hasn't given up more than three runs in a start since his first of July and he has been especially good since the All-Star break. He's 4-0 with a 2.90 ERA in five starts.
The Aeros are getting healthy. Nick Wegarlz's stay on the disabled list was a very short one, as he was activated last Thursday. Meanwhile Bryan Price also made his return. Now, the only injured Aeros are Kelvin De La Cruz, Connor Graham, and Juan Apodaca.
Aug 2: RHP Bryan Price activated from Disabled List
Aug 4: RHP Paolo Espino received from Columbus
OF Nick Weglarz activated from Disabled List
Aug 6: LHP Drew Pomeranz sent to Arizona (Rookie)
RHP Steven Wright received from Kinston
Nino covers the Akron Aeros season-long here at the IPI. He has his own blog at The Tribe Daily and you can follow him on Twitter @TheTribeDaily.
User Comments
No comments currently. Be the first to comment!