Akron Air Raid: A Week With Altoona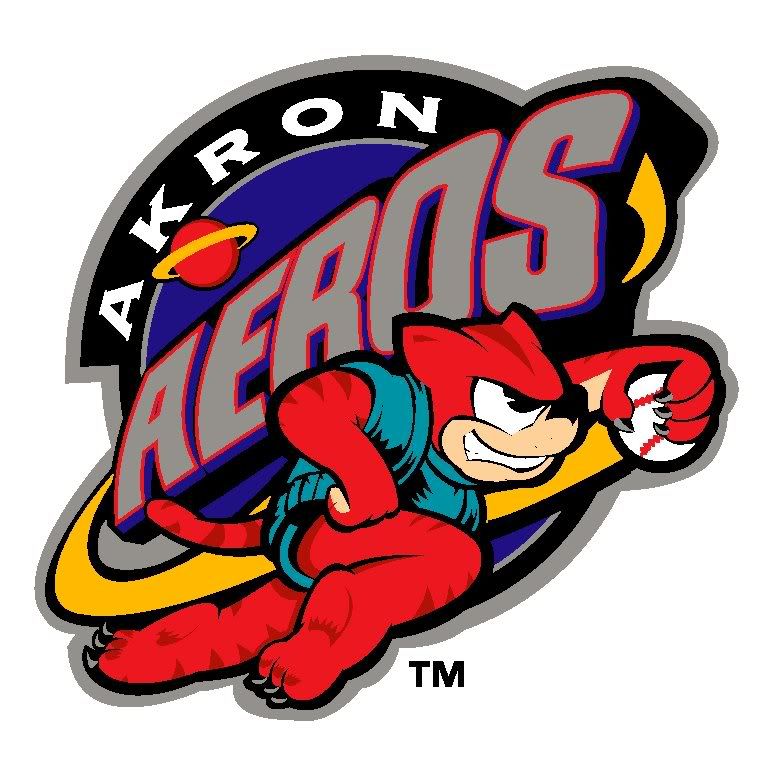 Photo Credit - MILB/Akron Aeros
Holy Altoona. Think these two teams are sick of each other? The Aeros and Curve played seven games, three in Canal Park and four in Altoona. The stint included two double-headers, one scheduled, the other part of a rainout.
After winning the series in Akron, the two teams hit the road and the Aeros dropped three of four in Altoona. The Aeros now get to come home for a long home stand with two teams, both who they haven't faced yet this season.
Latest Landings: Vs Altoona (2-1), @ Altoona (1-3)
Future Itinerary: Harrisburgh (4), Richmond (4), Reading (3), V Binghampton (3)
As it Stands: Akron is currently in fourth in the Eastern League Western Division and 2 games back of first place.
Scheduled Rotation: Joe Gardner (TUE), Austin Adams (WED), T.J. McFarland (THUR), Matt Packer (FRI), Kelvin De La Cruz (SAT)
Excellent week for the Aeros on the mound, but they just couldn't garner support.
Austin Adams put in a winning effort on Friday, going six innings and giving up just two runs. He didn't walk a hitter and struck out seven, however he scattered 10 hits. Adams took his third loss, but he's 4-3 on the year with a 2.45 ERA. Adams has pitched well, but like it is with most of the Aeros pitchers, there is a lack of run support.
Joe Gardner got enough support to pick up his third win of the season on Thursday. Gardner had a bounce back victory, going six innings and giving up a run off four hits and a walk. Gardne's previous start lasted just 2.2 innings and even though he gave up just one earned run, he gave up five total and walked four. Gardner also struck out five hitters and now has a 2.70 ERA on the season.
T.J. McFarland didn't get that support though. He pitched on Saturday in one of the games of the double header and picked up a tough-luck loss after giving up just two runs off six hits and a pair of walks.
Other starters this past week:
Matt Packer
6 IP, 6 H, 2 R, 1 BB, 5 K
4.2 IP, 6 H, 5 R, 3 BB, 8 K
Marty Popham
5.1 IP, 6 H, 2 R, 2 BB, 2 K
The pen didn't get much work with a pair of double headers this past week and shortened seven inning games. Cory Burns didn't pitch in the road series, but did get an inning in at Canal Park. Also, Paolo Espino gave two innings of relief, with three strikeouts no runs.
Espino made a spot start in the double header on Saturday, going five innings, picking up the win and giving up just a run off three hits, no walks and six strikeouts.
Eric Berger is back from Columbus and he pitched two scoreless over the past week as well.
Other relievers for this past week:
Kyle Landis
W, 0.1 IP, 2 H, 1 R, 0 BB, 0 K
CC Lee
3.2 IP, 3 H, 2 R, 0 BB, 4 K
Bryan Price
L, 0.2 IP, 2 H, 1 R (0 ER), 0 BB, 0 K
Here's pretty much it... Tim Fedroff.
No really, Tim Fedroff has been on absolute fire this month. He notched another hit on Monday to run his hitting streak up to 17 games. Over the past week he was 14-24 with five runs batted in and four runs scored. He also walked four times. He's on base more than a flip of the coin. What more can you say? He's hitting like a madman right now, and if he had more runners on in front of him or hitting behind him, there would be more success for Akron's offense.
Matt McBride is certainly doing his part with six runs driven in over the past week. He didn't strike out and hit another home run. If it weren't for Drennen and Fedroff, the Aeros may not have a lick of offense.
Jordan Henry and Juan Diaz were decent, collected 11 hits combined, but with Chen struggling, the Aeros need some people to step up. Kyle Bellows had a six-RBI game last Wednesday, but up until Monday there wasn't much going on in terms of run production. They busted out for 16 runs on Wednesday, but scored just 12 runs in the following six games. So goes the Aeros offense.
Perhaps the addition of Beau Mills will charge the offense. Mills has five hits in just 16 at-bats since making his debut coming off the disabled list. He's also already knocked in five runs. Mills sat on Monday, but Chen and McBride helped the Aeros to an offense show.
Other Hitters this past week:
3-23, 1 HR, 1 2B, 8 RBI, 2 R, 2 BB, 2 K
Chun Chen
4-18, 1 RBI, 2 R, 0 BB, 5 K
Juan Diaz
6-21, 1 2B, 1 RBI, 6 R, 6 BB, 5 K
Jordan Henry
5-21, 1 3B, 5 R, 3 BB, 4 K
Kaexon Sanchez
2-13, 1 HR, 2 RBI, 1 R, 1 BB, 2 K
Donnie Webb
3-18, 2 RBI, 1 R, 1 R, 3 BB, 4 K
As if there was another pick...Congratulations go out to Tim Fedroff
for being named
Eastern League player of the week. I don't think we need to rehash how awesome Fedroff has been, but on the week he did have four multi-hit games and has now run his hit streak up to 17, longest in the Eastern League this season. He's hitting .492 through the streak.
Fedroff is the king of the average in the Eastern League, but still trails two hitters in on-base percentage.
John Drennen will be out for 50 games after he was suspended by the office of Major League Baseball for failing a drug test. Mills returning shouldn't effect much, as McBride will likely see time in the outfield or at DH when Mills plays first. This will also open up some more frequent opportunities for Donnie Webb.
New Pair of Wings
Congratulations go out to both Nick Hagadone and Matt Langwell for getting promotions to Columbus. Hagadone's may be more permanent as the Indians wouldn't promote a player like Hagadone without being sure he's ready to stay there.
Hagadone had gone 2-1 with a 1.59 ERA in 12 games pitched. He struck out 24 hitters over 22.2 innings with just seven walks, no home runs, and four earned runs. He made his debut in Columbus on Thursday and picked up his first win on Sunday.
Langwell went 1-1 with a 1.13 ERA in 16 innings pitched. He struck out 16 hitters and walked eight. Langwell never pitched above Kinston coming into the season and to get promoted after just 14 games is pretty impressive if it's a long term call.
Service Garage
Good to see both Bryan Price and Beau Mills activated. As noted earlier with Mills, he's come back with some fire. Price had some shoulder inflammation that flared up
May 18: OF John Drennen Suspended (Restricted List)
IF Beau Mills Activated from Disabled List
May 20: RHP Marty Popham sent to Mahoning Valley
RHP Bryan Price activated from Disabled List
LHP Nick Hagadone sent to Columbus
LHP Eric Berger received from Columbus
May 23: RHP Matt Langwell sent to Columbus
Nino covers the Akron Aeros season-long here at the IPI. He has his own blog at The Tribe Daily and you can follow him on Twitter @TheTribeDaily.
User Comments
No comments currently. Be the first to comment!