Akron Air Raid: A Whole New Ball Game for Aeros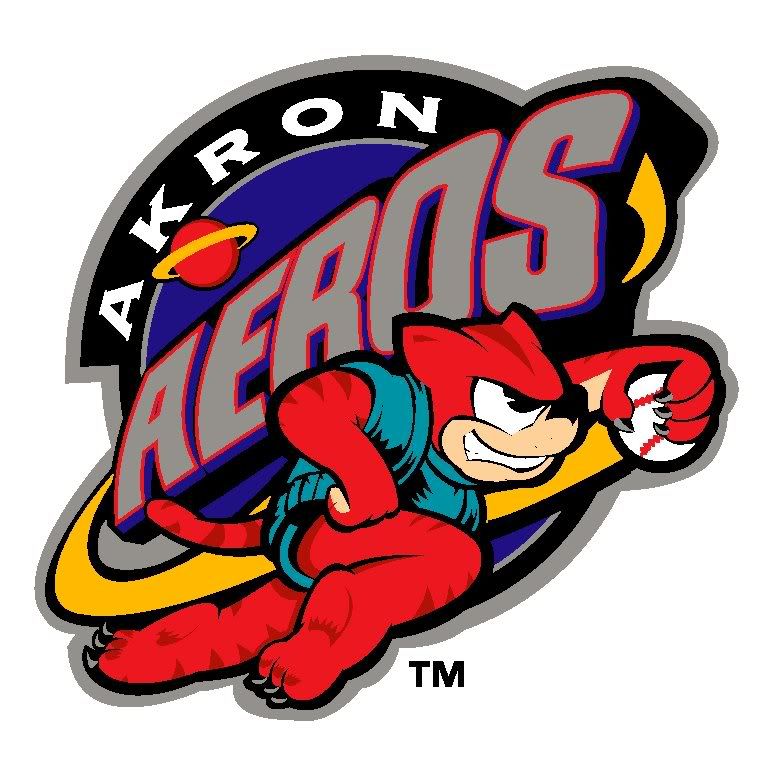 (MILB.com/Akron Aeros)
From bad to worse. The Akron Aeros have lost seven of their last eight ball games and have now lost a good portion of their roster to trades, promotions, and injuries. Just a week ago they had completed a great stretch of baseball that brought them three games within front-running Harrisburgh. The Senators have continued to let the division gain ground, but the Aeros, haven't taken advantage.
Akron sits six games back now and it's looking like a throw-away season for the club at this point. Not stocked with a deep roster to begin with, especially offensively, they've now been decimated, thanks in large part to the Ubaldo Jimenez trade. Two-fifths of their rotation is gone and they lost one of their best hitters to Cleveland's deal. They now face likely additions from outside, roving career minor league players with no upside.
The Aeros still have some pieces worth watching, such as Chun Chen and the still very strong bullpen. But without an offense and now one of their biggest strengths, the rotation, they're likely headed in the same .500 direction they've been most of the season.
Latest Landings: Vs Trenton (0-3), Vs Erie (1-3)
Future Itinerary: @ Trenton (3), Vs New Britain (3), @ Portland (3), @ New Hampshire (3)
As it Stands: Akron is currently in fourth place in the Eastern League Western Division and 6 games back of first place.
With no offense, there isn't much you can say about the pitching staff. They put together mostly winnable starts, unfortunately they didn't get much help, even defensively. Aeros starters gave up four unearned runs this past week, between Austin Adams, T.J. McFarland, and Matt Packer, they gave up 12 runs, but one-third of those were not charged to them.
McFarland wasn't at his best, but he did throw well enough to win one game. Matt Packer continued his hot-streak though, taking a real tough loss to Erie after pitching into the ninth and giving up just an unearned run off seven hits. Packer put in the Aeros longest start of the year and has now gone at least seven innings in five straight starts. He has not given up more than two runs in any of those games.

Departed Drew Pomeranz and Joe Gardner both made starts and Gardner picked up one last win before heading to Tulsa.
W, 6 IP, 9 H, 4 R (3 ER), 2 BB, 3 K
ND, 4.1 IP, 2 R, 3 BB, 6 K
L, 5 IP, 6 H, 3 R (1 ER), 2 BB, 6 K
L, 6 IP, 7 H, 4 R, 2 BB, 6 K
L, 8.2, 7 H, 1 R (0 ER), 2 BB, 6 K
W, 5.2 IP, 5 H, 4 R, 2 BB, 3 K
The entire bullpen was a bright spot, minus one person in particular...
Adam Miller was hit hard in each appearance he made. There wasn't much that could be done on Saturday as he came on in relief in the bullpen driven game thanks to the Ubaldo Jimenez trade that took away both Alex White and Drew Pomeranz.
After Eric Berger's stellar effort, Miller was pretty much hung out to give up five runs off eight hits and a walk. He did not have it that night and it was quite clear from the get-go. We may have to face facts that the new Adam Miller is simply not going to be the amazing comeback story we hoped for.
Matt Langwell tossed five scoreless innings before his promotion, and Tyler Sturdevant was on fire, throwing six scoreless and striking out eight batters.
Relievers for this past week:
6.2 IP, 4 H, 0 R, 2 BB, 9 K
Rob Bryson
1.2 IP, 4 H, 3 R (1 ER), 4 BB, 2 K
SV, 2 IP, 2 H, 0 R, 1 BB, 1 K
5 IP, 3 H, 0 R, 4 BB, 4 K
2 L, 3.1 IP, 13 H, 10 R, 3 BB, 1 K
3 IP, 1 H, 1 R, 2 BB, 5 K
6 IP, 3 H, 0 R, 1 BB, 8 K
This offense, is, anemic. There is not much else to say about a team that has now scored 12 runs in their last six games. They were shutout on Friday and Saturday in back to back games and then put up just a run on Sunday. They scored more runs in their win on Thursday than they did in three losses to Erie and two to Trenton.
Kyle Bellows hit a home run and uh... Yeah there hasn't been a whole lot of anything going on with the offense. Other than the eight runs they scored in a loss and a seven run outburst in their series opener against Erie, this team has scuffled. Those offensive inconsistencies are not going to win many games.
Bellows did have a home run, also knocking in three runs. Ben Copeland had six hits and Karexon Sanchez had five this past week. But Copeland and Raul Padron combined for 18 strikeouts. Chun Chen was 1-for-13 with a pair of RBI and John Drennan scored two runs off a 4-for-21 week.
6-23, HR, 2B, 3 RBI, 2 R, 3 BB, 6 K
1-13, 2B, 2 RBI, R, BB, 6 K
3-19, 2B, 2 RBI, R, 6 BB, 2 K
3-25, 2 2B, 2 RBI, 2 R, 8 K
5-17, 2 2B, 2 RBI, R, 3 K
Donnie Webb
3-18, 4 R, 2 BB, 2 K
The Aeros are going to need some help here in terms of some extra bodies. They lost Matt Langwell to the Clippers after the trade of Kosuke Fukudome took away Carlton Smith from the Clippers bullpen. They lost two starters in both Pomeranz and Joe Gardner to the Ubaldo Jimenez trade. And they lost hitters Matt McBride, to the trade, and Nick Weglarz to the disabled list. Expect some moves to be made soon.
Cleveland signed Argenis Reyes and sent him to Columbus, so they could do the same in terms of getting Akron up to operating capacity. Right now, they can't even field a team with five starters, a full bullpen, and a lineup with enough bench options. Things are really bare.
Not too long ago the Aeros rotation consisted of: Kelvin De La Cruz, Matt Packer, Joe Gardner, T.J. McFarland, and Austin Adams. Now it looks to replace Pomeranz, who replaced DLC, and Gardner. If there was even room at Columbus, the red-hot Matt Packer could claim reason to get a call-up, but it's more likely that the Clippers send the Aeros a pitcher than the Aeros send one at this point.

Who could get the call from Kinston's rotation? Marty Popham and Brett Brach certainly could deserve it and both have had small chances with Akron in spot-roles. It all depends on having the bodies to replace them in Kinston though. You could also see the return of Paolo Espino from Columbus' bullpen.
Nick Weglarz was placed on the disabled list with an injury to his elbow. Weglarz was sitting out due to an injury to his eye, but now he's having elbow issues. No word on when Weglarz will be healthy.
July 26: IF Kevin Fontanez sent to Lake County
IF Cristo Arnal received from Columbus
July 30: RHP Alex White received from Cleveland (Rehab)
July 31: OF Nick Weglarz placed on Disabled List
C Michel Hernandez received from Columbus
1B/OF Matt McBride sent to Colorado Organization (Trade)
RHP Joe Gardner sent to Colorado Organization (Trade)
Aug 1: RHP Matt Langwell sent to Columbus
Nino covers the Akron Aeros season-long here at the IPI. He has his own blog at The Tribe Daily and you can follow him on Twitter @TheTribeDaily.
User Comments
No comments currently. Be the first to comment!