Akron Air Raid: Aeros Hit Season High; Struggle Against Erie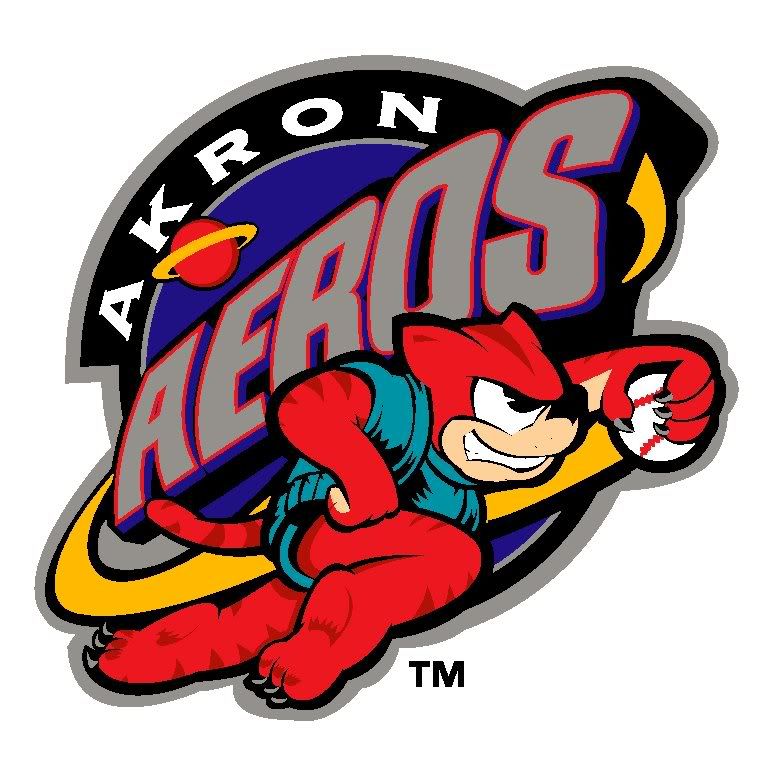 (Photo Credit - MILB/Akron Aeros)
Coming off a big sweep of Reading, the Aeros continued to roll up victories by completing a sweep against Bowie and capping off a perfect homestand. The run boosted them all the way to third place and as close as five games out. The six game win streak was their longest of the season.
Then they traveled to Erie, who seemingly have their number this season as they continued to beat up on the Aeros. After dropping three of four games last week, Akron is now 2-5 against Erie. The Aeros came back last night to get back to a .500 record and will now look to continue their club up the division standings against Altoona before returning home to meet with Erie before the All-Star break.
Latest Landings: Vs Bowie (3-0), @ Erie (1-3)
Future Itinerary: @ Altoona (4), Vs Erie (4), All-Star Break, @ Harrisburg (4)
As it Stands: Akron is currently in fifth place in the Eastern League Western Division and 7 games back of first place.
And he's on fire... T.J. McFarland may have been sparked by his start on the 24th against Reading. We hoped it would be just that and it has after this past week. McFarland won his second and third straight contests, giving up a grand total of zero earned runs. He did give up two unearned runs, but McFarland was on point. He gave up just a hit and a walk against Bowie and then followed it up with a win on the Fourth of July.
So much for Joe Gardner's spark. The right-hander seemingly had things turned around before another set-back this past week. Not all of it was his fault though as five of the six runs he gave up were unearned. Garnder however lasted just 2.2 innings and hit the showers very early.
Kelvin De La Cruz struck out eight hitters to up his season total to 83 and didn't surrender a walk, something that's been difficult for him to do this year. However he did give up five runs off eight hits, including a home run. The woes continue as he's lost three out of his last four starts.
W, 6 IP, 1 H, 1 R (0 ER), 1 BB, 5 K
W, 7 IP, 5 H, 1 R (0 ER), 2 BB, 5 K
Matt Packer
ND, 5.1 IP, 9 H, 5 R, 1 BB, 7 K
ND, 5.1 IP, 8 H, 5 R, 2 BB, 2 K
ND, 2.2 IP, 3 H, 6 R (1 ER), 3 BB, 3 K
L, 5 IP, 8 H, 5 R, 0 BB, 8 K
ND, 7 IP, 6 H, 2 R, 1 BB, 6 K
L, 2 IP, 8 H, 5 R, 2 BB, 1 K
The bullpen has been nearly untouchable the past few weeks and over the course of June. But the pen started to show some vulnerability the past few weeks. Everyone struggles, so if all the members of the Aeros pen choose to struggle right now, that would be nice.

One who hasn't struggled at all is closer Cory Burns, who picked up two more saves and even a win over the course of the past week. He pitched three innings and surrendered two walks, but struck out four. He is the Eastern League saves leader with 21.

Adam Miller has also been good, as he notched a save of his own and pitched two scoreless innings with three strikeouts. Bryan Price also picked up a win while newbie Tyler Sturdevant also won a game, but blew a game and took the loss in giving up five runs in the series against Erie.
Relievers for this past week:
5.1 IP, 5 H, 2 R, 3 BB, 4 K
W, 2 SV, 3 IP, 2 H, 0 R, 2 BB, 4 K
7.1 IP, 11 H, 4 R, 2 BB, 4 K
1.1 IP, 4 H, 1 R, 3 BB, 2 K
SV, 2 IP, 3 H, 0 R, 0 BB, 3 K
W, 4.2 IP, 4 H, 1 R, 2 BB, 3 K
W, L, 3 IP, 7 H, 5 R, 1 BB, 2 K
Ben Copeland was just added as a free agent. There was no one from Kinston to call-up and with Tim Fedroff promoted, the Aeros needed another outfielder. So far, he's actually filling the void left by Fedroff and other recent call-up Matt McBride in terms of run production. Copeland bashed two home runs this past week, also scoring six times and knocking in four runs.

Copeland's production has been that of a one-man-wrecking crew, and he was at it again last night on the Fourth of July. He knocked in three more runs and was 2-3 with a pair of runs scored.

He'a also had some help though. Kyle Bellows scored five runs off seven hits, and Jordan Henry four off nine hits and six walks, a total on-base machine. But another free agent addition, Michel Hernandez, has jumped right in and produced. Hernandez is 6-for-11 since arriving in Akron with four RBI and pair of walks.

Nick Weglarz had quite the series not being retired a single time in two games against Bowie and when the week was over, had totaled nine walks. He ended up scoring seven runs and knocking in three. It may be just about time he gets a call back to Columbus.
Other Hitters this past week:
Kyle Bellows
7-24, 5 R, 1 2B, 1 RBI, 3 B, 5 K

Ben Copeland
6-24, 2 HR, 4 RBI, 6 R, 3 BB, 3 K


Juan Diaz
4-25, 1 2B, 5 RBI, 2 R, 2 BB, 6 K
Jordan Henry
9-23, 4 R, 1 RBI, 1 2B, 6 BB, 2 K

Michel Hernandez
4-8, 4 RBI, 2 BB
Beau Mills
5-28, 2 2B, 3 R, 4 RBI, 5 BB, 5 K

Raul Padron
4-12, 1 RBI, 2 R, 4 BB, 1 K
Karexon Sanchez
5-23, 1 3B, 2 R, 2 RBI, 4 BB, 6 K

Donnie Webb
7-20, 2 2B, 4 RBI, 2 R, 4 BB, 2 K
Nick Weglarz
6-17, 7 R, 3 RBI, 9 BB, 1 K
Due to the continued decimation to any Cleveland Indian catcher at the Double-A and Triple-A level save from Paul Phillips, the Aeros received two new catchers via free agency this past week. With Matt McBride's promotion to Columbus to serve as an extra catcher with Luke Carlin and Dwight Childs hurt, and the injuries to Juan Apodaca and Chun Chen, the Aeros were simply out of options.
So the Indians added veterans Raul Padron and Michel Hernandez. In three games for the Aeros, Hernandez has certainly swung the lumber, notching six hits in 11 at-bats. He's knocked in four runs and walked twice. Meanwhile Padron has collected six hits in 15 at-bats, with a pair of RBI and five walks.

Donnie Webb was called up today to Columbus. No word on who will replace him on the roster, but John Drennen's suspension is close to being up. In fact, he should be eligible to return for the series against Erie. That is still three days away though.

Zach McAllister is likely to be promoted from Columbus to Cleveland. It may only be for one start, so we may not see Drew Pomeranz quite yet, but then again, you never know.

Last Monday, the Aeros had a season high seven doubles in one game against Bowie. It also set the season high for most extra-base hits with 11 and in addition to that, walked 12 times, also a season high.

All Stars

Congratulations go out to Austin Adamas, Juan Diaz, and catcher Chun Chen for making the Double-A All-Star squad. The three Aeros will represent the Western Division in the Eastern League All-Star Game.

You have to believe Tim Fedroff and Matt McBride were likely additions had they not just been promoted. But the three selected for the Aeros are certainly deserving. Chen is third amount Eastern League catchers in RBI, and Diaz is second among shortstop in RBI. Adams is eighth among Eastern League starters in strikeouts.

I have one question though... Where's Cory Burns? The Eastern League leader in saves should probably be on the All-Star team, considering they take anyone and everyone who's having a decent season. For what justifiably reason did they snub one of the more deserving candidates from the best part of the Aeros' team, the bullpen? He leads the league in saves, so there is no overlooking him. Puzzling if you ask me.

In the Garage

As mentioned there has been a rash of injuries to the catchers in both the Triple-A and Double-A level. First up, a Chun Chen update. Chen is suffering from back spasms, but the Aeros did not place him on the disabled list and he made his return in the series against Erie, going 1-for-3 with a two-run home run and a walk.

Either Padron or Hernandez may stick around for awhile though as the injury to Juan Apodaca will keep him out for an extended period of time. Apodaca suffered a broken toe and is likely to miss a few weeks, perhaps more than that.
June 28: IF Matt McBride sent to Columbus
C Raul Padron added to Akron (Free Agent)
June 30: C Juan Apodaca placed on Disabled List
C Michel Hernandez added to Akron (Free Agent)


Nino covers the Akron Aeros season-long here at the IPI. He has his own blog at The Tribe Daily and you can follow him on Twitter @TheTribeDaily.
User Comments
No comments currently. Be the first to comment!