Akron Air Raid: Aeros Putting it All Together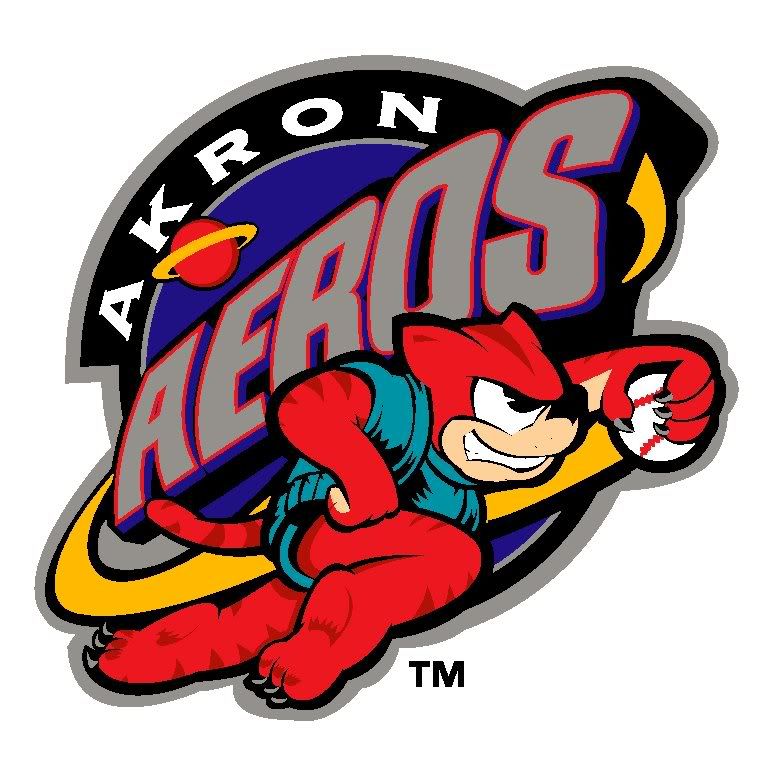 After dropping a pair in a three game set with New Britain, the road swing continued to Harrisburg where the Aeros shocked the front-running Eastern League leaders with a series sweep. It didn't pull them out of the basement, but in one set they inched closer to .500 and put themselves within five games of the leaders, who now hold just a three game lead over Bowie.
We've been waiting for it to all come together for the Aeros and it finally has. This past week, even though they dropped a pair to New Britain, they scored and they pitched. In all of their games, minus one blow out, they were scoring runs, pitching well, and staying in the game until the very end.
Led by a re-charged offense that is coming up with timely hits and a shutdown bullpen, the Aeros have put together their first legit week of consistent baseball.
Latest Landings: @ New Britain (1-2), @ Harrisburg (3-0)
Future Itinerary: Vs New Hampshire (3), Vs Portland (3), @ Binghamton (3), Vs Reading (3)
As it Stands: Akron is currently in last place in the Eastern League Western Division and 4.5 games back of first place.
On the Mound
After the New Britain series, the rotation shined. They had a few clunkers against the Rock Cats, with McFarland, Packer, and Gardner all struggling. But when the Aeros went to Harrisburg, everything seemed to be righted.
Paolo Espino, Kelvin De La Cruz, and Austin Adams all picked up wins, each going five innings and giving up no more than three runs in 16 innings pitched. De La Cruz had the gem of the three, going six scoreless and giving up just a single hit against New Britain. He only struck out three and walked three, but it's been par for the course this year for DLC and it was perhaps his best game so far.
Now temporarily in the rotation with Matt Packer's injury (Packer went five and gave up five off nine hits against New Britain for a loss), Espino improved to 3-0 with six innings. He walked one and gave up two runs off six hits.
And having perhaps the best year out of all the Aeros starters is Austin Adams, so it was no surprise that he got in on the action with five innings of one-run ball for his fifth win of the season against Harrisburg.
This past week's lines:
TJ McFarland
ND, 1 IP, 1 H, 2 R (1 ER), 1 BB, 0 K
Matt Packer
L, 5 IP, 9 H, 5 R, 0 BB, 2 K
Joe Gardner
L, 2.2 IP, 7 H, 8 R (4 ER), 2 BB, 0 K
Paolo Espino
W, 6 IP, 6 H, 2 R, 1 BB, 4 K
Kelvin De La Cruz
W, 6 IP, 1 H, 0 R, 3 BB, 3 K
Austin Adams
W, 5 IP, 5 H, 1 R, 3 BB, 5 K
From the 'Pen
Other than a bad inning for Eric Berger, the bullpen was untouchable. Seriously, out of the regular relievers no one in the pen gave up a run this past week other than Berger and the seven earned he gave up over two appearances. The stars of that span were Matt Langwell and closer Cory Burns.
Langwell pitched four scoreless frames, earned his third save of the season and struck out four with no walks. Langwell is now 2-1 on the season with a 1.23 ERA and 28 strikeouts in 29 innings.
Burns meanwhile notched a pair of saves and got back to the Burns we knew and love, striking out a pair in his latest save effort against Harrisburg. He didn't walk a hitter in three innings.
Even Adam Miller got into the act, going three scoreless and striking out a pair. He and CC Lee combined for four walks in five innings, but if that's your biggest problem, then you are really going well as a collective unit.
Relievers for this past week:
Eric Berger
1.2 IP, 6 H, 8 R (7 ER), 4 BB, 2 K
Cory Burns
2 SV, 3 IP, 0 H, 0 R, 0 BB, 3 K
Matt Langwell
1 SV, 4 IP, 1 H, 0 R, 0 BB, 4 K
CC Lee
2 IP, 1 H, 0 R, 2 BB, 2 K
Adam Miller
3 IP, 1 H, 0 R, 2 BB, 2 K
Bryan Price
3.2 IP, 4 H, 0 R, 0 BB, 2 K
Swinging Sticks
The offense was kind of all or nothing this past week. They struck out a lot, but if they can score the way they did, they can strike out as much as they want. Chun Chen was the biggest culprit, whiffing eight times, but also knocking in four runs and scoring three. He didn't walk, but he hit his eighth home run of the season.
But again, the offense continues to be fueled by red-hot Matt McBride and returning Beau Mills. McBride knocked in an incredible 10 runs in the past six games. He clubbed a pair of home runs, doubled, and tripled, which accounted for more than half of his hits. But he certainly made them count. Mills meanwhile continues to hit at a steady pace, going 9-for-25 with a home run, five runs batted in, and five runs scored.
Tim Fedroff's latest streak came to an end and he went four games without a hit. He had to even-out sometime, right? Fedroff bounced back on Saturday though, going 3-for-4 with his 31st RBI. It made up for most of hits this past week, but hopefully his "evening-out" skid is over.
Nick Weglarz only had three hits, but found ways to be productive. seven of his at-bats ended in strikeouts, but he walked five times, scored five runs and the three hits he did have, were all doubles.
Other Hitters this past week:
Kyle Bellows
5-15, 3 2B, 2 RBI, 3 R, 3 BB, 3 K
Juan Diaz
7-25, 1 2B, 3 RBI, 3 R, 0 BB, 1 K
Jordan Henry
3-22, 1 RBI, 4 R, 6 BB, 8 K
Karexon Sanchez
6-18, 1 HR, 4 RBI, 3 R, 2 BB, 5 K
In the Garage
Matt Lawson returned from his hand injury this past week. His stay on the DL was very short and he was activated to take part in the New Britain series. He's gone 2-for-8 since his return with a walk.
Taking a trip the disabled list though is Matt Packer. The left-hander from Virginia was placed on the 7-day disabled list with a left calf strain. Packer is 2-6 with a 5.19 ERA this season. He's struck out 38 hitters in 60 innings.
Additional Notes
Taking Packer's spot on the roster is right-handed knuckleballer Steven Wright. Espino may take his place in the rotation, but Wright notched his first appearance for the Aeros on Saturday. He went five innings of relief to pick up the win after giving up just a solo home run. He struck out four and walked a pair. Wright has been going through the transition from regular pitcher to knuckleball pitcher. He's been pitching for the Captains, going 1-2 with a 3.13 ERA in 9 starts for Lake County.
Transaction Report
June 7: IF Nick Johnson sent to Columbus
June 8: IF Matt Lawson activated from Disabled List
June 10: LHP Matt Packer placed on Disabled List
RHP Steven Wright received from Lake County
-
Nino covers the Akron Aeros season-long here at the IPI. He has his own blog at The Tribe Daily and you can follow him on Twitter @TheTribeDaily.
User Comments
No comments currently. Be the first to comment!