Akron Air Raid: Down to the Wire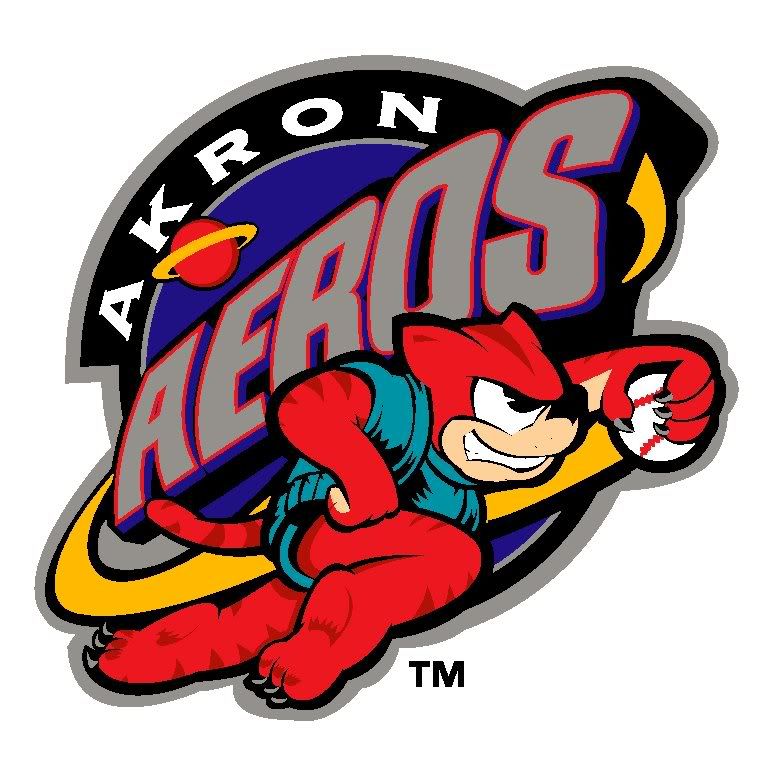 (MILB.com/Akron Aeros)
The Aeros are still in it. They have a slight chance at taking the Western Division's Wild Card spot, but they remain four and a half games behind Bowie for that playoff spot.

Akron will need to get a lot of luck and win a vast majority of the seven games left. It will be an uphill battle, but they are still playing for something at least.

It's been a few weeks since an Akron Air Raid, so let's refresh things and get to work as the season winds down. There's just a little over a week left of action before the minor league regular season winds down.
Latest Landings: @ Bowie (1-2), Vs Richmond (2-2)
Future Itinerary: Vs Reading (4), @ Harrisburg (4)
As it Stands: Akron is currently in third place in the Eastern League Western Division and 8 games back of first place. With eight games left, they can no longer win the Western division but stand 3.5 games back of Bowie for the Wild Card spot.

Austin Adams continues to put together a great season and has really established himself as the headliner of this Aeros rotation. The right-hander from Alabama picked up two more victories to improve to 11-10 on the season and now has a 3.77 ERA over 26 starts. He struck out seven in one game last week and six in another to bring his season strikeout total to 131, good enough for fifth in the Eastern League.

Teammate Matt Packer is eighth in the EL in strikeouts with 121 after he picked up just two in a loss last week. The only other pitcher to pick up a win was Steven Wright, who found his way into a win after giving up five runs off eight hits and five walks in six-plus innings.

T.J. McFarland received a no-decision after going six frames and giving up just one earned run off seven hits and four walks.
W, 7 IP, 5 H, 0 R, 3 BB, 7 K
W, 5 IP, 7 H, 2 R, 0 BB, 6 K

Brett Brach
L, 5.1 IP, 7 H, 4 R (2 ER), 3 BB, 4 K

T.J. McFarland
6 IP, 7 H, 2 R (1 ER), 4 BB, 3 K

Matt Packer
L, 6 IP, 9 H, 4 R, 3 BB, 2 K

Steven Wright
W, 6.2 IP, 8 H, 5 R, 5 BB, 6 K
The bullpen had a new face, left-hander Kelvin De La Cruz, in the mix as he returns from the disabled list. De La Cruz has not given up a run in his four appearances and even recorded a save on Sunday against Richmond.

Cory Burns continues to pad his Akron Aeros franchise record of saves with a pair, but he did take the loss in a contest

Bryce Stowell was busy and he ended up striking out five hitters and walking two over the course of four-plus innings. Stowell has now pitched in ten game since arriving in Akron, carrying a 2.45 ERA with 21 strikeouts in 14 innings.

Finally, Adam Miller did not pitch this past week. He last pitched August 20th against Richmond when he gave up a pair of earned runs off three hits and two walks.
Relievers for this past week:
Rob Bryson
4.1 IP, 7 H, 5 R, 3 BB, 4 K
2 SV, 0-1, 3 H, 1 R, 2 BB, 5 K

Kelvin De La Cruz
1 SV, 2.2 IP, 1 H, 0 R, 2 BB, 6 K
Has not pitched

Bryan Price
2.2 IP, 1 H, 0 R, 0 BB, 0 K
4.1 IP, 5 H, 1 R, 2 BB, 5 K
2 IP, 5 H, 2 R, 2 BB, 2 K
More of the same from the Aeros as they continue to look for some answers offensively. Michel Henandez didn't have many hits, but he did knock in some runs. It was a rather pedestrian week all around.
One highlight was the 10 walks that John Drennen accumulated over his 26 plate-appearances this past week. He only had two hits, but he knocked in three runs and scored four times. Certainly productive in some way. Drennen has hit .225 in August, following up a .190 average in July. He's hit two home runs and knocked in 20 runs since returning from suspension, but is carrying a .353 OBP this entire season in 77 games.
Juan Diaz continues to be steadily decent for the Aeros' lineup. He collected seven hits and scored five runs this past week. Diaz hasn't put up mind-blowing numbers this year, but he is hitting .256 with eight home runs and 23 doubles. He strikes out quite a bit, but he is a decent piece to the Aeros lineup and if he had more production around him, he'd look a lot better.
Chun Chen continues to very up-and-down with the bat. He has good games, such a 3-for-4 night against Richmond, and bad ones. From August 20th to the 27th he struck out once in every game. He now has 111 on the year compared to 40 walks, but he has hit 14 home runs and knocked in 63 RBI.

Cristo Arnal
2-19, 2 RBI, 2 R, 2 BB, 2 K


2-19, 2 RBI, 2 R, 2 BB, 3 K
5-24, 1 RBI, 3 R, 6 BB, 6 K
7-23, 1 2B, 1 RBI, 5 R, 1 BB, 3 K
2-16, 3 RBI, 4 R, 10 BB, 5 K
5-20, 2 R, 2 BB

Michel Hernandez
3-18, 1 HR, 1 2B, 3 RBI, 2 R, 6 BB, 4 K
5-15, 1 2B, 1 RBI, 2 R, 1 BB, 1 K

Donnie Webb
1-18, 3 RBI, 1 R, 5 K
The rash of injuries to Cleveland has obviously forced the likes of Jerad Head up to the parent club, which means Columbus needs some bodies. That prompted the promotion of Ben Copeland to Columbus. With Akron, Copeland hit .265 with six home runs and 26 RBI. He was a real boost to a depleted outfield earlier this year as a free agent addition. He was 1-for-4 in his Clipper debut on Sunday.

The Aeros are a score first or suffer the consequences type of a team this year. They are a remarkable 50-15 when scoring first, however are 18-51 when the other team scores first. They've had good success against Bowie (11-6) and Altoona (11-9), but have especially struggled against Erie (9-10).
Health! The Aeros are pretty much as healthy as you can ask for a team at this point. They just returned Juan Apodaca from the disabled list and don't really have any other big injuries hampering them. Nick Weglarz is still on the disabled list, but other than that, the Aeros are as healthy as you can ask for a team to be.
Aug 23: C Juan Apodaca activated from Disabled List
Aug 28: OF Ben Copeland sent to Columbus
Nino covers the Akron Aeros season-long here at the IPI. He has his own blog at The Tribe Daily and you can follow him on Twitter @TheTribeDaily.
User Comments
No comments currently. Be the first to comment!