Akron's Season That Was: 2010 in Review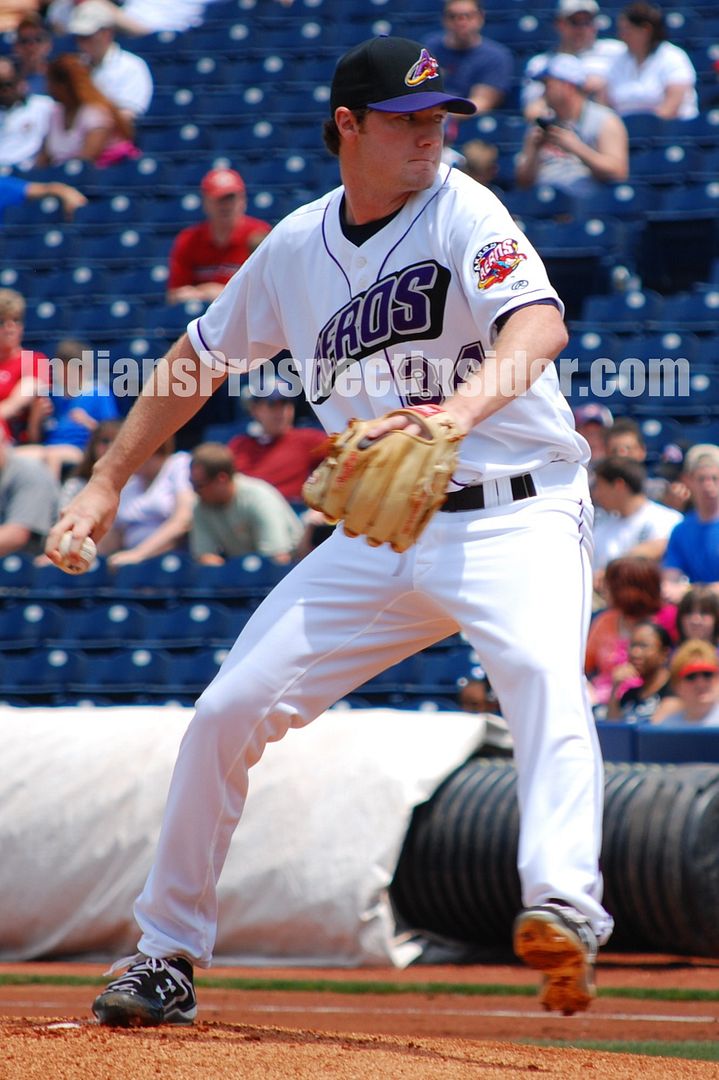 Three Eastern League Championships since 2003, appearances in six of the last seven Eastern League Championship, and one year finishing without a winning record since 2002. Good streaks like these are bound to end and they did here in 2010.
If 2009 was a year of magic, 2010 was one of falling short. The club fell short of making a comeback to perhaps continue their streak of Eastern League Championships late in the season. The Aeros have become accustomed to playing the postseason but this year will be different. The club has endured numerous injuries and losses due to promotions and the incoming talent from Kinston didn't exactly replace what they had been accustomed to.
Here is everything you need to know about the Aeros for the year of 2010.
Record:
71-71 (Home: 37-34; Road: 34-37)
Standings:
4th in Western Division (11 GB)
Mid-Season Eastern League All-Stars:
Lonnie Chisenhall, John Drennen, Bryce Stowell, Paolo Espino
Pitcher of the Year: Alex White, RHP
8-7, 17 GS, 2.28 ERA, 1.11 WHIP, 106 IP, 27/76 BB/K
It was probably expected that you would see Alex White at some point in the season, but for 17 starts as an Aero? Last year's first round pick made quick work at Kinston and was quickly moved to Akron to finish his first professional season. White ended up as the team leader in ERA and WHIP among starters and he finished second in innings pitched.
White only struck out 76 hitters, but his tremendous control was something not shared by some of his fellow starters. White walked just 27 hitters this season with the Aeros. White was often let down by his offense, not getting enough run support to garner more wins, but he was a regular six inning machine for the club, giving them quality start after quality start.
White may not return to Akron next year, but if he does it won't be long before he gets his call to Columbus. The former Tar Heel made his mark with the Aeros this season and was clearly their best pitcher for most of this season.
Season History
Week 1: Zach Putnam
Week 2: Erik Stiller
Week 3: Paolo Espino
Week 4: Zach Putnam
Week 5: Kelvin De La Cruz
Week 6: Alex White
Week 7: Bryce Stowell
Week 8: Connor Graham
Week 9: Scott Barnes
Week 10: Eric Berger
Week 11: Bryan Price
Week 12: Scott Barnes
Week 13: Alex White
Week 14: Paolo Espino
Week 15: Alex White
Week 16: Connor Graham
Week 17: Scott Barnes
Week 18: Matt Packer
Week 19: Corey Kluber
Week 20: CC Lee
Week 21: Steven Wright
Hitter of the Year: Lonnie Chisenhall, 3B
117 G, .278 AVG, .351 OBP, 81 R, 17 HR, 84 RBI, 22 2B, 3 3B, 3/3 SB, 46/77 BB/K
If Lonnie Chisenhall can put up those kinds of numbers in a season in which he suffered through some aches and pains that clearly augmented his overall performance, then the organization should feel pretty good about his future. Last year Chisenhall lit the world on fire with his hitting and he shot up prospect rankings. This season he was expected to make his mark in Akron and perhaps join the Clippers for a playoff run late in the season.
That didn't really formulate for the former first round pick as he battled through injuries throughout the year. All in all though, he was a stable option for the Aeros through most of the season. The Indians third baseman of the future was able to club 17 home runs and knock in a team-high 84 RBI. He also scored the most runs for the club with 81 and led the team in hits and total bases.
Chisenhall though is one to hit for average more than anything and that is something that suffered with the injuries.
Season History
Week 1: Cord Phelps
Week 2: Cord Phelps
Week 3: Nick Weglarz
Week 4: Beau Mills
Week 5: Jared Goedert
Week 6: Matt McBride
Week 7: Jared Goedert
Week 8: Lonnie Chisenhall
Week 9: Lonnie Chisenhall
Week 10: Jason Kipnis
Week 11: John Drennen
Week 12: Matt McBride
Week 13: Matt McBride
Week 14: Jason Kipnis
Week 15: Matt McBride
Week 16: Jordan Henry
Week 17: Jason Kipnis
Week 18: Jason Kipnis
Week 19: Jerad Head
Week 20: Lonnie Chisenhall
Week 21: Jordan Henry
Gone But Not Forgotten
Cord Phelps, 2B - 53 G, .296 AVG, 25 R, 2 HR, 23 RBI
The Aeros started the season and ended the season with a stud second baseman. While Jason Kipnis made a lot of noise in the second half, it was Cord Phelps who was quick to start the season and earn a call up to Columbus after just 53 games. Phelps was a league leader in on-base percentage in the Eastern League and one of the Aeros most reliable hitters when the offense wasn't exactly moving. Phelps likely starts in Columbus as the second baseman, which means the Aeros should get another stint from Jason Kipnis.
Nick Weglarz, OF - 37 G, .285 AVG, 21 R, 7 HR, 27 RBI
It was expected to be a brief stay in the Rubber City for the big Canadian prospect with big power and that it was. After just 37 games, Weglarz was given the call to Columbus to continue on his progression through the system. Before he left though, Weglarz clubbed seven final home runs and hit ten doubles for the Aeros.
Matt McBride, OF - 96 G, .283 AVG, 54 R, 17 HR, 64 RBI
McBride is finishing his season with the Clippers in the International League Championship, but he finished the Aeros season as a co-leader in home runs. McBride had 17 long balls to tie Chisenhall for the season and he finished third on the team with 25 doubles. The former catcher had streaks within the year that helped carry the club and he even had a few weeks at one point in where he could do nothing but hit home runs. McBride's time in Akron is over and he'll be trying to put himself on the major league radar, but for more than a season he was a great addition to the Akron roster.
Paolo Espino, SP - 9-4, 14 GS, 101 IP, 4.00 ERA, 92/35 K/BB
Starter, Reliever, it didn't matter for Espino and it never really does. Paolo bounced between roles throughout the year, often being the odd man out in situations when the club either got a starter healthy or received one from Kinston. In the end though Espino turned out to be a capable starter for the Aeros until he got the call to Akron, where he continues doing the same in the playoffs. Espino will actually end the season as the club's wins leader with 9 and second on the team in strikeouts with 92.
Bryce Stowell, RP - 1-0, 7 SV, 14 G, 22 IP, 0.00 ERA, 16/4 K/BB
It was probably the quickest 22 productive innings the Aeros have ever received from a reliever, but they were definitely productive. Stowell got the call from Kinston early in the season and shortly after showing Akron wasn't much more of a test, Stowell was quickly pushed to Columbus. His stint in Akron was nearly perfect as the fireball reliever used the 14 games to extend his personal scoreless streak between Kinston, Akron, and Columbus.
Zach Putnam, SP/RP - 4-1, 20/7 G/GS, 3 SV, 51 IP, 3.86 ERA, 41/9 K/BB
Early last year, Zach Putnam was moved from the Kinston rotation and placed in the Akron bullpen. Early this season he was removed from the Akron rotation and put back into their bullpen. The club's fast-tracking of Putnam has clearly put him in a relief role and that may be fine with the former Michigan product. In 51 innings Putnam remarkably walked just nine hitters while striking out 41. After a few start Putnam was placed in the bullpen and after a short stint on the disabled list, Putnam returned to show his dominance. Putnam is making waves with the Clippers now and will soon be in Cleveland, but for the past two seasons, he was a great addition to the bullpen.
Where To Next?
Beau Mills, 1B - 113 G, .241 AVG, 55 R, 10 HR, 72 RBI
What is next for Beau Mills, a former Carolina League MVP and first round pick? After two straight years in Akron, the once big time hitting prospect now seems to be spinning his wheels. He has continued to put up gaudy RBI numbers, yet those along with his power numbers took a turn for the worst this season. Last year he maintained his doubles and only had a slight drop in the home run numbers, put this year both took yet another tumble. For a first baseman that was drafted based off his power, this is what the Indians look for Mills to produce. The club could have an opening at first in Columbus if Hodges isn't around, but with no one really pressing at Kinston to come up, it could be three years in Akron for Mills.
Carlos Rivero, SS - 110 G, .232 AVG, 39 R, 6 HR, 43 RBI
Mills and shortstop Carlos Rivero are very acquainted with one another, playing the past three seasons together in Kinston and Akron. That isn't exactly a good thing, but Rivero does have time on his side. Carlos just turned 21 this past May, so he's still young in a baseball prospect sense for the level he is at. However Rivero's production has not been very encouraging after a few good years at Lake County and Kinston. Rivero's power hasn't come like the club has expected it to and has actually suffered like Mills' has. Whats more worrisome is the overall package. Rivero has not only not been able to hit for a respectable average, he struggled mightily to get on base this season. Rivero struck out 81 times and collected just 28 walks this season. The plate discipline isn't there and like Mills, he could be spending his third season in Akron.
Scott Barnes, SP - 6-11, 26 GS, 138 IP, 5.22 ERA, 127/58 K/BB
The left-hander acquired in the Ryan Garko spent the full season at Akron and went through some growing pains for probably the first time as a professional. After stellar numbers the past two season at the Single-A levels with San Francisco and Cleveland, Barnes has struggled in Double-A. He has maintained his ability to strike hitters out, yet his walk number has risen and with a career high 15 home runs given up, that is a recipe for disaster. There is a log jam at Starting Pitcher so Barnes may benefit from another year at Double-A, to at least prove he can have positive success at the level.
Kelvin De La Cruz, SP - 5-6, 20 GS, 93 IP, 5.77 ERA, 77/64 K/BB
This is the spot that the club expected Kelvin De La Cruz to be at at this point in time, but I'm sure they expected better results. After making quick work to show he was ready to move on from Kinston, DLC struggled at Akron after some initial positives. The left-hander missed virtually all of 2009, pitching in just two games for Kinston, but after being added to the 40-man roster, the club obviously needs to keep him moving. Consider his stint with Akron a bit of a wrench in his progression. De La Cruz was really victimized by the home run ball as his tendency to give up fly balls went up as his strikeouts and ground balls went down. The club should obviously be worried about this speed bump because of his 40-man status, but DLC is still young and still learning.
Eric Berger, SP - 5-5, 17 GS, 87 IP, 4.64 IP, 4.64 ERA, 73/52 K/BB
He was the quickest mover of the 2008 draft class, getting to Double-A quicker than everyone outside of Zach Putnam. Berger got a taste of Columbus at the end of the year but it was a quick taste for just five games and he returned to Akron to make a few more starts to close out the season. Those results were positive and it looks like Berger may be close to taking that next step, depending on what the options ahead of him do. This could be looked at as a positive as he started the year on the disabled list and was behind from the get-go. Berger really had a positive June after he got his feet under him but again he hit the disabled list. Injuries aside, if Berger is healthy next season he should have a better outlook.
Omar Aguilar, RP - 2-7, 47 G, 7 SV, 62 IP, 3.77 ERA, 72/30 K/BB
Where does this up and down roller coaster of a reliever named Omar Aguilar go from here? Aguilar was received from Milwaukee in exchange for Chuck Lofgren and this season with Double-A Akron he had his good moments and his bad. He's been rostered before and will turn 26 before the start of next season. With a plethora of options ahead of him in the bullpen, Aguilar may not have much of a future as once thought. He can strikeout anyone at any given time, but he is also wild and sometimes an adventure out on the mound. The good is he doesn't give up the long ball and he of course is a strikeout type of a guy at the back end of a bullpen. The bad is he just has too much inconsistency in his game to be a reliable reliever.
Time to Move On
John Drennen, OF - 119 G, .300 AVG, 44 R, 7 HR, 58 RBI
A doubling machine is what John Drennen is and the Hawaiian native is probably ready for bigger test. He's been around the Akron/Kinston level for years now and with finally a consistent and full season above Lake County, Drennen is ready for it. Drennen was one of the more disciplined hitters the Aeros had last season, not only hitting for .300 but keeping the strikeouts to a minimum. He plays solid defense in the outfield and depending on what the outfield situation is in Columbus, Drennen should start there next season. He's definitely earned it.
Jerad Head - 65 G, .312 AVG, 47 R, 15 HR, 51 RBI
He may be an organizational solider, but Head is a hitter and he did it again this season for Akron. Being more of a utility player, Head has no business being in Akron anymore because Columbus could use his talents off the bench as someone who can play the outfield and the infield and DH when you need him to. He clubbed 17 home runs between the two levels and has once again been a playoff player with the Clippers. In 237 at-bats he managed to hit for a high average and knock in runs. He may not have a big time major league future, but you can't argue with his production at Akron.
Bryan Price -
6-3, 40 G, 1 SV, 69 IP, 3.25 ERA, 69/22 K/BB
The pitching jam may force Price back in Akron to start the year and some may not think so, but I think the former Rice pitcher is ready for another test. Price had some up and downs this season, getting hurt and making a switch to full-time reliever. But he really hit his stride in July. What I like most about Price is his control. He shows great ability to strike a hitter out, but doesn't go crazy with the walks. He compares favorably to pen mate CC Lee and I think the tandem is ready for the next step.
CC Lee -
5-4, 44 G, 72 IP, 3.22 ERA, 82/22 K/BB
Speaking of Lee, the Taiwan product had another productive year in the Indians system. In only his second professional season in America, Lee was a strikeout machine out of the pen, leading all relievers in strikeouts and equaling Bryan Price in walks. Lee had a very similar season in Kinston last year and there is no reason for him to continue to be pushed. He's as consistent as they come as a reliever and down the stretch, there was no one better than Lee. After the All-Star break he gave up just two earned runs in 25 innings and walked just four hitters. That is finishing strong.
Repeat Performance
Tim Fedroff - 118 G, .274 AVG, 65 R, 4 HR, 36 RBI
The UNC Tar Heel played his 2009 season with Kinston and put up similar numbers to what he put up this year for Akron. He continue to hit for a respectable average, showed limited power, played good defense, and still scored runs even though he was down further in the lineup. The one difference was the walks. While maintaining his abnormally high strikeout total (for someone of his skill-set), Fedroff lost touch with getting on base as much as he did last season. Still he shows the ability to be a fire-starter, but perhaps not at the next level. Fedroff is probably pushed down due to the outfield depth, but another year in Akron would hurt the confidence if he can put together some solid numbers early and gain a quick call to Columbus.
Jordan Henry - 74 G, .300 AVG, 45 R, 0 HR, 16 RBI, 15 SB
I don't know how you can't be a fan of Jordan Henry. All he does is find a way on base. The scrappy former Rebel of Ole Miss had a combined .411 on-base percentage between Akron and Kinston. He is a legit top of the order type of a hitter, but because of his ceiling, he often gets overlooked. Henry won't turn 23 until June next year, which is great for a college player already at Double-A. Another year at Akron isn't going to hurt as he continues to prove he can produce. He plays great defense, shows fantastic speed and his ability to get on in front of the heavy hitters was a big asset to the Aeros when their offense was at their hottest point.
Jason Kipnis - 79 G, .311 AVG, 63 R, 10 HR, 43 RBI
Boy did the Indians really make a brilliant call moving this kid to second base or what? Kipnis took to his first full season at second and just hit the ball all over the place. Sure he hit .300 at Kinston, but in even more games with Akron he hit .311 and showed some all-around hitting skill that makes you excited to get him to Cleveland. Kipnis is in his first full professional season and he's already showing the need for advancement. He is a college player with experience so that shouldn't be much of a surprise. After playing well at Kinston and Cord Phelps getting promoted to Columbus, it was in line for Kipnis to get the call at Akron. He'll probably spend a little more time in Akron next season from the start, but the Rubber City better enjoy him while they have him. The one thing Kipnis needs to continue to do is obviously work on his defense at second. It wasn't bad for someone who just moved to the position from the outfield, but it is probably the one part of his game right now that needs the most improvement for him to advance.
Rob Bryson
- 1-1, 12 G, 20 IP, 1.80 ERA, 21/11 K/BB
Overall it was a good year for Rob Bryson, mostly because he was healthy but also because he was actually very good. Bryson saw three levels, making a quick stop in Lake County to show he was healthy before reaching Kinston. Bryson showed downright dominance at Kinston striking out 38 hitters in 20 innings of work, proving he didn't need much of a look at Kinston. After losing time to the injuries, the only pitcher in the CC Sabathia deal needed a year like this. He'll need some more time in Akron but he was pretty good with the Aeros as well. Bryson actually had more walks with the Aeros, but he was forced to start three games towards the end and probably had to adjust his game a little bit.
Nick Hagadone - 2-2, 19/7 G/GS, 1 SV, 48 IP, 4.50 ERA, 44/34 K/BB
Early feelings are that Nick Hagadone may turn out to be very similar to Justin Masterson, who was also acquired in the Victor Martinez deal. Hagadone was moved to the bullpen after 17 starts this season, seven of them with the Aeros. He made 10 starts with Kinston and as expected, was advanced to Akron to continue his progression. The bad news is that the success as a starter didn't exactly translate in Akron like the club hoped. Things got better when they moved him into the bullpen and over his final 12 appearances, Hagadone struck out 18 over 22 innings and carried a 3.68 ERA. There is still progress that needs to be made though as he walked 16 and wasn't exactly dominant, which is something you would expect from a talent like Hagadone when he gets moved from starter to reliever. If this is the plan of attack for the Indians, to leave Hagadone in the bullpen, they'll need to get him more time in Akron.
Connor Graham - 3-6, 43/4 G/GS, 2 SV, 78 IP, 3.43 ERA, 65/50 K/BB
What to make of Connor Graham? For one, he's a better reliever than he is a starter, that is a given. On the surface, Graham's numbers look ho-hum, but as a reliever, Graham was good. He pitched in 59 innings as a reliever, struck out 53 hitters and carried a 2.56 ERA. He needs to reign in his control, something that has given him issues both as a starter and as a reliever, but Graham is showing a lot of promise. The Bowling Green native may have to repeat his start in Akron, but he made a lot of progress this year. Perhaps knowing his official role (and being in the role that suits him best) was enough progress for now.
The Overview
The season didn't go as Aeros fans may have hoped it to, not making the playoffs and their incredible streak of Championship success coming to an end, but there seems to be more talent on the way with both Kinston and Lake County having great years and another high-ceiling type of a draft in the books. It may be just a quick down year for the Akron Aeros. Still you have to admire the job Joel Skinner and his staff did with all that he lost and some of the injuries to the likes of Lonnie Chisenhall and Eric Berger.
If anything the club is already set up with a few players from this year that should start the season in Akron and provide a nice initial boost. They'll probably get one of the systems highest jumpers this season in Joe Gardner pitching in their rotation next year and perhaps names like Matt Packer will stick around for more.
It remains to be seen what happens to the likes of Beau Mills and Carlos Rivero, but if anything the club had a lot of success on offense. Their pitching was up and down, but they had a solid bullpen for most of the season. They were mostly derailed by sub-par starting pitching that stretched the bullpen and put the offense in holes. Akron as a club though was one of the better hitting teams in the Eastern League, they just couldn't put as many runs up as you would have liked them to.
Expect a better year for Akron next season, but if a .500 year is a down year, then you will take it.
User Comments
No comments currently. Be the first to comment!