Akron's Week That Was: 4/19 - 4/25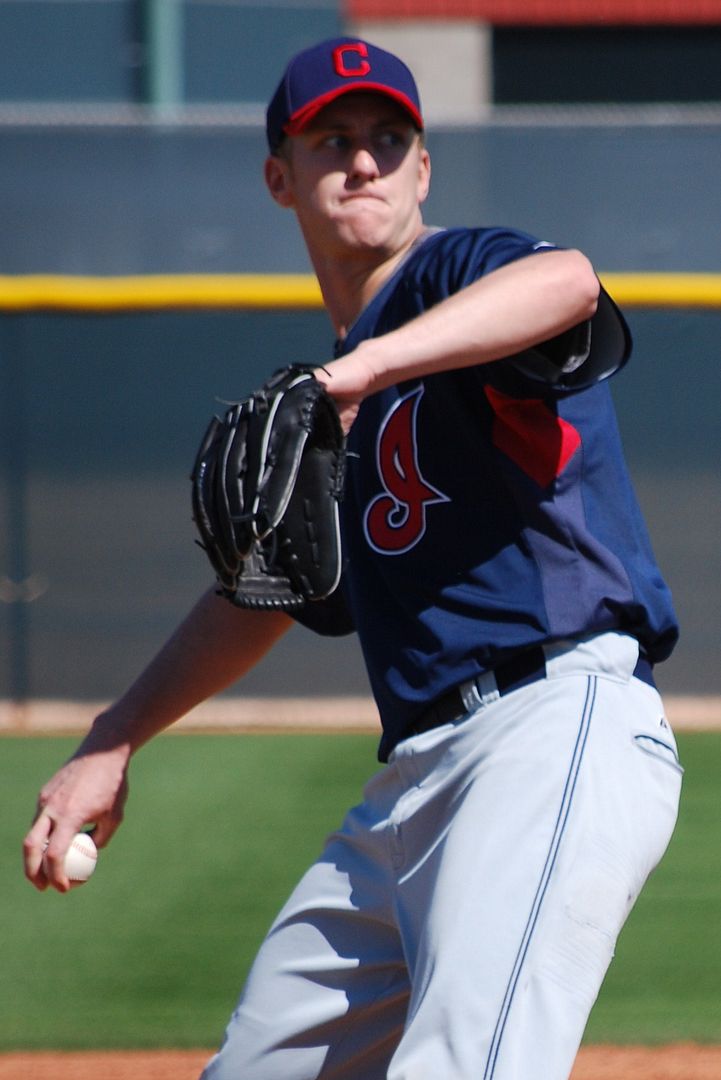 The sluggish home stand got even worse as the Aeros welcomed in the Altoona Curve for a three game set to start the week. After being swept, Akron hit the road to play Bowie in a four game series and until the final two games, things were looking bad. Luckily the Aeros turned it around to end the week on a good note.
Here is everything you need to know about the Aeros for the week of April 19th to the 25th.
Record: 8-10 (Last Week: 2-5)Standings: 4th in Western Division (4.0 GB)Teams Faced (Record Vs):
Altoona (0-3), @ Bowie (2-2)
Upcoming Week:
@ Altoona (3), Binghamton (3)
Transactions:
Added Justin Germano (From Extended Spring Training), Placed RHP Bryan Price on 7-Day Disabled List
Awards:
Akron didn't receive any awards the past week.
Pitcher of the Week: Erik Stiller, RHP
4.1 IP, 2 H, 0 R, 0 BB, 4 K
Reliever Erik Stiller (pictured) was one of the bright spots for the Aeros pitching staff this past week. He struck out a hitter per inning and didn't allow a walk in four-plus innings of work. It was slim pickings in a week that saw many disastrous pitching performances.
Season History
Week 1: Zach Putnam
Hitter of the Week: Cord Phelps, 2B
10/27, 5 R, 2 RBI, 1 2B, 1 SB, 3/3 BB/K
For the second week in a row, Cord Phelps earns hitter of the week honors after he knocked out 10 hits in 27 at-bats. Phelps currently leads the entire Eastern League in batting average and the entire team in on-base percentage.
Season History
Week 1: Cord Phelps
Weekly Spotlight: Nick Weglarz, OF
Every week one player on the Akron roster will get a spotlight on their outlook for the 2010 season and where they are currently at.
Nick Weglarz
is off to a powerful start for the Aeros this season and that's just what the Indians want to see. Because of injuries, Weglarz's progression through the system hit a bit of a speed bump last season.
So he's back in Akron, at least for the time being, looking to re-establish himself as one of, if not, the top slugger the Indians have in their system. Weglarz brings a lot of raw power to the table, that is a given, but don't think he's a prototypical all-or-nothing type of hitter.
He will, and has this season, pile up strikeouts, but he'll also earn his fair share of walks to go along with that. So far Weglarz leads the team in home runs, RBI, walks, and slugging percentage and has shown that power stroke we've been so familiar with. If he continues down this path, he'll be up in Columbus soon enough so he can finish off the 2010 season and put himself on the major league radar for the 2011 season and beyond.
Who's Hot?
Lonnie Chisenhall: 10 Game Hit Streak - 16 H, 3 RBI, 3 2B, 5 R
Lonnie Chisenhall
has three multi-hit games in his last four and against Bowie reached base at least twice in all four games. The Aeros leader in runs scored trails only teammate Cord Phelps in Eastern League batting average.
As you would expect, and despite Phelps' hot start, Chisenhall is leading the team in hits this season. He probably won't be much of a run-producer hitting in the two-hole, but his hot hitting is providing plenty of opportunities for the middle of the order.
Better Times Ahead

Scott Barnes: 0-1, 2 GS, 7 IP, 13 H, 13 ER, 7 BB, 11 K
It was a rough week for left-hander
Scott Barnes
. He managed to get the strikeout pitch working but he couldn't keep runners off the base paths which led to two short outings and a lot of runs off 13 hits and seven walks.
Barnes was saved by the bullpen and the offense in one outing, but was tagged for a loss against Altoona after giving up six earned runs in four innings. Barnes has turned in just one outing this year where he's gone at least five innings, the no-hit one-walk contest against Trenton.
Infirmary Report
Recapping any and all of the injuries in the past week.
Last week,
Nick Weglarz
missed a few games with the same virus that forced Beau Mills out of the lineup. Weglarz returned to the lineup this past Monday and hit a home run on Saturday.
Left-handed starter
Eric Berger
is expected to be activated off the disabled list on Monday and make his 2010 debut. He's missed the first few weeks of the season due to a strained oblique. He'll replace Paolo Espino in the rotation and likely take Justin Germano's roster spot.
Reliever
Bryan Price
was placed on the disabled list this past week with a shoulder injury.
Weekly Randoms
For all the other random information that got away.
You can already tell that reliever
Omar Aguilar
is going to be an interesting name to watch all season. He had yet another roller coaster-type week with his outings.Aguilar struggled against Altoona, walking three and giving up a pair of runs, but he bounced back in two appearances against Bowie. Aguilar struck out eight in five innings of work against the Baysox.

Vinnie Pestano
resumed his familiar closing duties this past week when he shut the door on the Aeros win on Saturday. Neil Wagner had been closing games and he earned the win in the same game. Pestano came in and shut the door in the ninth with no base-runners and a strikeout. Pestano was having a record-setting season as the Aeros closer last year before injury ended his season after the All-Star break.
Veteran
Justin Germano
was activated from extended spring training to replace Bryan Price on the roster. He's probably most notable from the San Diego organization where he played in parts of three major league seasons and compiled nearly 200 innings for the Padres. Germano was signed to a minor league deal in the middle of March after spending the past season in Japan with the Fukuoka Hawks. Don't get used to seeing him though as his stay is likely over when Berger is activated off the disabled list.

Carlos Rivero
hasn't seen the power surge come yet, he has just one double in 16 games this season, but he is finding his way on base. The .259 average isn't appealing but he's garnered eight walks so far. Last year he averaged a walk every nine at-bats, where as this year he's averaging a walk every seven at-bats. It is a small sample size but it is something to feel good about while he's searching for his power stroke.
User Comments
No comments currently. Be the first to comment!