Akron's Week That Was: 4/26 - 5/2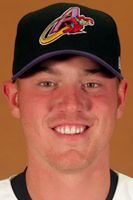 The Aeros have had their fair share of bad stretches in this young season, but last week was certainly a stretch that they would love to forget. They played just five games this past week due to a rainout and off day but they couldn't win any of those five as they now fall into last place of the Western Division. After a two-game sweep in Altoona, the Aeros returned home to be swept by Binghamton.
Here is everything you need to know about the Aeros for the week of April 26th to May 2nd.
Record:
8-15 (Last Week: 0-5)
Standings:
6th in Western Division (8.5 GB)
Teams Faced (Record Against):
@ Altoona (0-2), Binghamton (0-3)
Upcoming Week:
Trenton (4), @ Reading (3)
Transactions:
Activated C Miguel Perez, Deactivated C Alex Castillo, Placed RHP Connor Graham on 7-Day Disabled List, Placed RHP Erik Stiller on 7-Day Disabled List, Activated LHP Eric Berger From 7-Day Disabled List, Received RHP Steven Wright from Triple-A Columbus
Awards:
Akron didn't receive any awards the past week.
Pitcher of the Week: Paolo Espino, RHP
10.2 IP, 8 H, 3 R (1 ER), 6 BB, 11 K
Espino did his part to keep the Aeros in their games this past week. He didn't start on Tuesday but he threw five shutout innings in relief of Eric Berger, who took his spot in the rotation, however an injury to Connor Graham put him right back into the mix. He battled control issues in Sunday's contest with six walks and two wild pitches, but he at least gave the Aeros something other starters couldn't this week, innings. He also manged to strike out 11 hitters in the process. He did get tagged with a loss from Sunday's game, but with no offense support and a few infielder miscues.
Season History
Week 1: Zach Putnam
Week 2: Erik Stiller
Hitter of the Week: Nick Weglarz, OF
6/18, 2 R, 2 RBI, 1 2B, 4/3 BB/K
Nick Weglarz is currently doing all he can to get the Aeros offense going, but one man can only do so much. Weglarz was walked four more times this past week in addition to the six hits he collected. He only knocked in two runs and scored twice, but he was 3-6 with three walks and a hit by pitch with runners on base this past week. Flat out pitchers are avoiding Weglarz in run scoring situations, but when he has gotten the chance, he's come through.
Season History
Week 1: Cord Phelps
Week 2: Cord Phelps
Weekly Spotlight: Vinnie Pestano, RHP
Every week one player on the Akron roster will get a spotlight on their outlook for the 2010 season and where they are currently at.
The kid gloves may finally be off Vinnie Pestano as he proves he's back from an injury to his elbow that cut his great 2009 season short from completion. Pestano saved 24 games for the club in 2009, all before the All-Star break. Then he came down with soreness and he eventually had to be shutdown completely.
As 2010 got underway, Pestano made his return to Akron at 25 years old, riding the line of being "too old" for the level he's at and possible major league prospect. Does he have a shot? If he can continue to put up numbers at the Akron level as he did last year and has so far, it will be hard to tell him he doesn't.
Pestano has pitched in 10 games so far with a 2.89 ERA and he recorded his first save on April 24th. Not only did Pestano start the season from Akron's first game, he hasn't experienced any bumps in the road. If he keeps it up only time will tell if he will be able to push his way out of a crowded Aeros bullpen and into Columbus.
Who's Hot?
Jared Goedert: Last 12 Games - 15 H, 13 RBI
A hot spring training performance has carried over into the regular season for
Jared Goedert
who is a man without a position. Goedert has forced his way into the lineup, mostly as the Designated Hitter position due to his sizzling performance at the plate. This past week he collected six runs batted in off eight hits. Goedert has nine RBI in his last 10 games and is hitting .314 on the season. He currently leads the team in RBI with 17 and has knocked in 13 of them in his last 12 games played in.
Better Times Ahead
Carlos Rivero: 3/20, 1 RBI, 1/5 K/BB
After showing more plate discipline, shortstop Carlos Rivero fell into some old habits this past week. He garnered just one walk and struck out five times in 20 at-bats this past week.
Rivero still hasn't kicked it into high-gear this season, which is par for the course based off the past few seasons. He has only three extra base hits, which is as many as backup infielder Josh Rodriguez has in 49 less at-bats.
Infirmary Report
Recapping any and all of the injuries in the past week.
Right-handed starter
Connor Graham
was placed on the disabled list this past week with an injury to a finger on his pitching hand.
The Aeros also lost a piece to their bullpen after placing right-hander
Erik Stiller
on the disabled list with back tightness when they received Steven Wright from Triple-A Columbus.
Weekly Randoms
For all the other random information that got away.
The Aeros have finally decided to put veteran catcher
Miguel Perez
to use, activating him to their roster. He replaces
Alex Castillo
who had been hitting .063 in eight games played thus far.
As a team the Aeros pitching staff has accumulated a 5.63 ERA, bad enough to be the worst in the Eastern League. They've let up 26 more runs than the next closest team, Binghamton has in 23 games this season. They've also walked more hitters than any other team, but they do lead the EL in strikeouts.
The Aeros have stolen just four bases this season, three of them by leadoff hitter
Tim Fedroff
. However they simply don't run a lot as they've also only been caught only three times.
The double play tandem of
Cord Phelps
and
Carlos Rivero
have accounted for six of the 19 errors this season. Josh Rodriguez has played in just nine games, but he's committed three errors as well.
User Comments
No comments currently. Be the first to comment!