Akron's Week That Was: 4/8 - 4/18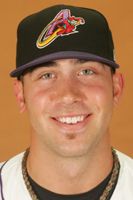 The defending Eastern League Champions came out of the gates just as we would have expected them to. After taking the first two series from Trenton and Binghamton, the Aeros arrived in Akron to open up Canal Park against the other team in the EL that had gotten off to a hot start, Bowie. The Baysox clobbered the Aeros in the home opener and went on to take three of four from Akron to establish an early lead in the Western Division. Despite their struggles against Bowie, early on the Aeros look to have yet another promising team with a lot of talent offensively and a few good pitchers to back them up.
Here is everything you need to know about the Aeros for the week (and a half) of April 8th to the 18th.
Record:
6-5 (Last Week: 6-5)

Standings:
3rd in Western Division (3.0 GB)
Teams Faced (Record Against):
@ Binghamton (3-1), @ Trenton (2-1), Bowie (1-3)
Upcoming Week:
Altoona (3), @ Bowie (4)
Transactions:
Added Russell Branyan (Rehab)
Awards:
Akron didn't receive any awards the past week.
Pitcher of the Week: Zach Putnam, RHP
After a year primarily spent in the bullpen, Zach Putnam has moved back into the rotation and so far, the transition has been seamless. Putnam racked up 10 strikeouts in his first three starts of the season in route to a 2-0 record. He's also displayed great control in the early going with only one walk in his 15 innings of work. Putnam put forth strong efforts in all three starts the past week and a half and has been the best pitcher for Akron in the young season.
Hitter of the Week: Cord Phelps, 2B
All the attention will be on high-end prospects like Nick Weglarz and Lonnie Chisenhall, who have been off to their own great starts, but Cord Phelps has really set the pace for the Aeros hitters early on. Phelps has gone deep twice in the early going and along with leading the team in hits, he is second in the Eastern League in batting average.
Weekly Spotlight: Carlos Rivero, SS
Every week one player on the Akron roster will get a spotlight on their outlook for the 2010 season and where they are currently at.
After spending last season with Akron, Carlos Rivero is back for more. The biggest thing that is holding Rivero back from having that landmark year is his slow starts. His offense has been mysteriously absent in the first halves of the past two seasons.
So it's quite obvious what the Indians organization is going to be looking for from Rivero in 2010. Rivero is still young, but now that he's on the 40-man roster he'll be looked at more carefully and he'll no doubt be expected to start producing sooner rather than later.
So far? Rivero has collected ten hits, but he's equaled that with ten strikeouts. The power hasn't arrived and he's only knocked in three runs, but the season is way too young to worry yet. If anything the hitting over the past week and a half he's done should provide some hope that he can buck his slow-starting trend.
Better Times Ahead

Bryan Price: 0-2, 7 IP, 12 H, 8 R (6ER), 3 BB, 9 K
Where as Zach Putnam was moved from the bullpen into the rotation,
Bryan Price
was moved from the rotation into the bullpen. Price however is no stranger to the pen and it would seem like he's pitched as if he's been there before. The good news is he hasn't walked a ton of hitters, he's getting his strikeouts and the hits would suggest he's trying to throw strikes. But things just haven't bounced his way so far as two of the runs he gave up the past week and a half have been unearned. Price will turn it around, especially since his problems aren't with free passes and more with just getting hit. Some proper adjustments and he could turn it around soon enough.
What was Witnessed
I won't always have a chance to attend games, but when I do I'll report my findings. This past week I attended the Aeros home opener on Thursday.
The Indians probably have to be frustrated with the inconsistencies in
Connor Graham
and his control. Against Bowie he started with two straight walks, including a wild pitch, before retiring the side without damage thanks to a double play. He didn't give up an actual hit until the third and obviously lost everything he had in the sixth inning.

Beau Mills
didn't really do much, but he did drive two pitches deep to right-center field. Meanwhile I couldn't help but be impressed with the way
Cord Phelps
hit the ball. He really looks like he has a knack for hitting as he stays on the ball and just puts it where it needs to go. One of his hits was straight up the middle and hit really hard.

Matt McBride
was someone I had watched in right field a lot. He made a great read on one sinking line-drive hit to right and later would get a chance to test his arm, twice. He made a really strong throw that looked like it could have pegged the runner at home, however it might have been a little off target for Toregas to grab. He made up for it later when he made another strong throw to second base and from my vantage point, had the runner caught. The umpire didn't exactly agree with that, but McBride definitely has an arm for right field.
Just after McBride had made the good catch in right,
Tim Fedroff
came in with his own gem of a catch. Fedroff made an impressive diving catch in center to end the inning.
Nick Weglarz
's solo shot was absolutely crushed beyond the right field bleachers, that much you probably could have guessed. But he also clobbered a ball up the middle that hit off the pitcher's glove. He was thrown out at first, but he definitely got all of the ball on that particular swing.
Infirmary Report
Recapping any and all of the injuries in the past week.
You may have noticed
Beau Mills
' absence from the lineup in a few games this past week. Mills missed the final game against Binghamton and the first game against Trenton due to a non-baseball related illness. Mills returned to the lineup on the 13th to blast his first home run of the year, a three run shot in Akron's 4-2 win over Trenton.
Starting pitcher
Eric Berger
has started the season on the disabled list
due to a strained oblique
. His spot in the rotation is being filled by Aeros-regular Ryan Edell for the time being. Berger, who suffered the injury near the end of spring training, will likely miss the rest of April before making his season debut.
Weekly Randoms
For all the other random information that got away.
Get used to seeing
Josh Rodriguez
moving around the diamond defensively. With Cord Phelps planted as the regular starter at second base, Rodriguez will need to find at-bats elsewhere. In the past week and a half Rodriguez has seen time at second, shortstop, and even in right field. With the Indians drafting Phelps and Jason Kipnis and acquiring Jason Donald and Luis Valbuena, Rodriguez's future at the position doesn't look promising. The Indians will probably be grooming him to be able to handle multiple positions in hopes of establishing him as a utility player.
Akron fans received a treat with the placement of
Wyatt Toregas
on the Aeros roster to begin the season. After clearing waivers, Toregas was sent to Double-A, the only place he could get regular playing time due to Carlos Santana's presence at Columbus. Toregas may not be around all season, if he is even in the Indians organization period, but for now he gives the Aeros a much needed boost at the catching position.
Did reliever
Omar Aguilar
just need a few outings to get things ironed out? The right-hander acquired in the swap with Milwaukee for Chuck Lofgren got off to a rough start in his first two outings giving up five runs in just over two innings of work. But against Bowie on Friday Aguilar was dominant in the form of two scoreless innings, with all but one out coming via the strikeout.
User Comments
No comments currently. Be the first to comment!