Akron's Week That Was: 5/10 - 5/16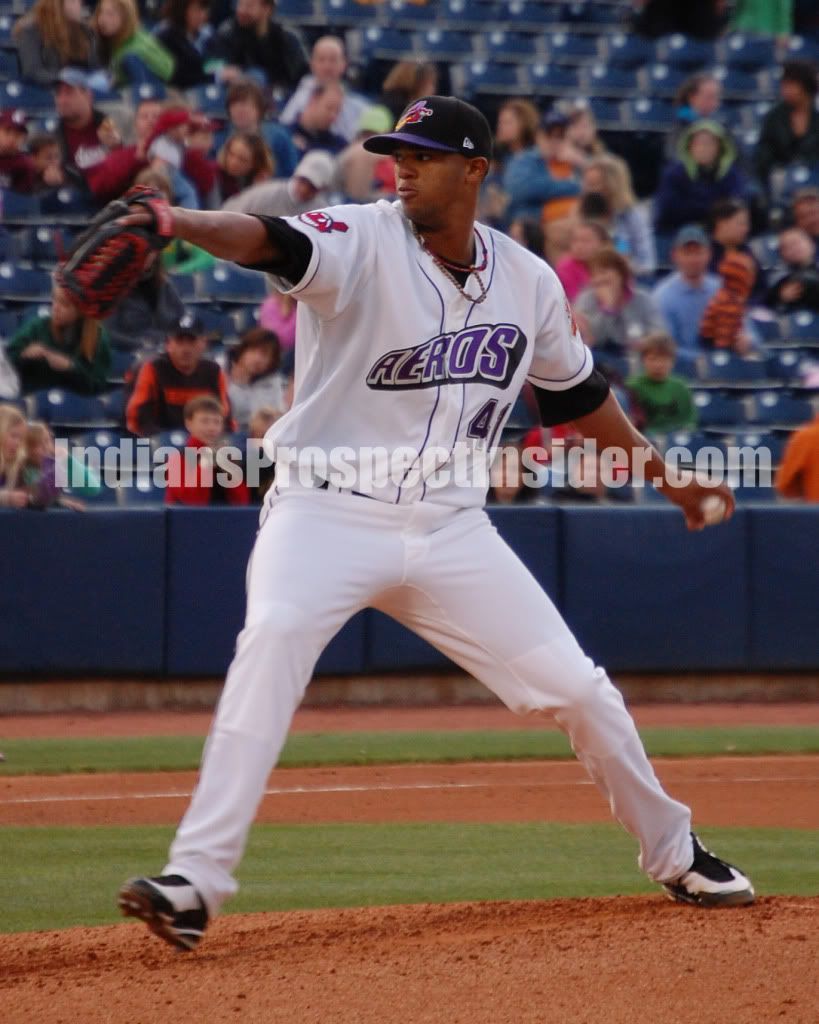 It was a wet week for the Aeros as they saw two games get washed out due to rain. It forced the club to play two doubleheaders, one against Reading and one against Erie. The Aeros managed to split against Erie, but they dropped the doubleheader to Reading as a part of their series loss. There is some excitement though in Akron as Kelvin De La Cruz made his debut and he did not disappoint.
Here is everything you need to know about the Aeros for the week of May 10th to May 16th.
Record:
14-23 (Last Week: 2-5)
Standings:
6th in Western Division (8.5 GB)
Teams Faced (Record Against):
@ Erie (1-2), Reading (1-3)
Upcoming Week:
@ Erie (3), Reading (4)
Transactions:
Activated C Miguel Perez, Deactivated C Wyatt Toregas, Activated RHP Josh Judy, Released RHP Erik Stiller, Lost RHP Neil Wagner (Trade), Lost RHP Vinnie Pestano (Columbus)
Awards:
Akron didn't receive any awards the past week.
Pitcher of the Week: Kelvin De La Cruz, LHP
1-1, 11 IP, 5 H, 2 R, 6/11 BB/K
The Aeros have been starved for some pitching and the addition of Kelvin De La Cruz is much welcomed, especially with their best starter, Zach Putnam, getting moved into the bullpen. De La Cruz came up from Kinston and didn't really skip a beat. He did lose his first game but with minimal run-support. Against Reading De La Cruz made it impossible to lose by throwing five scoreless innings and not allowing a hit.
Season History
Week 1: Zach Putnam
Week 2: Erik Stiller
Week 3: Paolo Espino
Week 4: Zach Putnam
Hitter of the Week: Jared Goedert, IF
7/20, 3 R, 1 RBI, 6 2B, 4/2 BB/K
It wasn't an overly productive week for any one hitter as the run scoring was pretty spread out, but every time Jared Goedert swung the bat, he ended up at second base. Goedert recorded six doubles and scored three runs this past week in addition to working four walks. He certainly did his part to set up some scoring this past week for the Aeros.
Season History
Week 1: Cord Phelps
Week 2: Cord Phelps
Week 3: Nick Weglarz
Week 4: Beau Mills
Weekly Spotlight: Beau Mills, 1B
Every week one player on the Akron roster will get a spotlight on their outlook for the 2010 season and where they are currently at.
The 2008 Carolina League Most Valuable Player followed up his MVP campaign with a bit of a disappointing season at the next level. Mills ended up hitting just .267 after hitting .293 in Kinston. However Mills still knocked in 83 runs for the Aeros last season.
2010 seems to be following 2009's path. Mills hasn't been a hot hitter, but he's been a run-producer. Despite the batting average and the lower on-base percentage, Mills shares the team lead in RBI with Nick Weglarz. He's also second on the team in walks and the most positive part about his walk total? It's half of his entire total last year. Mills has been able to cut back on the strikeouts and be more patient at the plate. He hasn't displayed the total power the organization would probably desire from a first base prospect like him, but Mills has produced when prompted.
With Wes Hodges now at first base and playing at Columbus, he may have to spend two full years at the Double-A level. But the former first round pick should very much still be on the Indians radar if he continues to show improved plate discipline.
Who's Hot?
Carlton Smith: 6.1 IP, 0 ER, .105 AVG Against, 5 K
Since arriving in Akron Calrton Smith has done his part to help aid the Aeros bullpen. This past week he took a loss after giving up an unearned run, but he's done nothing but provide solid relief for an Akron pitching staff that has needed it. The move to Akron has also benefited Smith as he was struggling to get hitters out at Columbus.
Better Times Ahead
Tim Fedroff: 5/28, 2 R, 3 RBI, 1/7 BB/K
Leadoff hitter Tim Fedroff didn't set the tone very well this past week. He's come on strong lately with two multi-hit games, but all week he's failed to get on base to set up the likes of Weglarz and Mills to knock him in.
With Chisenhall missing and or not producing it becomes even more important for Fedroff to set the tone for the Aeros lineup and he wasn't able to do that like he has in past weeks. Still the former Tar Heel has remained consistent this year prior to this week, so you have to believe this past week was a small blip on the radar for him.
Infirmary Report
Recapping any and all of the injuries in the past week.
A relatively healthy week for the Aeros this week, but they're still dealing with the mysterious absence of
Lonnie Chisenhall
. Akron's third baseman did see some time at designated hitter this past week but his stay in the lineup was brief and he collected just one hit.
Weekly Randoms
For all the other random information that got away.
Wyatt Toregas
is on his way out. A week after Damaso Espino assumed much of the regular duties, Toregas was demoted once more, this time to Goodyear. Toregas has certainly fallen far in a short span of time.
Unexpected reliever
Josh Judy
returned to Akron after he returned from the disabled list this past week. After spring it was believed Judy was on the shortlist for bullpen help at the major league level, until he came down with the injury that prevented him from starting the season healthy. He may not be long for Akron, but the Aeros certainly won't object to having the guy who saved 11 games for them in 2009 hanging around until he gets his his feet under him.
It remains to be seen in what capacity the Aeros plan on using
Zach Putnam
as a reliever but he made just one appearance this past week to earn a three-inning save. The move to the pen suggests that the Indians would like to speed up his progression once again and he too may not be long for Akron, especially if he keeps pitching the way he has been.
A tough few weeks for the Akron pitching staff got tougher when the organization decided to release two more relievers,
Neil Wagner
and
Erik Stiller
. Wagner's anxiety was lessened a little when he learned a little later that he was traded to Oakland instead of released. Stiller signed with the Astros on Sunday and will report to their Double-A team. The odds were certainly stacked against the likes of both, neither being highly regarded prospects, but both made lots of headway in baseball and are certainly two players that will be well off if they don't in fact make it in the game.
Photo courtesy of Lianna Holub
User Comments
No comments currently. Be the first to comment!