Akron's Week That Was: 5/17 - 5/23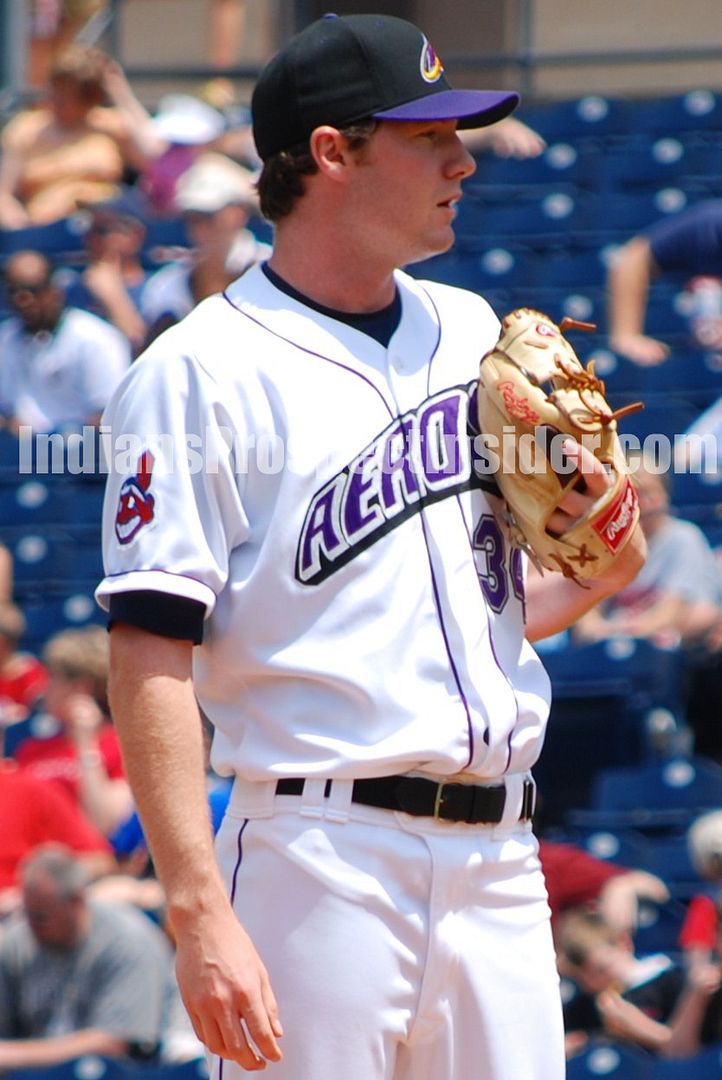 For the second straight week the Aeros got to debut a top-prized pitching prospect and for the second straight week, it was a successful debut. Alex White reached the Akron level pretty quickly and if he keeps up, he may not be needed in Akron for long. The Aeros also had success in winning games, grabbing two series wins over Harrisburg and Altoona.
Here is everything you need to know about the Aeros for the week of May 18th to May 23rd.
Record:
18-25 (Last Week: 4-2)
Standings:
6th in Western Division (9 GB)
Teams Faced (Record Against):
@ Altoona (2-1), Harrisburg (2-1)
Upcoming Week:
Altoona (4), @ Binghamton (3)
Transactions:
Received IF Cristo Arnal, RHP Alex White, RHP Bryce Stowell from Kinston, Received IF/OF Jerad Head from Columbus, Activated RHP Connor Graham from Disabled List, Placed 3B Lonnie Chisenhall on Disabled List, Lost RHP Josh Judy, RHP Justin Germano, OF Nick Weglarz, and IF Josh Rodriguez (Columbus).
Awards:
Akron didn't receive any awards the past week.
Pitcher of the Week: Alex White, RHP
1-0, 7 IP, 5 H, 2 R, 1/2 BB/K
Alex White proved to be just the infusion that Kelvin De La Cruz was last week when he made his Akron debut on Sunday. White pitched seven innings, the first six scoreless, to pick up a win and lead the Aeros to a series win over Harrisburg.
Season History
Week 1: Zach Putnam
Week 2: Erik Stiller
Week 3: Paolo Espino
Week 4: Zach Putnam
Week 5: Kelvin De La Cruz
Hitter of the Week: Matt McBride, OF
6/21, 3 R, 6 RBI, 2 HR, 2/3 BB/K
Matt McBride must be getting a head start on life without Nick Weglarz. With Weglarz up to Columbus, McBride will now be counted on to be one of the big run producers for the Aeros. McBride did that this past week leading the team in RBI. He also hit two home runs, which doubled his total for the season.
Season History
Week 1: Cord Phelps
Week 2: Cord Phelps
Week 3: Nick Weglarz
Week 4: Beau Mills
Week 5: Jared Goedert
Weekly Spotlight: Zach Putnam, RHP
Every week one player on the Akron roster will get a spotlight on their outlook for the 2010 season and where they are currently at.
Bullpen or Rotation? Zach Putnam has seen both the past two years. It is believed that Putnam's future is in the bullpen and if that is the case, the future has arrived now for him. Putnam's 2010 has repeated 2009 when he started in the rotation and was moved to the bullpen, the only difference is that he wasn't moved up a level.
After being moved into the bullpen he was moved up to Akron. This season Putnam remains in Akron, but the possibility still remains that he gets a call to Columbus at some point. He's only pitched in two games since being moved to the bullpen but the results have been favorable. They have been more extended appearances, but Putnam has picked up saves in both games.
One thing is for sure, Putnam still is maintaining his good strikeout to walk ratio. Last year he struck out 3.5 hitters for each walk, this year he's slightly better with 3.7 strikeouts per walk.
Who's Hot?
Bryan Price: Last Five Games - 7 IP IP, 2 ER, 4 H, 0/9 BB/K
After a rough first outing after coming off the disabled list, Bryan Price has found his groove. He's now thrown five scoreless frames in his last four games and hasn't walked anyone since returning from the disabled list.
Price came into the season projected to be one of the back end of the bullpen options but he initially struggled. After a short stint on the DL he's now back and showing some of the consistency he did after coming over from the Red Sox organization in the Victor Martinez deal.
Better Times Ahead
CC Lee: May - 0-1, 8.00 ERA, 9 IP, 14 H, 3 BB, 8 K
Reliever CC Lee has been having a up and down month of May. Every other outing has been a disaster for him, but he's still managing to throw in a decent performance here and there. Lee started off May in a bad way giving up four runs off eight hits in a game against Trenton. His 2010 season as a whole hasn't been all that good either.
Lee is letting hitters hit .304 off of him in 23-plus innings of work. He's carrying a 5.40 ERA through 13 games a year after he ran through 45 games in Kinston with a 3.35 ERA. Lee's strikeout rate has also dwindled, with just under a strikeout per inning a year after he struck out 97 hitters in 83 innings.
Infirmary Report
Recapping any and all of the injuries in the past week.
It was finally revealed that third baseman
Lonnie Chisenhall
has been missing time due to a shoulder injury. The Aeros officially placed Chisenhall on the disabled list this past week after he underwent an MRI. It is unknown how long Chisenhall will continue to be out, but for now, Jared Goedert will probably fill in for the majority of the time at third base.
What Was Witnessed
I won't always have a chance to attend games, but when I do I'll report my findings. This past week I attended the Aeros/Senators game on Friday, downpour and all.
Ugly looking play on the part of
Johnnie Drennen
in left field. Drennen drifted back late in the game on a deep fly ball to left and got turned around. The ball ended up hitting the wall and overall it was a poor read on Drennen's part. He did make up for it with his strong offensive game.
Kelvin De La Cruz
was hit hard, point blank. He didn't get very deep into the count against anyone as the Senator hitters simply just started teeing off on him. Most of the hits were hard liners, four of which went for extra bases.
The last time I was at an Aeros game,
Connor Graham
started and was unimpressive. This time around he pitched two innings in relief and looked much better. He didn't walk a hitter and didn't seem to have the control issues he did in the home opener.
The wet conditions didn't seem to stop either team from hitting. Despite getting outscored the Aeros did manage to match Harrisburg in hits. The Aeros downfall came when they grounded into a few double plays and Johnnie Drennen was thrown out at home on a Damaso Espino hit.
Nick Weglarz
's home run was majestic, as usual, and it was most likely his final one for Akron. The ball hit the tall wall in center field and bounced back into the outfield.
Weekly Randoms
For all the other random information that got away.
The Aeros bullpen has really been picking it up, especially this past week. Steven Wright, Omar Aguilar, Connor Graham, Bryan Price, and Zach Putnam, combined to go 16.2 scoreless innings this past week. The bullpen only gave up three earned runs this past week.
Before this week, the bullpen had just one pitcher with a save on the roster. Putnam, Wright, Aguilar, and Calrton Smith all picked up saves this past week.
Jerad Head
is back in Akron and last year's Eastern League Playoff MVP had two hits in his first two game. The club also added Cristo Arnal from Kinston's roster after Josh Rodriguez was promoted to Columbus.
Jared Goedert
remains hot. He led the team in hits once again and added two more doubles to his team leading total. Goedert is now hitting .341 on the season and has now climbed into second among Eastern League hitters.
User Comments
No comments currently. Be the first to comment!