Akron's Week That Was: 5/24 - 5/30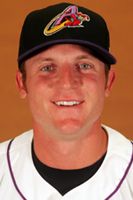 After two straight wins over Harrisburg to end the week before last on a good note, the Aeros came stumbling out of the gate this past week. After getting blown out in the first game, they lost a pair of close games before avoiding the sweep. Currently the club is in the midst of a four game series against Binghamton. The same day that the parent club had their remarkable comeback against New York, the Aeros had one of their own against a New York farm team for what was only their second of two wins this past week.
Here is everything you need to know about the Aeros for the week of May 24th to the 30th.
Record:
20-30 (Last Week: 2-5)
Standings:
6th in Western Division (13 GB)
Teams Faced (Record Against):
Altoona (1-3), @ Binghamton (1-2)
Upcoming Week:
@ Binghamton (1), Erie (3), @ Harrisburgh (3)
Transactions:
Received LHP Nick Hagadone from Kinston, Activated 3B Lonnie Chisenhall from Disabled List, Deactivated LHP Scott Barnes (Mahoning Valley)
Awards:
Scott Barnes named Eastern League Pitcher of the Week for week ending May 23rd.
Pitcher of the Week: Bryce Stowell, RHP
4.2 IP, 1 SV, 0 ER, 3/5 BB/K
With Alex White and Kelvin De La Cruz up, as well as the recent promotion of Nick Hagadone, Stowell will be counted on to provide some much needed relief and he did just that this past week. Stowell notched a save in addition to coming out of the pen in two other instances. He may have put some runners on, but he didn't allow them to score, which is more than what some other relievers can say for this past week.
Season History
Week 1: Zach Putnam
Week 2: Erik Stiller
Week 3: Paolo Espino
Week 4: Zach Putnam
Week 5: Kelvin De La Cruz
Week 6: Alex White
Hitter of the Week: Jared Goedert, IF
9/25, 7 R, 3 2B, 2 HR, 3 RBI, 2/3 BB/K, 1 SB
Organizational bubble? So much for that. Jared Goedert doesn't look like a hitter that was about to be cut prior to his hot spring training. He's been arguably the best hitter in the Aeros lineup to date and he is currently second in the Eastern League in batting average and fourth in slugging percentage. As of right now he's also carrying a 19 game hitting streak dating back to early May. EL pitching just cannot get him out.
Season History
Week 1: Cord Phelps
Week 2: Cord Phelps
Week 3: Nick Weglarz
Week 4: Beau Mills
Week 5: Jared Goedert
Week 6: Matt McBride
Weekly Spotlight: Matt McBride, OF
Every week one player on the Akron roster will get a spotlight on their outlook for the 2010 season and where they are currently at.
With his catching days likely behind him, Matt McBride has remained relatively healthy the past season and a half. That good health has really let him shine offensively. Last year before getting a call to Akron, McBride torched Carolina League pitching to the tune of a .405 average in 31 games. He knocked in 36 runs and had 21 extra-base hits.
Between Kinston and Akron last season McBride hit 18 home runs and knocked in 99 runs. He went on to produce in the Arizona Fall League behind the plate and was expected to come into 2010 and do some catching. However to date McBride hasn't even sniffed the catcher's mask and remains planted in the outfield. It's almost a shame that a defensively gifted catcher like McBride may not ever get to shine in that department.
McBride's arm does however translate well to right field and he can handle himself defensively. As long as he stays healthy, he can still keep himself on the higher end of the prospect radar. To do that though he has to hit and right now he isn't the run producer in the middle of the Akron lineup you would hope for. While McBride has been hitting a lot better as of late, he has just two extra-base hits in his last ten games, a far cry from what he was doing last season.
Maybe when and if Jordan Brown and or Michael Brantley make it to Cleveland, Columbus will come calling for McBride later in the season. For now, he has to establish he's ready to move on from the Double-A level hitting-wise.
Who's Hot?
Johnnie Drennen: 12 game hit-streak snapped, six multi-hit games in the last ten games.
His 12 game hit-streak came to an end on Sunday, but Drennen's hot bat has been a big asset to the Aeros the past few weeks. Johnnie torched Harrisburg last week with two hits in each game and this past week it carried over as he collected multi-hit games in three of four contests against Altoona.
Drennen's hitting exploits have landed him in the top five among Eastern League players in batting average as well as atop the Aeros' lineup with Tim Fedroff struggling.
Better Times Ahead
Beau Mills: 3/27, 2 RBI, 2/3 BB/K
At least he didn't strike out eight times, right? Beau Mills will have better days and probably better weeks, but this past week wasn't his. Mills has struggled to find the average this season period, but he didn't even manage to knock in the runs this past week.
The encouraging sign really is the fact that he didn't strike out a bunch, but he also didn't walk all that much. Mills has to be that prototypical run producer, someone who drives in runs despite the sub-par average, but he also has to find ways on base via the walk.
Infirmary Report
Recapping any and all of the injuries in the past week.
Welcome back
Lonnie Chisenhall
. The Tribe's top 50 ranked third base prospect returned to action against Binghamton this past weekend. Chisenhall made three starts at designated hitter after what amounted to a little over two weeks of inactivity and a short stint to the disabled list. Chisenhall hit his first home run of the season and had three hits in his second game back and that is certainly a good sign for the Indians.
Weekly Randoms
For all the other random information that got away.
I failed to mention that
Scott Barnes
threw his second no-hit outing this season last week. He went at least five innings in both games, but this one had three more walks than the first one did. If he isn't holding the opposing to no-hits, he is pretty much getting shelled. Half of Barnes' starts have seen him give up at least five runs. In his last outing, the ugly Barnes showed up as he gave up eight runs off eight hits and a walk. The club responded by essentially skipping his next start by deactivating him while they made room for Lonnie Chisenhall.
Tim Fedroff
and
Cord Phelps
have been dropped in the lineup. Phelps made the move to second in the order after Lonnie Chisenhall was injured but hasn't kept up the hot hitting he did early in the season (who could expect him to?). Fedroff meanwhile looks to have been displaced by the hot-hitting Johnnie Drennen for the time being. Fedroff is hitting .242 this season and he struck out eight times this past week. His 41 strikeouts leads the team as well.
Closer by committee? There really seems to be no rhyme or reason for how Joel Skinner divvies up save opportunities and with so few chances, I'm sure sticking with the hot hand makes the most sense at this juncture.
Bryce Stowell
became the seventh Aero to record a save this past week and
Carlton Smith
became the fourth to record multiple saves.
Nine consecutive scoreless innings for
Bryan Price
came to an end on Sunday when he gave up three runs in his second inning of relief work. Price has struck out 26 hitters this season compared to just three walks.
Remember that every other appearance trend for
CC Lee
that was pointed out last week? It continued this past week. After giving up two earned runs on Monday, Lee came back on Wednesday and pitched two scoreless innings. He then came out on Saturday and gave up two runs against Binghamton and then a day later on Sunday, pitched a scoreless frame.
Loaded rotation? Maybe if Scott Barnes and Eric Berger get their acts together.
Nick Hagadone
was recently promoted from Kinston, making it three Kinston pitchers to get the call to Akron in the past few weeks. It also gives the Aeros rotation four left-handed starters. Handedness aside, the club needs to start getting some solid pitching and it all starts with Hagadone and the other starters.
User Comments
No comments currently. Be the first to comment!