Akron's Week That Was: 5/3 - 5/9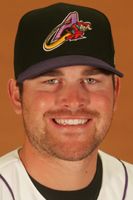 The Aeros had a big turnaround this past week after what was flat out a week of absolute torment. The Aeros managed to split a series with Trenton at home before heading onto the road to claim a series over Reading. The club is still looking for their first three-game sweep but they've at least turned things around after a win-less week.
Here is everything you need to know about the Aeros for the week of May 3rd to May 9th.
Record:
12-18 (Last Week: 4-3)
Standings:
5th in Western Division (7.5 GB)
Teams Faced (Record Against):
Trenton (2-2), @ Reading (2-1)
Upcoming Week:
@ Erie (3), Reading (4)
Transactions:
Activated RHP Bryan Price from 7-Day Disabled List, LHP Released Ryan Edell, Activated C Damaso Espino from Columbus, Deactivated C Miguel Perez, Received RHP Carlton Smith from Columbus, Received LHP Kelvin De La Cruz from Kinston, Received RHP Kerry Wood for Rehab Assignment
Awards:
Akron didn't receive any awards the past week.
Pitcher of the Week: Zach Putnam, RHP
0-0, 11 IP, 14 H, 5 R (3 ER), 0/8 BB/K
Again it boils down to slim pickings among pitchers as very few arms have stepped up. Non-prospect Justin Germano did well picking up two wins, but overall Zach Putnam was very strong in two starts for the Aeros. Three of the five runs he gave up were earned but he didn't walk a hitter in 11 innings. Putnam is doing his part in trying to get the Aeros into the win column but overall isn't getting the early support.
Season History
Week 1: Zach Putnam
Week 2: Erik Stiller
Week 3: Paolo Espino
Hitter of the Week: Beau Mills, 1B
8/25, 5 R, 1 HR, 11 RBI, 2 2B, 7/4 BB/K
The run producing Beau Mills that won the Carolina League MVP a few years ago was in full-force this past week for Akron. Mills knocked in 11 runs to now place him fifth among all hitters in the Eastern League. He also hit his third home run of the year and when he wasn't getting hits, he was getting on base with the walk. If Mills can continue to be that run-producer behind Nick Weglarz, the Aeros middle of the lineup will be very dangerous.
Season History
Week 1: Cord Phelps
Week 2: Cord Phelps
Week 3: Nick Weglarz
Weekly Spotlight: Josh Rodriguez, IF/OF
Every week one player on the Akron roster will get a spotlight on their outlook for the 2010 season and where they are currently at.
2008 was a disappointment as he reached the Double-A level and 2009 was pretty much a lost season due to injury for Josh Rodriguez. 2010 is going to be all about re-establishing himself. It has been a tough climb as he's really been a utility player, collecting minimal at-bats throughout the month of April. The mysterious injury to Lonnie Chisenhall however afforded Rodriguez some playing time this past week.
Rodriguez was a top prospect in the organization just a few years ago, some even viewed him as possibly the second baseman of the future. But that has now been stalled with not only Rodriguez's progress, but the additions of Jason Donald and Luis Valbuena and drafting of Cord Phelps and Jason Kipnis.
The plan now seems to be getting Rodriguez time at not only all the infield spots but also in the outfield. Rodriguez's extended playing time this week yielded some positive results at the plate with three doubles in 15 at-bats as well as three RBI and five walks.
Rodriguez overall is hitting .295 in 15 games this season with nine runs scored and eight runs batted in.
Who's Hot?
Tim Fedroff: Last Two Weeks - 17 H, 11 R, 2 SB
Outfielder Tim Fedroff has been pacing the Aeros attack from the top of the lineup with his bat the past two weeks. In the past two weeks worth of games, Fedroff has collected 17 hits and three walks. He has a .375 on-base percentage in the past ten games. His efforts are not going to waste either as his teammates have been knocking him in.
Better Times Ahead
Eric Berger: 6.2 IP, 2 GS, 6 H, 8 R, 11 BB, 7 K
It was not a good week for Eric Berger in terms of going deep into games; then again it hasn't really been since he's come off the disabled list. The good news is he did go four innings and only gave up two runs in his second game last week. The bad news is he's walking people at an alarming rate. Berger walked 11 hitters last week, six against Trenton and five against Reading.
The positive in all this is that Berger has only started three games this season and his latest start would be a little bit of evidence that he's still getting settled in. He did strike out six hitters against Reading and despite the five walks; he only gave up two hits for a .143 average against, which is far better than the previous two outings.
Berger will get better as he builds up his arm-strength. He's no doubt working through some early season fixes as well as coming off an injury.
Infirmary Report
Recapping any and all of the injuries in the past week.
The Aeros got back right-handed reliever
Bryan Price
from the disabled list this past week. Price however struggled in his first game back giving up two runs in two innings of work.
Third baseman
Lonnie Chisenhall
missed several games this past week. He returned to action on Sunday but only at designated hitter.
Weekly Randoms
For all the other random information that got away.
The catcher carousel continues to spin and this time it looks as if
Damaso Espino
is the guy for the Aeros. Espino spent 2009 in Akron as Carlos Santana's backup and was expected to do the same in 2010 in Columbus. However Espino was deactivated due to a numbers crunch and is now in Akron getting the bulk of the playing time this past week. Espino went 4-for-16 with three walks and four runs scored. Wyatt Toregas got just two starts behind the plate this past week.
Nick Weglarz
doubled his doubles total this past week with four. Weglarz now has 13 extra-base hits this season. Also doubling his extra-base hit total was
Carlos Rivero
who had just three doubles on the season before this week. After his seven games this past week, he's added two more doubles and his first home run.
A good outing for
Scott Barnes
this past week, perhaps his best since he threw five no-hit innings in mid-April. Barnes went 5.1 innings with eight strikeouts and two runs off two hits and three walks against Trenton on Thursday. He's now pitched into the six innings two games in a row now.
User Comments
No comments currently. Be the first to comment!