Akron's Week That Was: 5/31 - 6/6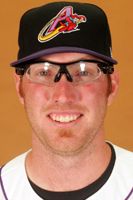 If the Aeros go on to make a incredible run in attempt to get back to the Eastern League playoffs yet again, you will most likely point to this week when trying to identify where it all started. The Aeros finished off a four-game set with Binghamton by splitting the series, then went on to sweep both Erie and Harrisburg to cap off an undefeated week. The Aeros are finally rolling and it has everything to do with the pitching, from start to finish.
Here is everything you need to know about the Aeros for the week of May 31st to June 6th.
Record:
27-30 (Last Week: 7-0)
Standings:
5th in Western Division (10 GB)
Teams Faced (Record Against):
@ Binghamton (1-0), Vs Erie (3-0), @ Harrisburg (3-0)
Upcoming Week:
Vs New Hampshire (3), Vs Portland (3)
Transactions:
Received IF Adam Davis from Kinston, Received LHP Scott Barnes from Mahoning Valley, Placed RHP Zach Putnam and RHP Carlton Smith on Disabled List, IF Jared Goedert sent to Columbus
Awards:
Akron did not receive any awards this week.
Pitcher of the Week: Connor Graham, RHP
5 IP, W, S, 2 H, 0 R, 1/0 BB/K
Who is this new Connor Graham? Ever since returning from injury and going into the bullpen, Connor Graham has been a new pitcher. He's become one of the most reliable pitchers out of the bullpen for manager Joel Skinner and last week he picked up a win and a save in three appearances.
Graham hasn't given up an earned run since coming back from injury and last week he showed tremendous amount of control, something he's struggled with up to this point. Graham walked 16 hitters in 19 innings in the month of April. In 12 innings since returning from the disabled list, he's walked five hitters.
Season History
Week 1: Zach Putnam
Week 2: Erik Stiller
Week 3: Paolo Espino
Week 4: Zach Putnam
Week 5: Kelvin De La Cruz
Week 6: Alex White
Week 7: Bryce Stowell
Hitter of the Week/Who's Hot? - Lonnie Chisenhall, 3B
Since returning from injury -11/32, 10 R, 2 HR, 10 RBI, 5/3 BB/K, 4 XBH
Nick Weglarz is long gone and now the Aeros best hitter this season, Jared Goedert, is looking to make his mark in Columbus. Which now leaves Lonnie Chisenhall with the opportunity to establish what, quite frankly, many believe he is: the best hitter in this organization.
Since returning from his injury, Chisenhall has showed that perhaps his slow start to the season had everything to do with being hurt and that now he is healthy and ready to hit. Lonnie hit his first two home runs of the year in the past week and a half and he's showing that good walk-to-strikeout rate. Prior to going onto the disabled list he had just six RBI, since coming off and starting on the 28th of May, Chisenhall has knocked in ten runs
Season History
Week 1: Cord Phelps
Week 2: Cord Phelps
Week 3: Nick Weglarz
Week 4: Beau Mills
Week 5: Jared Goedert
Week 6: Matt McBride
Week 7: Jared Goedert
Weekly Spotlight: CC Lee, RHP
Every week one player on the Akron roster will get a spotlight on their outlook for the 2010 season and where they are currently at.
The Taiwanese import, Chen-Chang Lee had a great first season with the organization for the Kinston club. Lee struck out 97 hitters in 83 relief innings for the K-Tribe. He came into the Akron bullpen as one of the arms expected to help carry the club's new-look pitching staff. The results have not been as expected though for Lee.
Lee has still managed to strike out more hitters than innings pitched, but after holding hitters a .220 average last season, hitters this year are clubbing .290 off him. Perhaps Lee is just going through an adjustment period though. He had relative success coming right into a new country and maybe dealing with some failure may do him some good in the long run.
There aren't any things that pop out, aside from his ERA, that would worry you. He only surrendered five home runs last year, but so far he's only given up two this season. He only walked 28 hitters last season, but 12 through 18 games this season isn't exactly something to push the panic button on.
CC Lee has had his solid outings, especially his last three, so there are very valid reasons to believe that he is just adjusting to the Double-A level of professional baseball.
Better Times Ahead
Beau Mills: Past 2 Weeks - 7/49, 5 RBI, 3/11 BB/K
Last week Beau Mills had the unfortunate honor of being in this space and I had made a comment concerning the fact that he hadn't struck out eight times like Tim Fedroff.
Well, Beau went ahead and struck out eight times this past week and he continues to struggle with the bat. He continues to find ways to knock in runs when he can, but he doesn't collect many hits outside of those RBI-hits. There should start to be some legitimate concern about the former first round draft pick and his continued struggle in year two at Double-A.
Infirmary Report
Recapping any and all of the injuries in the past week.
Two relief pitchers have been placed on the disabled list with injuries this past week. One is a little more concerning than the other as
Zach Putnam
is one of the arms in the system that people have high-hopes for. Putnam landed on the DL with what is being called rhomboid tightness. No it isn't a shape, but rather a muscle in the back.
Carlton Smith
has a more normal injury. The right-hander was placed on the disabled list with left oblique strain, which as we've learned from a few Indians starters in the past, can really hamper a pitcher for awhile.
Weekly Randoms
For all the other random information that got away.
Say goodnight to
Jared Goedert
, who is on his way up to Columbus now. Goedert's presence in the lineup has been invaluable the first two months of the season. Now with some pitching and the likes of Lonnie Chisenhall heating up, the Aeros may be able to survive, but they were able to stay a little bit afloat thanks to the effort of Goedert. He departs as the third ranked hitter in the entire Eastern League. Goedert's hitting streak ended against Erie after he extended it to 21 games this past week.
It was a doubles party for
Carlos Rivero
this past week. The shortstop finally found the extra-base stroke that he's been looking for with five of hits seven hits going for doubles. He nearly doubled his doubles total on the season going from six on the season to 11.
Damaso Espino
is making the most of all his at-bats and last week was no exception. Espino is hitting .329 on the season and he collected six more hits in just 15 at-bats this past week. He's also getting on base at a .410 clip with as many walks as strikeouts.
It isn't a coincidence that the club is starting to find itself now that the pitching is coming around. The promotions of Nick Hagadone and Alex White have certainly helped the rotation, but it has also helped the bullpen. With the likes of Kelvin De La Cruz, White, and Hagadone all in the rotation now,
Paolo Espino
and Connor Graham can now pitch out of the bullpen. We've talked about Graham's great week, but the pitching Espino put up a worthy effort piggybacking off Hagadone. Espino logged eight relief innings, one less than Hagadone did in two starts, and gave up no runs off just two hits and a walk with eight strikeouts.
It goes to show you how much Hagadone's promotion has helped the team. In the past I've given the likes of Alex White and Kelvin De La Cruz pitcher of the week awards in their debuts because it was the best pitching the club has seen in awhile. But Hagadone's inclusion to the rotation has really made those other pitchers better.
Nick Hagadone
's first two starts at the Akron level weren't too shabby either. His first start was a little short and he gave up three earned, but he bounced back in the next start to throw five scoreless innings and when the week was all said and done, he led the team in strikeouts with 12.
The club recorded three triples this past week, they had just eight coming into the month of June. They also recorded 13 extra-base hits in total this past week.
User Comments
No comments currently. Be the first to comment!