Akron's Week That Was: 6/14 - 6/20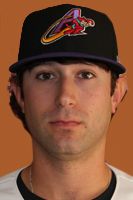 After an incredible winning streak it would seem as if things are back to normal in Akron in terms of the 2010 season. One would think that the winning the Aeros had been doing is normal given their recent success, but 2010 hasn't exactly been par for the Aeros' course. The Aeros repeated their schedule from last week, only this time they hit the road to drop a series to both New Hampshire and Portland.
Here is everything you need to know about the Aeros for the week of June 14th to June 20th.
Record:
34-35 (Last Week: 2-4)
Standings:
3rd in Western Division (10.5 GB)
Teams Faced (Record Against):
@ New Hampshire (1-2), @ Portland (1-2)
Upcoming Week:
Vs Richmond (3), Vs Binghamton (3)
Transactions:
Received OF Jordan Henry from Kinston, IF Adam Davis sent to Kinston
Awards:
Akron did not receive any awards this week.
Pitcher of the Week: Eric Berger, LHP
1-0, 7 IP, 2 H, 0 R, 10 K, 0 BB
Just as fellow left-hander Scott Barnes the previous week, things may be coming together for Eric Berger. Berger hasn't given up more than two runs and has gone at least five innings in the last five starts. In his game against New Hampshire this past week, Berger went five innings and gave up just a run off four hits and a walk.
Season History
Week 1: Zach Putnam
Week 2: Erik Stiller
Week 3: Paolo Espino
Week 4: Zach Putnam
Week 5: Kelvin De La Cruz
Week 6: Alex White
Week 7: Bryce Stowell
Week 8: Connor Graham
Week 9: Scott Barnes
Hitter of the Week - Jason Kipnis, 2B
9/24, 5 R, 3 2B, 2 HR, 4 RBI, 3/5 BB/K, SB
Not bad for his first full week in Double-A. Jason Kipnis led the Aeros in hits and teamed up with fellow Kinston call-up Jordan Henry to power the top of the lineup. Jason hit two home runs for Akron this past week bringing his season total between Kinston and Akron up to eight.
With Cord Phelps earning his promotion to Columbus, Kipnis was in line for a new test as well. So far he's passing with flying colors. Last year's second round pick is carrying his hot start to his first full professional season to Akron. Kipnis isn't just doing it a new level, but he's doing it from the second spot in the lineup.
Season History
Week 1: Cord Phelps
Week 2: Cord Phelps
Week 3: Nick Weglarz
Week 4: Beau Mills
Week 5: Jared Goedert
Week 6: Matt McBride
Week 7: Jared Goedert
Week 8: Lonnie Chisenhall
Week 9: Lonnie Chisenhall
Weekly Spotlight: Omar Aguilar, RHP
Every week one player on the Akron roster will get a spotlight on their outlook for the 2010 season and where they are currently at.
When the organization loses a player as followed as Chuck Lofgren, you can bet that they player they inevitably traded him for is going to be highly scrutinized, deservedly so or not.
Omar Aguilar came into the Indians organization with a lot of eyes on him. In what was essentially a swap of "spare parts" the Indians received Aguilar from Milwaukee in order for them to maintain control of Chuck Lofgren, who was selected in the Rule V Draft.
Aguilar arrived in Cleveland
with a second opportunity
to capitalize on what is to believed some major league caliber pitching talent. Aguilar has the stuff, there isn't much doubt about that. The problem, like it is for many relievers in his position, is controlling it and putting together consistency out of the bullpen. Lofgren was a starter on the brink of the major leagues after some outside baseball set-backs.
The current Aeros reliever was in a position to make the major leagues himself, being added to the 40-man roster by the Brewers. Yet Aguilar is now with Cleveland, not on the 40-man and in Double-A Akron trying to stake claim to legitimate prospect status.
To date Aguilar has struck out 38 hitters, only CC Lee has struck out more among regular relief pitchers, but he's also walked 20 and only Connor Graham has walked more among regular relief pitchers. Aguilar has recorded three saves in 33-plus innings of work for Akron this year. Aguilar is only 25, which for a reliever in the level he is at, isn't all that bad.
But the clock certainly is ticking for him and the only way to make it stop is to show some consistency.
Who's Hot?
Damaso Espino - Last 10 Games: 10/33, 5 R, HR, 5 RBI, 6/4 BB/K
For a catcher who is viewed mostly as a organizational backup, Damaso Espino is sure giving the Aeros some worthwhile at-bats. Espino has silently been getting the job done averaging at least a hit in his last ten games. Espino
It just hasn't been the last ten games though. Espino has been hitting all season since arriving in Akron. He's maintained a healthy above .300 average in both May and June and provided some stable offense behind the plate for Akron. Espino can also be counted on to put up a good at-bat and he's been able to find his way on-base to the tune of a .395 on-base percentage.
Better Times Ahead
Alex White: Vs Portland - 4 IP, 8 H, 6 R (3 ER), 0/1 BB/K
Alex White probably had his roughest outing since getting called up, and perhaps his short professional career. Not only was he let down by his defense, White got hit hard. Regardless of the error that led to an extended third inning, White gave up a leadoff home run in the second and a leadoff triple in the third.
The Indians 2009 first round pick let a runner on in all four innings he pitched in. It was his shortest outing since getting called up and no doubt a much needed taste of being mortal. White has struggled very little this season, so if this is going to be one of his more "bad" outings, than I'm sure the Indians and White will take it.
Infirmary Report
Recapping any and all of the injuries in the past week.
It was a relatively injury-free week for the Aeros for once. Zach Putnam and Beau Mills remain on the disabled list.
Weekly Randoms
For all the other random information that got away.
What does latest Kinston call-up
Jordan Henry
bring to the table? Despite a small stint on the disabled list, Henry was off to a great start with the K-Tribe. He hit .333 with Kinston, stole 14 bases, and was only caught twice. Henry is already off to a great start hitting atop the Akron lineup with four runs scored and a .393 on-base percentage. He's also already second on the team in stolen bases with three.
Shane Lindsay
is going to fit right in with his bullpen mates. Lindsay made his debut a Sunday ago and after two more appearances this past week, we are quickly learning he's a bit of an all-or-nothing type of a pitcher. He's given up a run in all three innings he's pitched in (only one was earned however) but has give up just one hit. With six walks and four strikeouts, Lindsay definitely fits in with the Aeros bullpen tendencies to walk or strikeout any hitter.
Kelvin De La Cruz
is struggling at the Akron level, especially with his control. He's walked four or more hitters in five of his eight starts. He's walked just two less hitters than he's struck out.
The Aeros have now taken on and beaten Kyle Drabek twice in the past two weeks. Drabek was the key piece in Toronto's deal with Philadelphia for Roy Halladay. This past week they got to Drabek and the New Hampshire defense for four runs, only one of them earned. Drabek however walked four and gave up five hits in each start.
Despite being in the bullpen,
Paolo Espino
leads the team in innings pitched. He's made a weekly routine of cleaning up for Nick Hagadone, so he's still getting a good quantity of innings and he's still pitching effectively in his new role.
Matt McBride
has some interesting splits against right and left handed pitching this season. McBride tends to walk more against right-handers, which has led to a higher on-base percentage against rigth-handed pitching. However against left-handed pitching he's a far better hitter. Three of his four home runs have come off left-handers, but he's hit more doubles off the right-handers.
User Comments
No comments currently. Be the first to comment!