Akron's Week That Was: 6/21 - 6/27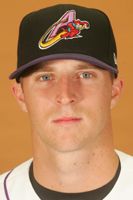 The Akron Aeros made some unpleasant headlines this past week for some off-the-field news that you never want to hear about. On the field they didn't do much to turn heads the other way. They did claim a series over Richmond by winning two games, but then got swept by Binghamton. Jason Kipnis continues to hit, Zach Putnam has returned to action, and Eric Berger has hit yet another bump on the rocky road that is his 2010 season.
Here is everything you need to know about the Aeros for the week of June 21st to June 27th.
Record:
36-39 (Last Week: 2-4)
Standings:
3rd in Western Division (12.5 GB)
Teams Faced (Record Against):
Vs Richmond (2-1), Vs Binghamton (0-3)
Upcoming Week:
@ Richmond (3), @ Bowie (4)
Transactions:
Received IF Josh Rodriguez from Columbus, Released RHP Shane Lindsay, Placed LHP Eric Berger on Disabled List, Activated RHP Zach Putnam from Disabled List
Awards:
3B Lonnie Chisenhall was named to XM MLB Futures Game
Pitcher of the Week: Bryan Price, RHP
1-0, 5.1 IP, 4 H, 1 R (0 ER), 6 K, 1 BB
Bryan Price may be starting to find his groove after a rough start to the season and an injury that kept him sidelined. Price has been great for the Aeros bullpen in June and this past week he did his best to keep the team afloat. With Paolo Espino back in the rotation due to Eric Berger's injury, Price became Nick Hagadone's piggy-backer with two follow up scoreless innings. Price aided his fellow Victor Martinez-trade mate against Richmond and earned his second win of the season.
Price then came in to stop the bleeding against Binghamton in a start by Kelvin De La Cruz. Price gave up one unearned run, but struck out four and walked none in 3.1 innings of relief work.
Season History
Week 1: Zach Putnam
Week 2: Erik Stiller
Week 3: Paolo Espino
Week 4: Zach Putnam
Week 5: Kelvin De La Cruz
Week 6: Alex White
Week 7: Bryce Stowell
Week 8: Connor Graham
Week 9: Scott Barnes
Week 10: Eric Berger
Hitter of the Week: Jerad Head, IF
9/16, 3 R, 3 2B, 1 HR, 4 RBI, 3/5 BB/K, SB
Jerad Head didn't have a good week in terms of the newspaper, but on the diamond, he did well. Head made the most of his five games and his week was highlighted by a 4-for-4 day against Binghamton. Head his fourth home run of the year on Sunday and knocked in four runs against the B-Mets in three games.
With Beau Mills injured, Head is benefiting by more playing time with time needed to be field in the outfield, first base, and designated hitter, depending on where Matt McBride plays. With Josh Rodriguez now on the team, he may stand to lose some time, but right now he's swinging a productive bat.
Season History
Week 1: Cord Phelps
Week 2: Cord Phelps
Week 3: Nick Weglarz
Week 4: Beau Mills
Week 5: Jared Goedert
Week 6: Matt McBride
Week 7: Jared Goedert
Week 8: Lonnie Chisenhall
Week 9: Lonnie Chisenhall
Week 10: Jason Kipnis
Weekly Spotlight: Lonnie Chisenhall, 3B
Every week one player on the Akron roster will get a spotlight on their outlook for the 2010 season and where they are currently at.
Lonnie Chisenhall's 2009 put him on the map, not just within the Indians organization, but around prospect circles as well. Chisenhall was routinely placed in prospect rankings from leading minor league baseball experts.
It didn't take long for Chisenhall to make it to Double-A. After scorching Carolina League pitching, Chisenhall was moved to Akron in 2010 and after an adjustment period he started to catch on. Expectations for 2010 probably tracked him doing something like 2009, only an eventual call to Columbus to put him on the doorstep of Cleveland.
That was derailed thanks to an injury that put Chisenhall in a bit of a slump. With Brian Buscher keeping the seat warm, it was up to Chisenhall to dictate when he'd get the call to Columbus. If he lit up the Eastern League with Kinston-like numbers early, it could have been him that got the call instead of hot-hitting Jared Goedert.
Chisenhall may in fact be destined to take over third at Columbus later this year, a trade of Jhonny Peralta could possibly give Goedert a surprising opportunity at the big league level and also open up a shot for Chisenhall, who will likely deserve it now that hes healthy.
After a hot-start in the first few weeks of 2010, Chisenhall came down with shoulder problems and it lead to issues at the plate. After a stint on the disabled list, Chisenhall has returned to return to the sweet-swinging ways we saw in 2009. The power has also started to formulate as Chisenhall had not hit a home run prior to returning from the injury.
Despite the injury and the numbers aside, Chisenhall is regarded as the future third baseman of the franchise. You don't have to look any further than his selection to the XM MLB Futures Game, a exhibition held the Sunday prior to the All-Star break that showcases future MLB talent from around the game.
Who's Hot?
Jason Kipnis - Since Call-Up: .324 AVG, 13 R, 3 HR, 7 RBI, 3 2B, 7/9 BB/K
Jason Kipnis is opening up some eyes and come next year, he may be popping up on some prospect lists. In a way he's sort of followed an accelerated path of his infield-mate Lonnie Chisenhall. It wasn't long before Chisenhall made it to Akron, but it took Kipnis less time to reach this stage.
And Kipnis isn't even showing signs of slowing down. Since getting the call to Akron he's already hit three home runs and is maintaining that .300 average he had with the K-Tribe. He's averaging just under a run scored per game played as the second-hole hitter in the lineup. If he keeps this production up and the Indians can't find an answer at second base, he'll be on the big league club sooner rather than later.
Better Times Ahead
Kelvin De La Cruz - June: 0-2, 5 GS, 6.04 ERA, 22.1 IP, 3 HR, 17/14 BB/K
While May wasn't real kind to De La Cruz, June has been worse. Kelvin isn't showing the level of performance the Indians would have expected out of him after 10 games at the Double-A level. In fact DLC has actually regressed. His strikeouts are going down, his walks are going up, inconsistency is no longer a problem, start after start is.
DLC conquered the Single-A level with an injury thrown in to slow down his progress. His next quest is to do the same with Akron. He's still young, even with the injury last year, the Indians moved quickly when he proved Kinston wasn't a problem anymore. But right now Double-A is an issue and it is up to Kelvin to turn it around.
Infirmary Report
Recapping any and all of the injuries in the past week.
Just as he was starting to put it all together in the month of June,
Eric Berger's
frustrating 2010 season got a little more frustrating. After starting the season on the disabled list with intercostal strain, Berger didn't fair well on the mound. Now after seemingly getting his feet under him, Berger was scratched on Tuesday with back stiffness. Berger is now back on the disabled list and it is unclear how long it could take before he can return.
With Berger being placed on the disabled list, Paolo Espino moved into the rotation and that opened up a spot in the bullpen.
Zach Putnam
was activated off the disabled list and made his return to the Akron bullpen. Putnam threw a scoreless frame against Richmond and then two innings against Binghamton.
Carlos Rivero
missed the entire Binghamton series. Josh Rodriguez and Cristo Arnal filled in for him at short. It may not be an injury, and despite a three strikeout game against Richmond, Rivero did hit his third home run of the year this past week.
Weekly Randoms
For all the other random information that got away.
With the claiming of Jayson Nix off waivers, the Cleveland Indians needed a 40-man roster spot to get him on the team. To get Nix on the roster the club released
Shane Lindsay
, which removed him from the Akron roster. Lindsay wasn't horrible, but he was erratic in just four appearances. Lindsay only surrendered one hit, but he walked seven and hit three batters.
Being such a versatile option is what makes
Paolo Espino
so valuable to an organization. Because he can start and relieve, the Indians didn't need to make a move to get a starter on the Aeros roster when Berger went down. Espino, despite being a reliever for part of the year, leads the team in innings pitched.
Allow me to jump on the bandwagon of people that are upset over
Josh Rodriguez's
demotion to Akron. I'm sure the Aeros won't complain about having him back, but Rodriguez has no business being back with the Aeros. It doesn't seem like there is any rationale what-so-ever behind sending him down. I can understand not promoting him, but how does a guy hitting Triple-A pitching like he was get sent down?
The news that dominated the Aeros this past week was none of the good kind. The Akron Beacon Journal reported that
Beau Mills
,
Jerad Head
, and current Clipper Josh Tomlin have been charged with assault after an altercation on June 3rd. Mills and Head both pleaded not guilty after appearing in court on Tuesday. The Indians organization have not commented on if they plan to take disciplinary actions.
User Comments
No comments currently. Be the first to comment!