Akron's Week That Was: 6/28 - 7/4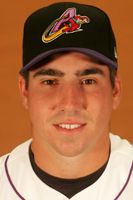 The Aeros sandwiched their four game win streak in between two losses to Bowie and one to Richmond. Their 4-3 win over Richmond on Tuesday ended a four-game losing streak and started a four-game win streak. After two five-run wins over Bowie on the road the Aeros dropped two close ones to close out the series, including an extra-inning walk-off loss on Independence Day.
Here is everything you need to know about the Aeros for the week of June 28th to July 4th.
Record:
40-42 (Last Week: 4-3)
Standings:
3rd in Western Division (12 GB)
Teams Faced (Record Against):
@ Richmond (2-1), @ Bowie (2-2)
Upcoming Week:
Vs Trenton (4), @ Erie (3)
Transactions:
Received RHP Marty Popham from Kinston, Sent RHP Marty Popham to Kinston, Re-Received RHP Shane Lindsay after clearing waivers, Sent RHP Bryce Stowell, SS Josh Rodriguez to Columbus, Sent and Received LHP Nick Hagadone from Mahoning Valley, Placed SS Carlos Rivero on Disabled List, Activated 1B Beau Mills from Disabled List
Awards:
3B Lonnie Chisenhall, OF John Drennen, RHP Bryce Stowell named to Eastern League All-Star Team
Pitcher of the Week: Scott Barnes, LHP
W vs Bowie - 7 IP, 5 H, 0 R, 1/4 BB/K
Scott Barnes's inconsistent season continued this past week, but luckily this was his up-start instead of his down one. Barnes locked down the Bowie lineup for seven scoreless innings, allowing just five hits and one walk with four strikeouts. He earned his fourth win of the season and now leads the team in strikeouts with 73.
Season History
Week 1: Zach Putnam
Week 2: Erik Stiller
Week 3: Paolo Espino
Week 4: Zach Putnam
Week 5: Kelvin De La Cruz
Week 6: Alex White
Week 7: Bryce Stowell
Week 8: Connor Graham
Week 9: Scott Barnes
Week 10: Eric Berger
Week 11: Bryan Price
Hitter of the Week: Matt McBride, 1B/OF
10/27, 7 R, 6 HR, 2 2B, 9 RBI, 4/3 BB/K
Can you say power surge?
Matt McBride went on an absolute homer binge this past week, clubbing three home runs in a game against Richmond, but also hitting three more throughout the week. Two more of McBride's ten hits this past week also went for extra bases and overall he knocked in nine runs this past week.
Any other week, the 11-for-26 week of Tim Fedroff or 9-for-24 with five walks week of John Drennen would have been good enough to claim hitter of the week honors. But McBride this past week was just superhuman.
Season History
Week 1: Cord Phelps
Week 2: Cord Phelps
Week 3: Nick Weglarz
Week 4: Beau Mills
Week 5: Jared Goedert
Week 6: Matt McBride
Week 7: Jared Goedert
Week 8: Lonnie Chisenhall
Week 9: Lonnie Chisenhall
Week 10: Jason Kipnis
Week 11: Matt McBride
Weekly Spotlight: Bryce Stowell, RHP
Every week one player on the Akron roster will get a spotlight on their outlook for the 2010 season and where they are currently at.
Let this be our little way of sending Bryce Stowell off the right way. Bryce was promoted to Columbus after he tossed a scoreless frame against Bowie on Saturday night, ending his amazing run in Akron with 22.1 scoreless innings.
Stowell started the year in Kinston and in 25.1 innings there, he gave up just four earned runs and struck out 41 hitters in 11 games. In 14 games with the Aeros, he struck out 33, saved all seven opportunities and walked 11.
For Bryce, 2009 was a bit of a lost year due to injuries. Stowell was drafted in 2008, but did not pitch due to signing late. The 22nd round pick from UC Irvine made his debut in Lake County and made quick work of the Low-A level pitching in just three games. Stowell had his issues in Kinston, bouncing from rotation to bullpen with a 5.31 ERA in 61 innings pitched. Bryce did show the strikeout potential he is currently displaying by striking out 62 hitters over 19 games.
Now he's healthy and after proving he was ready for a bigger challenge than Kinston, he's made Akron just another playpen not worth toying with. Stowell is taking advantage of the new found aggressive promotion strategy by the Indians and hopefully he can run with the opportunity in Columbus, and find himself in Cleveland not before long.
Who's Hot?
Tim Fedroff - Last Five Games: 11-for-22, 5 R, 3 RBI
Tim Fedroff has been on a mini-hot streak the past five games. Fedroff had a rough month of June, not as bad as May, but he was knocked down the lineup and he knocked in just five runs. Lack of walks and an abundance of strikeouts continues to be a problem, but if can hit, the walks shouldn't be a problem. Still, Fedroff hasn't been able to hit as much as you would want to.
With Jason Kipnis and Jordan Henry getting breaks the past two games, Fedroff was elevated back in the lineup and he responded with two multi-hit games to help lead the offense. He does lead the team in multi-hit games this season.
Better Times Ahead
Paolo Espino - 1 GS, 0-1, 8.2 IP, 8 R (7 ER), 3/12 BB/K (Last Five Games - 19.2 IP, 15 ER)
Paolo Espino is going through a rough stretch, but it is hard to blame him the way he is switching roles. Espino went from relieving early in the month, to starting, and now back to relieving. The way he's handled both roles has been admirable, but the past few outings have been on the rough side.
In his past two starts, Espino has given up four runs on six hits each. The good news is he is striking out way more hitters than he's walking. Typically there isn't much wrong with giving up three or four runs, but for the amount of innings he's pitching in those games, it isn't keeping the team in the game.
Infirmary Report
Recapping any and all of the injuries in the past week.
There was something to the absence of
Carlos Rivero
from the lineup at the end of last week and it turned out to be a sprained wrist. Rivero was placed on the Disabled List this past week and Cristo Arnal has replaced Rivero in the lineup at short with Josh Rodriguez being promoted back to Columbus.
Beau Mills
has returned to the Aeros lineup and he has done so with a bit of a bang. Mills was activated off the disabled list last Wednesday and on Friday he hit his first home run since early May. Beau wasn't done this past week as the club eased him back into action at first, he hit another home run and overall knocked in five runs and scored four times.
Eric Berger
made his return to the rotation this past week as well as he was activated off the disabled list. Berger went just four innings and gave up two earned runs off three hits and two walks, but it is good to see him back in what has been an injury plagued season for the left-hander.
Weekly Randoms
For all the other random information that got away.
Don't write the obituary to
Shane Lindsay's
Akron Aeros career just quite yet. After clearing waivers for being removed off the 40-man roster, Lindsay was returned to the Aeros. He pitched two scoreless innings for the club on Friday and earned his first win by striking out four.
Josh Rodriguez's
latest Akron stint was a short one. Shortly after sending him down, the Indians changed their minds and brought him back to Columbus. It's a good thing for Josh because he had no business being back in Akron the way he was hitting in Columbus.
Hats off to Kinston starter
Marty Popham
for coming up and making a quality spot start for the Aeros this past week. Popham didn't get a win thanks to Zach Putnam blowing the lead, but he gave up just one run off five hits in six innings of work in his first Double-A action. He struck out six and walked none against Richmond.
The Aeros did in fact claim three All-Stars this past week for the Eastern League All-Star team. Both
John Drennen
and
Lonnie Chisenhall
will participate in the game, but with
Bryce Stowell
being promoted to Columbus, his roster spot will likely be filled.
We may be seeing
Kelvin De La Cruz
turn the corner after his start on Saturday. DLC went five innings but gave up just two runs off five hits, five strikeouts, and two walks. It was his lowest walk total since June 5th and his most strikeouts since May 26th.
Matt McBride
hasn't been the only one on a power surge, the entire team has. The Aeros followed up McBride's three homer performance by hitting four home runs as a team on Friday, the most in one game this season. With McBride's six home runs this past week, an active Aero now finally leads the team in home runs as he passed both Jared Goedert and Nick Weglarz.
User Comments
No comments currently. Be the first to comment!