Akron's Week That Was: 6/7 - 6/13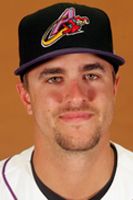 It isn't every week you can go undefeated, so when the Aeros did it a week ago, it was probably thought unlikely they would do it again this past week. The Aeros did fall a game short of completing another perfect week, but they did manage to set a franchise record 12-straight wins before falling on Sunday to Portland. The Aeros have bolted up the standings and put themselves into the thick of a Eastern League wild card race, but still trail dominating Altoona by over eight games.
Here is everything you need to know about the Aeros for the week of June 7th to June 13th.
Record:
32-31 (Last Week: 5-1)
Standings:
3rd in Western Division (8.5 GB)
Teams Faced (Record Against):
Vs New Hampshire (3-0), Vs Portland (2-1)
Upcoming Week:
@ New Hampshire (3), @ Portland (3)
Transactions:
Received 2B Jason Kipnis from Kinston, Received RHP Shane Lindsay from Kinston, Placed 1B Beau Mills on Disabled List, Activated RHP Carlton Smith from Disabled List, 2B Cord Phelps and RHP Carlton Smith sent to Columbus
Awards:
Akron did not receive any awards this week.
Pitcher of the Week: Scott Barnes, LHP
1-0, 7 IP, 2 H, 0 R, 10 K, 0 BB
Scott Barnes may be starting to put things together this season after his brilliant start last Wednesday in which he shutdown New Hampshire over seven innings. Barnes didn't have control issues and struck out a season high ten hitters in route to his second win of the season.
Barnes allowed just two hits in addition to not walking a hitter and the seven innings made for his longest outing of the year.
Season History
Week 1: Zach Putnam
Week 2: Erik Stiller
Week 3: Paolo Espino
Week 4: Zach Putnam
Week 5: Kelvin De La Cruz
Week 6: Alex White
Week 7: Bryce Stowell
Week 8: Connor Graham
Hitter of the Week - Lonnie Chisenhall, 3B
9/25, 5 R, 3 HR, 7 RBI, 2 2B, 2/4 BB/K
Lonnie Chisenhall has not stopped since coming off the disabled list. After taking home the honor last week, Chisenhall returns with three more home runs and seven RBI in the last six games. Chisenhall has upped his average to .292 and his RBI total to 23.
The Aeros third baseman is re-establishing himself as one of the best hitters in the organization after injuries slowed his production in the months of April and May. It's no coincidence the club is starting to score more runs with Chisenhall heating up at the plate.
Season History
Week 1: Cord Phelps
Week 2: Cord Phelps
Week 3: Nick Weglarz
Week 4: Beau Mills
Week 5: Jared Goedert
Week 6: Matt McBride
Week 7: Jared Goedert
Week 8: Lonnie Chisenhall
Weekly Spotlight: John Drennen, OF
Every week one player on the Akron roster will get a spotlight on their outlook for the 2010 season and where they are currently at.
It has been a long journey for John Drennen, but what is amazing about it all is that Drennen himself is still only 23 years of age. Drennen was drafted right out of high school and after making quick work of rookie and low-A ball, he struggled to get out of Kinston.
Until 2009 came along when he pretty much got the opportunity after some leg-pulling. After an agonizing start with Akron, Drennen found himself back in Kinston for the fourth season. That may have been the slap in the face Johnnie needed because he returned to Akron after 17 games and he started to find himself.
Drennen ended up knocking in 40 runs over 93 games. It was a gust of new life for the former first round pick and now with solid playing time in the Akron outfield, he's showing that he may soon deserve a chance to bring his act to Columbus if the outfield situation there is uncluttered.
In his season to-date, Drennen has batted .301 over 49 games with 11 doubles and a solid .355 on-base percentage. The closest he's come to anything near a .300 average was his 67 game stint in Lake County where he hit .321 in 240 at-bats. His spike in average is certainly welcomed, but I'm sure the club would like to see a little more pop from his bat.
Who's Hot?
Eric Berger - Last Three Starts: 18.2 IP, 2-1, 4 ER, 21/8 K/BB
Coming off a ten-strikeout performance of his own, Eric Berger picked up where he left off by striking out seven against New Hampshire and earning his third win of the season. Berger was able to surrender just one hit and tossed 6.2 innings of scoreless ball.
The Aeros needed consistent pitching throughout the first few months of the season and now they are finally getting it from the likes of Eric Berger who has gone at least five innings in his last six starts. If Berger can continue to stay consistent and help lead this Aeros rotation, they'll continue to pick up wins.
Better Times Ahead
Nick Hagadone: 3.2 IP, 3 R, 6 BB
Nick Hagadone hasn't had a world of success since coming up from Kinston, but last week he probably struggled in the most concerning way when he started against Portland on Saturday. Hagadone didn't record a strikeout and walked six hitters, a start after he struck out seven and walked just one.
Hagadone still isn't going to be pushed into going deep with his pitch count, so he needs to be economical with his pitches if he can't record his strikeouts. Hagadone was far from that on Saturday when he walked six in just 3.2 innings of work.
Infirmary Report
Recapping any and all of the injuries in the past week.
With Jared Goedert, Nick Weglarz, and Cord Phelps gone, I'm sure the Aeros were hoping
Beau Mills
would step it up and put up those Carolina League MVP-like numbers in their absences. Well for now, he won't be doing any of the such. The Aeros
placed Mills on the disabled list
with an intercostal strain. This is not an injury that usually clears up in a few days or so. Mills may miss a few weeks, which will open up playing times for the likes of Adam Davis with Matt McBride getting the majority of the time at first base.
Weekly Randoms
For all the other random information that got away.
The Indians decided to push their second base position within the organization this past week when they promoted both
Cord Phelps
and
Jason Kipnis
up a level. Of course the Aeros lost Phelps to the Clippers, but the push landed them last year's second round pick in Kipnis.
Kipnis was hitting .300 with the K-Tribe before his promotion with six home runs and 31 RBI. Jason had a .382 on-base percentage with 33 runs scores. In his Akron debut, he wasted no time by scoring three times off a hit and two walks.
The shoes of Cord Phelps are going to be big ones to fill, but Kipnis has the bat to do so. Phelps hit .296 with the Aeros and was at one point one of the Eastern League's top on-base guys. He ended his stint in Akron with 25 runs scored, 23 runs batted in, and a .346 on-base percentage.
The Aeros saw
Shane Lindsay
make his organizational debut on Sunday after he had been called up from Kinston. Lindsay was claimed off waivers from the Yankees and placed on the Kinston inactive list. Lindsay struck out a pair, but also gave up two walks and an unearned run.

Tim Fedroff
set a club record by garnering four walks in a single game on Saturday.
User Comments
No comments currently. Be the first to comment!