Akron's Week That Was: 7/19 - 7/25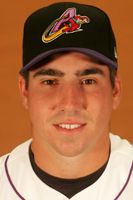 The Aeros took on mighty division leading Altoona earlier last week and it was just as if they had been playing last place Erie. The Aeros swept the Curve out of town and put a nice dent into their division lead. As it stands now, the club is just a game back of Bowie and five games back of Altoona after they dropped two to Reading in a four, make it three, game series. Akron fell to Reading in the first two games, but bounced back in a big way on Saturday. Sunday's contest was rained out and the completion of it is slated for mid-August. The Aeros return home this week after the short road trip to take on that second place Bowie team and take on Reading in another four-game set.
Here is everything you need to know about the Aeros for the week of July 19th to July 25th
Record:
53-47 (Last Week: 4-2)
Standings:
3rd in Western Division (5 GB)
Teams Faced (Record Against):
Vs Altoona (3-0), @ Reading (1-2)
Upcoming Week:
Vs Bowie (3), Vs Reading (4)
Transactions:
Received OF Shin-Soo Choo on Rehab Assignment, Sent OF Shin-Soo Choo and SS Asdrubal Cabrera to Cleveland, Sent RHP Shane Lindsay to Columbus, Activated LHP Nick Hagadone From Disabled List
Awards:
Akron did not receive any awards this week
Pitcher of the Week: Alex White, RHP
2-0, 14 IP, 14 H, 2 R, 0/14 BB/K
There is just no stopping Alex White right now. The Indians 2009 first round pick has tossed six consecutive quality starts and this past week, he showed excellent control, not walking a single hitter in all 14 innings.
In fact, White has only given up three walks in the past seven starts. Along with his quality innings streak, he's also struck out seven hitters in three consecutive games. With Josh Tomlin getting the major league call on Tuesday, there could be a spot open in Columbus for him and if he gets the promotion, it would certainly come with much merit.
Season History
Week 1: Zach Putnam
Week 2: Erik Stiller
Week 3: Paolo Espino
Week 4: Zach Putnam
Week 5: Kelvin De La Cruz
Week 6: Alex White
Week 7: Bryce Stowell
Week 8: Connor Graham
Week 9: Scott Barnes
Week 10: Eric Berger
Week 11: Bryan Price
Week 12: Scott Barnes
Week 13: Alex White
Week 14: Paolo Espino
Hitter of the Week: Matt McBride, OF
10/23, 5 R, 4 2B, 2 HR, 7 RBI, 0/5 BB/K
It was a brief period for Matt McBride to not have the Hitter of the Week award as he took a week off and let red-hot Jason Kipnis earn the award. Overall both McBride and Kipnis have been carrying the Aeros lineup through this hot streak and this past week, McBride was handling business as usual. Of his 10 hits, six of them went for extra-bases, in addition to him scoring six runs and knocking in seven.
McBride is hotter than the weather outside in the month of July. He's hitting .370 with 10 home runs and 26 RBI. Coming into the month, McBride had just six home runs and 15 doubles. He's got nine doubles in the month of July.
Season History
Week 1: Cord Phelps
Week 2: Cord Phelps
Week 3: Nick Weglarz
Week 4: Beau Mills
Week 5: Jared Goedert
Week 6: Matt McBride
Week 7: Jared Goedert
Week 8: Lonnie Chisenhall
Week 9: Lonnie Chisenhall
Week 10: Jason Kipnis
Week 11: John Drennen
Week 12: Matt McBride
Week 13: Matt McBride
Week 14: Jason Kipnis
Weekly Spotlight: Paolo Espino, RHP
Every week one player on the Akron roster will get a spotlight on their outlook for the 2010 season and where they are currently at.
In 2009, Paolo Espino saw his third straight year of Classic Park in East Lake. In 2010, he's spent the entire year in one spot and he's really thrived as one of the Aeros players in the Eastern League All-Star game.
For Kinston last year, Espino finally seemed to hit his groove in 21 starts for the K-Tribe. He won nine games, struck out 101 hitters and earned nine wins with a 2.59 ERA through 118 innings. This year for the Aeros he's bounced between starter and relief pitch very admirably, matching his season high win total at one level already through 20 games pitched.
Espino looked to be a classic example of a organizational pitcher, swinging between roles and levels, however he's earned much more respect than that this year. He still may be a swing man up in Triple-A and who knows if he'll ever reach the majors, but he's certainly looking like more than just another organizational arm. He's given the Indians some quality production and the club sure hopes that would continue.
Who's Hot?
Jason Kipnis - Last Week: 8/21, 6 R, 2 HR, 4 RBI, 3/4 BB/K
If Matt McBride is getting Hitter of the Week honors, then we need a place to highlight hot hitting Jason Kipnis. In his past ten games, Kipnis has seven multi-hit games and this past week he was on base 11 times. Like McBride, July has been an explosive month for the Aeros second baseman. Kipnis has an on-base percentage in the month of July of .415 and he's struck out just 14 times.
Over the past 10 games, Kipnis is hitting .429 with three stolen bases.
Infirmary Report
Recapping any and all of the injuries in the past week.

Nick Hagadone
has made his return to the pitching mound after tossing three innings in a start on Thursday. Hagadone struck out two, didn't walk a hitter and gave up an earned run off two hits.
What Was Witnessed
I won't always have a chance to attend games, but when I do I'll report my findings. This past week I attended the Aeros/Curve game on Tuesday to take in Shin-Soo Choo's rehab game and get rained on.
Seeing the most home runs hit in one game this season was certainly exciting.
Johnnie Drennen's
just cleared the fence and the glove of Altoona's right fielder to reach the bleacher seats while
Lonnie Chisenhall
hit an absolute monster shot above and beyond the high-wall in center field.
Jason Kipnis
had two of those home runs and one of them hit off the center field wall.
In other Drennen news, he took a poor route to a ball hit to him in left field. Had he judged it better and ran straight to the spot the ball was going to be, he might have had more of a play on it than he actually did. He ended up having to come in when the ball was getting close and the ball ended up landing as he hit the ground.

Kelvin De La Cruz
made some progress and turned in a nice effort, but he is still on a little shaky ground. He seemed to be getting the double play balls he needed though and was inducing a lot of ground balls when he did put people on base.
On a non-baseball related note, someone needs to ask
Beau Mills
if he willingly accepted "California Gurls" by Katy Perry as his walk-up music. He was one of the other Aeros to homer though, so maybe it works.
Weekly Randoms
For all the other random information that got away.
Jerad Head
only got to hit in four games last week, but he continued his modest hitting streak which is up to nine games now. During this streak he's hit four home runs and has knocked in nine runs.
Aside from his three-hit effort against Reading on Saturday,
Carlos Rivero
didn't have a good week. He had just one hit the five previous games, but he also gave way to Asdrubal Cabrera on Monday. July hasn't been kind as a whole after either as he's struck out 12 times and is hitting .212 in 16 games.
Rocky debut for
Rob Bryson
on Tuesday as he didn't record an out, walked four hitters, and three three wild pitches. He bounced back the next time out by tossing a scoreless inning of relief and striking out the side. Perhaps it was just debut jitters that caused his wild first outing.
With a pitching shift in Columbus that involved starter Yohan Pino going on the disabled list,
Shane Lindsay
was called up to the Triple-A squad. His last outing as an Aero was a good one as he earned his first save and struck out a pair.
Unusual speed from
Beau Mills
this past week. Owner of four career stolen bases, Mills stole his first base of the season for the Aeros this past week. He also hit his first triple of the season, which he also had four of coming into the 2010 campaign.
Anthony Reyes
will be making a few rehab appearances for the Aeros this week. His first is on Tuesday against Bowie and he's also expected to get the call on Sunday for the finale against Reading.
User Comments
No comments currently. Be the first to comment!