Akron's Week That Was: 7/5 - 7/11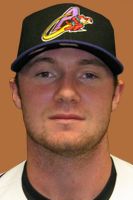 Before they go on a short two-day All-Star break this Tuesday, the Aeros will finish up their four-game set with Erie tonight. The Aeros continued a horrid season for the Sea Wolves in the first two games of the series, but Erie rallied for a win in the eighth inning on Sunday to pull out a win. The Aeros did win three games over Trenton before hitting the road and now sit a game above .500 and inching closer to Wild Card leader Bowie.
Here is everything you need to know about the Aeros for the week of July 5th to July 11th
Record:
45-44 (Last Week: 5-2)
Standings:
3rd in Western Division (10 GB)
Teams Faced (Record Against):
Vs Trenton (3-1), @ Erie (2-1)
Upcoming Week:
@ Erie (1), All-Star Break, Vs Erie (4)
Transactions:
Activated SS Carlos Rivero from Disabled List, Placed LHP Nick Hagadone on Disabled List
Awards:
1B/OF Matt McBride named Eastern League Player of the Week for Week Ending July 4th, RHP Paolo Espino replaces RHP Bryce Stowell on Eastern League All-Star Team
Pitcher of the Week: Alex White, RHP
1-0, 2 GS, 12 IP, 7 H, 1 R, 2/8 BB/K
Alex White has been consistently good for the Aeros after making eight starts for the Kinston ball club. In his 10 starts with the Aeros, he's compiled just a 4-4 record but he's carrying a 1.53 ERA. This past week the club's first round pick of 2009 made two starts and in both he went six innings and put his team in a position to win.
Six innings has been the theme for White this season since coming to Akron. In all but two starts he's gone at least six innings and in no start has he allowed more than three earned runs. White was dynamite in his second start against Erie only surrendering one free-pass and striking out seven hitters.
Season History
Week 1: Zach Putnam
Week 2: Erik Stiller
Week 3: Paolo Espino
Week 4: Zach Putnam
Week 5: Kelvin De La Cruz
Week 6: Alex White
Week 7: Bryce Stowell
Week 8: Connor Graham
Week 9: Scott Barnes
Week 10: Eric Berger
Week 11: Bryan Price
Week 12: Scott Barnes
Hitter of the Week: Matt McBride, 1B/OF
10/27, 7 R, 2 HR, 3 2B, 7 RBI, 4/4 BB/K
It was almost a mirror image of what he did last week, so it should be no surprise that Matt McBride has claimed his third Hitter of the Week honor in Akron's Week That Was. In addition to that, McBride also took home real hardware for his six-homer week from June 28th to July 4th.
The six home runs was basically the only thing McBride didn't repeat from the previous week. The Aeros outfielder scored seven runs, knocked in seven more and had five extra-base hits this past week. McBride is really surging the Aeros lineup the past few weeks
Season History
Week 1: Cord Phelps
Week 2: Cord Phelps
Week 3: Nick Weglarz
Week 4: Beau Mills
Week 5: Jared Goedert
Week 6: Matt McBride
Week 7: Jared Goedert
Week 8: Lonnie Chisenhall
Week 9: Lonnie Chisenhall
Week 10: Jason Kipnis
Week 11: John Drennen
Week 12: Matt McBride
Weekly Spotlight: Scott Barnes, LHP
Every week one player on the Akron roster will get a spotlight on their outlook for the 2010 season and where they are currently at.
In 2008 the San Francisco Giants selected left-handed pitcher Scott Barnes in the eighth round of the MLB Draft. In 2009 they traded him to Cleveland for first baseman Ryan Garko. The Indians former first baseman isn't anywhere to be found in the majors, let alone San Francisco but Scott Barnes is very much on the Indians' radar.
It has been a rocky up-and-down year for Barnes after he came over to the Cleveland organization and showing some promise in the Eastern League playoffs last season. In six starts for the Aeros in the regular season, Barnes went 2-2 with a 5.68 ERA. This season he's gone 4-8 with a 5.08 ERA in 17 starts for Akron.
The biggest thing for Scott is consistency. In addition to a rough April, Barnes has been overall just unpredictable from start to start. The good news is he's gotten better each month and has improved as the season has gone on. From a 8.80 ERA in 15 innings in April to a 4.21 ERA in 23 innings in June, not only has Barnes gotten better, he's going deeper into games.
Barnes has continued to pile up the strikeouts though, through the first 17 games, he's compiled 81 strikeouts, good enough for six in the Eastern League, just behind the likes of highly touted prospect of Kyle Drabek. Barnes doesn't project to be a top of the rotation pitcher, but there is a chance for him to be a major league pitcher, but before he can even think of that, he'll need to show more consistency.
Who's Hot?
Beau Mills - Since returning from disabled list: 15/41, 8 R, 3 HR, 11 RBI, 4/5 BB/K
Beau Mills has been very solid for the Aeros lineup since returning from the disabled list a few weeks ago. Mills has clubbed three home runs, but more importantly he's hitting more consistently to the tune of a .365 average since coming off the disabled list.
In addition to that, Mills has knocked in 11 runs, something he's expected to due, but certainly you are a lot more dangerous when you can score runs with something other than the home run.
Better Times Ahead
Connor Graham - This Past Week: 0-1, 2.2 IP, 4 H, 5 R (1 ER), 2/2 BB/K
It wasn't a good day Sunday for Connor Graham. After giving up a lead-off double and walking a hitter in the eighth inning against Erie, Beau Mills committed an error that loaded the bases. That defensive let-down led to a flurry of issues for Graham who would surrender four runs in the inning, yet none of them earned.
Graham was not able to pick up his defense after getting a ground out for the second out. A triple, another walk, and a single would plate all the runs Erie would need in the fourth inning to tag Graham with his fifth loss of the season.
Infirmary Report
Recapping any and all of the injuries in the past week.
The Aeros were able to activate starting shortstop
Carlos Rivero
this past week as he returned to action. Rivero missed some time to do a wrist injury but returned to the lineup against Trenton on July 7th. Carlos has started five games and gone 2-for-16 with one RBI since.
With Rivero going on the disabled list, the club's corresponding move was to place left-handed pitcher
Nick Hagadon
e on it. Hagadone had received an extended break in between his last starts and has been on a limited pitch count all season. As usual, Paolo Espino will continue to start.
Weekly Randoms
For all the other random information that got away.
Matt McBride
seems to like hitting on the road, because he's done nothing but hit when away from Canal Park. McBride notched his first home run at Canal Park this past week, which means 11 of his 12 home runs have come on the road. Overall he's hit .305 on the road and has a remarkable streak of reaching base in all 40 games played on the road.
Thanks to a snafu with the lineup, Joel Skinner lost his designated hitter and was forced to place Matt McBride at first, lose Beau Mills to the bench, and place pitcher
Alex White
in Mills' fifth spot in the lineup. White handled his first professional at-bats impressively as he coaxed out two walks and scored a run in three at-bats.
Tim Fedroff
currently has a 11-game hit streak in progress.
The strikeouts are just flowing for
CC Lee
right now. The Taiwanese-product struck out eight hitters through four innings this past week, including six against Erie on Friday. Overall, Lee has struck out 54 hitters throughout 47 innings, a year after he struck out 97 through 83 innings.
Speaking of strikeouts,
Zach Putnam
struck out five straight Trenton batters on Thursday.
With Bryce Stowell getting promoted to Columbus, it left the Eastern League with one less pitcher for the upcoming All-Star game. Filling that void will now be Akron pitcher
Paolo Espino
, who certainly deserves the call after picking up his eighth win on the season this past week.
Lonnie Chisenhall
was not in action for the Aeros on Sunday, but he did play some baseball. Chisenhall took part in the XM Futures Game as a member of the USA Team. Chisenhall did not start, but he got two at-bats in the game after coming in for Mike Moustakas at third. Lonnie worked a walk in his first at-bat and followed it up with a RBI groundout on the first pitch in his second at-bat. Chisenhall's All-Star run isn't over as he'll join Espino and outfielder John Drennen in the Eastern League All-Star game on Wednesday.
User Comments
No comments currently. Be the first to comment!