Akron's Week That Was: 8/16 - 8/22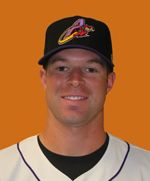 It was a crucial week for the Aeros as they took on third place Harrisburg in a three game weekend set at Canal Park. Saturday's contest was rained out, setting up an important shortened double-header between the Senators and Aeros. After Harrisburg won on Friday, they swept the double-header and the series on Sunday to not only put distance between themselves and Akron, but take over second place in the Western Division of the Eastern League. The Aeros did take two out of four from Reading, one being the completion of a rain-interrupted game on July 25th, but they now sit 9.5 games out of first and three behind Harrisburg for a playoff spot. This upcoming week is even more crucial as they get last place Erie in a four game set and they complete another rain shortened contest against Bowie before beginning a three game set against the team 2.5 games ahead of them.
Here is everything you need to know about the Aeros for the week of August 16th to August 22nd.
Record:
64-62 (Last Week: 2-5)
Standings:
4th in Western Division (9.5 GB)
Teams Faced (Record Against):
@ Reading (2-2, W Completion of 7/25), Vs Harrisburg (0-3)
Upcoming Week:
Vs Bowie (Completion of 7/28 Game), @ Bowie (3), Vs Erie (4)
Transactions:
Received, Sent, and Received IF/OF Jerad Head to Columbus, Received LHP Aaron Laffey on Rehab Assignment, Sent IF JT Toole to Kinston
Awards:
The Aeros didn't receive any awards this week.
Pitcher of the Week: Corey Kluber, RHP
5.1 IP, 5 H, 1 R, 2/3 BB/K Vs. Harrisburg
After two starts that were less than perfect, Corey Kluber is starting to settle in with the Aeros. The Jake Westbrook trade acquisition started one game of the double header on Sunday and went 5.1 innings, striking out three hitters and giving up one run off five hits.
Kluber followed his first Aeros win with another great effort and was one of the bright spots of the Aeros starting staff this past week.
Season History
Week 1: Zach Putnam
Week 2: Erik Stiller
Week 3: Paolo Espino
Week 4: Zach Putnam
Week 5: Kelvin De La Cruz
Week 6: Alex White
Week 7: Bryce Stowell
Week 8: Connor Graham
Week 9: Scott Barnes
Week 10: Eric Berger
Week 11: Bryan Price
Week 12: Scott Barnes
Week 13: Alex White
Week 14: Paolo Espino
Week 15: Alex White
Week 16: Connor Graham
Week 17: Scott Barnes
Week 18: Matt Packer
Hitter of the Week: Jerad Head, IF/OF
6/16, 6 R, 3 HR, 6 RBI, 3/6 BB/K
Jerad Head was sent down, up, and back down again, but that didn't stop him from hitting when he was put into the Aeros lineup. Head hit three home runs this past week, not including the one hit against Reading in the finish of their suspended game from July 25th, a game he had already homered in before rain interrupted it.
Head also scored six times and was hitting in the middle of the Aeros lineup for a majority of the week, despite being moved several times.
Season History
Week 1: Cord Phelps
Week 2: Cord Phelps
Week 3: Nick Weglarz
Week 4: Beau Mills
Week 5: Jared Goedert
Week 6: Matt McBride
Week 7: Jared Goedert
Week 8: Lonnie Chisenhall
Week 9: Lonnie Chisenhall
Week 10: Jason Kipnis
Week 11: John Drennen
Week 12: Matt McBride
Week 13: Matt McBride
Week 14: Jason Kipnis
Week 15: Matt McBride
Week 16: Jordan Henry
Week 17: Jason Kipnis
Week 18: Jason Kipnis
Weekly Spotlight: Jordan Henry, OF
Every week one player on the Akron roster will get a spotlight on their outlook for the 2010 season and where they are currently at.
It didn't take Jordan Henry long to prove that the Single-A level was not much of a challenge for the former Ole Miss Runnin' Rebel. Henry spent 42 games with Kinston, hitting .333 with a .438 on-base percentage and 14 stolen bases before getting a call to Akron.
Last year, Henry spent the season with short season Mahoning Valley, hitting .286 with a .408 on-base percentage and 22 stolen bases. Henry also played stellar defense and was a catalyst for a playoff bound Scrappers team.
In 2010, Henry skipped the Lake County level and breezed past Kinston and still hasn't slowed down in Double-A. Henry is homerless in his professional career, but the center fielder has good speed for his tall frame and is a prototypical top of the order hitter at this level of baseball. Henry's rise through the system has been a quick one after being drafted in the seventh round of the 2009 draft.
Henry shows great on-base capabilities, which makes him a great top of the order hitter and he's been driving the Aeros lineup, hitting ahead of Kipnis and Chisenhall for the past few months with much success. He could be in Columbus come next season and before we know it, knocking on the door to Cleveland as a potential fourth outfielder.
Who's Hot?
CC Lee and Connor Graham - Last 10 Games: 29 IP, 2 ER, 6/32 BB/K
The combo in the bullpen of Chen Lee and Connor Graham has been lights out the past two weeks. Lee has been shutout in August and Graham was dominant the past week, striking out six hitters in 3.2 innings of work.
Overall out of the pen, the duo has gone 7-6 in 115 innings with 113 strikeouts.
Infirmary Report
Recapping any and all of the injuries in the past week.
Things are relatively injury free lately.. Shh, don't jinx it.
Weekly Randoms
For all the other random information that got away.
The Aeros completed a game started on July 25th this past week before they began their series against Reading on Tuesday. The Aeros won with a final score of 8-7 as
Rob Bryson
got credit for his first Aeros victory. The game was resumed in the fourth inning with a tied game at 5. The Aeros put three runs on the board thanks to Jerad Head's three-run homer after the Aeros fell behind 7-5.
Jerad Head
has had an interesting week to say the least. Head actually homered when the game originally started in July, in the second inning, a two run start off original starter Ty Taubenheim. Jordan Henry and Jason Kipnis both had three hits each and Beau Mills doubled and had four hits.

Jason Kipnis
recorded just one hit this past week. Shocked aren't you? Kipnis had a down week, unusual for the Aeros second baseman who has done nothing but hit since arriving in the Rubber City. Kipnis' 10 game hit streak came to an end after he failed to get a hit on Wednesday.On the topic of hit-streaks, Jerad Head was in the middle of one before got called up to Columbus, but it too came to an end this past week after he extended it to 17 games.
A successful rehab appearance for
Aaron Laffey
with the Aeros on Sunday in the second game of the double-header. He pitched a scoreless frame against Harrisburg with one hit.

Matt Packer
struggled on Tuesday in the freshly started game by Reading and Akron. He gave up nine runs of nine hits in five innings of work. He gave up three home runs and took his first of two losses of the week against Reading.
What a follow up for
Juan Apodaca
, who walked seven times last week and collected six hits. This week he had just one hit in 15 at-bats and he struck out seven times. The Aeros as a whole struggled against Harrisburg pitching, striking out 31 times in 23 innings against the Senators.
User Comments
No comments currently. Be the first to comment!