Akron's Week That Was: 8/2 - 8/8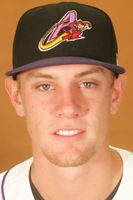 It was a rough week for the Aeros as they took a tumble in the standings thanks in large part to front-running Altoona. The clubs played a four game series in a matter of three days and the Aeros found themselves on the short end of things in each game, getting swept out of town by the first place Curve. Akron continued their road trip to New Britain where the tune changed, at least for the first two games, as they won the series, but were beaten down heavily in the finale. The two teams will set up a rematch series this weekend in Akron, but first the Aeros welcome in Reading for a three game set.
Here is everything you need to know about the Aeros for the week of August 2nd to August 8th.
Record:
58-55 (Last Week: 2-5)
Standings:
4th in Western Division (8 GB)
Teams Faced (Record Against):
@ Altoona (0-4), @ New Britain (2-1)
Upcoming Week:
Vs Reading (3), Vs New Britain (3)
Transactions:
Received RHP T.J. McFarland from Kinston, Received C Juan Apodaca from Boston Red Sox Organization, Placed RHP CC Lee on the Disabled List, Sent RHP Paolo Espino and C Damaso Espino to Columbus
Awards:
Matt McBride was named Eastern League Player of the Month for July
Pitcher of the Week: Scott Barnes, LHP
W Vs. New Britain: 7 IP, 2 H, 0 R, 1/8 BB/K
Scott Barnes was masterful in his victory over the Rock Cats on Friday.
The inconsistent left-hander found the right side of his game against New Britain as he struck out eight hitters and allowed just three base runners. Barnes picked up his sixth win of the season and went seven scoreless innings.
Barnes is now at 6-8 on the season with a 4.83 ERA and 99 strikeouts.The Massachusetts native was able to pitch close to home with hometown Springfield close to the border of Connecticut and under an hour away from New Britain's stadium.
Season History
Week 1: Zach Putnam
Week 2: Erik Stiller
Week 3: Paolo Espino
Week 4: Zach Putnam
Week 5: Kelvin De La Cruz
Week 6: Alex White
Week 7: Bryce Stowell
Week 8: Connor Graham
Week 9: Scott Barnes
Week 10: Eric Berger
Week 11: Bryan Price
Week 12: Scott Barnes
Week 13: Alex White
Week 14: Paolo Espino
Week 15: Alex White
Week 16: Connor Graham
Hitter of the Week: Jason Kipnis, 2B
10/27, 4 R, 1 HR, 5 RBI, 2B, 2 3B, 3/4 BB/K
Might as well call him "Consistent Kipnis" as the Aeros second baseman hasn't really slowed down since arriving in the Rubber City. Jason knocked in five more runs this past week and hit his seventh home run since his call up, giving him 13 on the season. Overall between the two levels, Kipnis has hit .315 with 75 runs scored, 57 runs batted in, and 45 extra base hits.
He's become not just a catalyst at the top of the lineup for Akron, but also the most dependable hitter the team has not just in getting on base, but knocking in runs as well.
Season History
Week 1: Cord Phelps
Week 2: Cord Phelps
Week 3: Nick Weglarz
Week 4: Beau Mills
Week 5: Jared Goedert
Week 6: Matt McBride
Week 7: Jared Goedert
Week 8: Lonnie Chisenhall
Week 9: Lonnie Chisenhall
Week 10: Jason Kipnis
Week 11: John Drennen
Week 12: Matt McBride
Week 13: Matt McBride
Week 14: Jason Kipnis
Week 15: Matt McBride
Week 16: Jordan Henry
Weekly Spotlight: Tim Fedroff, OF
Every week one player on the Akron roster will get a spotlight on their outlook for the 2010 season and where they are currently at.
Drafted out of powerhouse ACC program North Carolina, Tim Fedroff certainly had the tradition of a good baseball behind him coming into the Cleveland organization. The outfielder is a part of the 2008 draft class of Cleveland's that seems to be growing in hope for multiple major league talents.
Fedroff was the seventh round pick and had the Indians not traded Paul Byrd, it is very likely that Tim Fedroff was one of the players they would have not signed and he would have returned to the Tar Heels for another season.
But the Tribe and the New Jersey native got a deal done and Fedroff has moved quickly through the system, just as some of his fellow draft-mates have. In 23 games with Mahoning Valley, Fedroff hit .319 with 12 RBI and 10 runs scored. He skipped Lake County in 2009 and went directly to Kinston where he hit a modest .278 with a stellar .383 on-base percentage.
To this point in 2010, Fedroff is approaching the same number of games and at-bats he had last year with Kinston. His average is right in line with his previous year, but his home runs, doubles, runs batted in, stolen bases, on-base percentage, and runs scored are all down from the previous year. The good news is that Fedroff has cut down on his strikeouts and has struck out 22 less times in four less at-bats. The bad news is he isn't walking as much, yet his average has stayed the same.
Fedroff will probably never hit a large amount of home runs, or steal a lot of bases. What he can do is get on base and go on hot-streaks that would rival anyone in terms of hitting the baseball. If he can learn to be more consistent at the plate and figure out how to get his on-base numbers closer to where he was in Kinston for the 2009 season, he can give himself a future in the organization.
Who's Hot?
Connor Graham: July and August - 13 G, 19.1 IP, 2 ER, 8/21 BB/K, SV
Connor Graham has been mowing down the competition. After holding a 0.64 ERA in the month of July, Graham is off to a similar start here in August. He's already struck out seven hitters in 5.1 innings of work to build on the 14 he struck out in July.
Graham is showing even more promise the past few weeks than he did when he moved into the relief role. Since being moved to the bullpen full-time, Graham is carrying a 2.03 ERA and has given up just one home run, compared to the three he gave up in 19 innings as a starter.
Infirmary Report
Recapping any and all of the injuries in the past week.
Right-handed reliever
CC Lee
was placed on the disabled list this past week with an oblique strain. The move was retroactive to August 3rd, which means if available, he'll be eligible to be activated on Tuesday. Chen has gone 5-3 this season with a 3.83 ERA in 56 innings and 62 strikeouts. He leads all active relievers in strikeouts.
Tim Fedroff
has returned to the lineup after a mysterious absence since July 24th against Reading. Fedroff started Tuesday for the first time since he left that game against Reading in which he doubled and scored a run. Against Altoona he collected three hits, scored a run and struck out twice in three games.
Weekly Randoms
For all the other random information that got away.
After blazing through the Carolina League, wins leader
T.J. McFarland
has arrived in the Eastern League with the Aeros. McFarland made his debut on Saturday and it wasn't ideal. The Carolina League All-Star went 10-3 with Kinston to the tune of a 2.81 ERA in 15 starts. In his first start with Akron on the road he gave up five earned runs, six total, off nine hits and two walks. He got off to a blazing start with Kinston and has since tailed off a little bit. But his start was so strong that his latest numbers with the K-Tribe are disappointing. McFarland needed a new challenge and at 21, he's making great progress through the system.
In the past 11 games the Aeros have committed a concerning 17 errors and have committed an error in six straight games. The Aeros continue to dominate in terms of strikeouts though, leading the entire Eastern League, with Trenton being the next closest to them, 26 punch-outs behind. They'll crack 900 on the season this week.
Kelvin De La Cruz
was tagged for four runs, but only one of them was earned in his latest outing against Altoona. It was a great month of July for DLC as he won three games and held a 2.49 ERA in five starts. The Aeros can only hope August is more of the same as he continues to figure out the Double-A level and get his strikeout pitches working.
Jake Westbrook trade acquisition
Corey Kluber
made his Akron Aeros debut on Wednesday and perhaps he was going through some new-club jitters. Kluber gave up four runs, three earned in only four innings of work. He did strike out four hitters, but he walked five and took the loss against Altoona. Kluber struck out a Texas League-best 136 hitters before arriving in the Indians organization.
The Espino Cousins are on their way up together.
Paolo Espino
got the call to make a start in Columbus with David Huff, Jeanmar Gomez, and Josh Tomlin all in Cleveland. Then with injuries to Carlos Santana in Cleveland and Wyatt Toregas in Columbus, cousin
Damaso Espino
joined hi with the Clippers. That led to a minor trade between Cleveland and Boston that landed them former Indian farm hand Argenis Reyes and catcher Juan Apodaca.
The Espinos joined
Matt McBride
in Columbus, who may be gone from Double-A, but he's still bringing in the hardware. McBride was named Eastern League Player of the Month for July this past week. McBride hit 17 home runs and knocked in 64 runs for the Aeros this season before getting his promotion to Columbus a few weeks ago as the month of July was ending.
With Espino joining Eric Berger in Columbus and a double-header on Tuesday, the Aeros needed another arm for a spot-start.
Matt Packer
was called on to make that start and he went seven innings in his first ever start above the Low-A level. The game was only slated for seven innings but with a tie game, it carried into extras. Packer gave up an earned run off six hits and a walk with six strikeouts. The left-hander has had a remarkable year in the Captains rotation, going 8-5 with a 1.60 ERA and 92 strikeouts through 95 innings.
Packer's numbers in Lake County have almost been in-human, which is sort of what
Alex White
's were starting to look like here in Akron, but the past two starts have brought him down to earth unfortunately. White's two outings this past week were forgettable ones. He still managed to get through five innings for his club, but he took the losses on Tuesday with four earned and again on Sunday with seven earned. On Sunday, White gave up a home run (two to be exact) to New Britain, something he hadn't done since June 25th against Binghampton. Still, White is 6-6 with the Aeros with a 2.45 ERA and if he turns it around and regains form, he could still earn a call up to Columbus. Clearly though, the Indians have been spot on in not pushing him too far too soon.
User Comments
No comments currently. Be the first to comment!