Akron's Week That Was: 8/9 - 8/15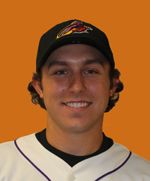 After dropping the first two games of the week to Reading at home, the Aeros battled back to win the series finale and sweep the New Britain Rock Cats to end their home stand. The Aeros are now a game and a half behind Bowie for a playoff spot. Coming up this week, the club makes a trip to Reading to play four games, one being the completion of a game started on June 25th, before returning home to face third place Harrisburg.
Here is everything you need to know about the Aeros for the week of August 9th to August 15th.
Record:
62-57 (Last Week: 4-2)
Standings:
4th in Western Division (7 GB)
Teams Faced (Record Against):
Vs Reading (1-2), Vs New Britain (3-0)
Upcoming Week:
@ Reading (3, Also Completion of 7/25 Game), Vs Harrisburg (3)
Transactions:
Activated RHP CC Lee from Disabled List, Sent LHP T.J. McFarland to Kinston
Awards:
The Aeros didn't receive any awards this week.
Pitcher of the Week: Matt Packer, LHP
7 IP, 3 H, 0 ER, 3 K in Relief
The Aeros didn't win the game and Anthony Reyes was pretty abysmal, but you can't argue with the relief effort that Matt Packer turned in. A week after making his Double-A debut, the UVA product came in for relief after Reyes' rehab assignment went awry. Packer struck out three and didn't walk anyone (after Reyes walked seven, talk about much needed) and completed seven scoreless innings.
Not bad for his second outing as an Aero.
Season History
Week 1: Zach Putnam
Week 2: Erik Stiller
Week 3: Paolo Espino
Week 4: Zach Putnam
Week 5: Kelvin De La Cruz
Week 6: Alex White
Week 7: Bryce Stowell
Week 8: Connor Graham
Week 9: Scott Barnes
Week 10: Eric Berger
Week 11: Bryan Price
Week 12: Scott Barnes
Week 13: Alex White
Week 14: Paolo Espino
Week 15: Alex White
Week 16: Connor Graham
Week 17: Scott Barnes
Hitter of the Week: Jason Kipnis, 2B
10/24, 5 R, 2B, 3B, 2 HR, 8 RBI, 3/6 BB/K, SB
Jason Kipnis isn't really slowing down anytime soon from the looks of things and now for the second week in a row he's Akron's hitter of the week.
Kipnis notched his 15th home run of the season, ninth for the Aeros this past week. He also tripled and doubled to up his total extra base hits this season to 49. He's perfect in stolen bases for the Aeros and he's getting on base at a .420 clip.
Season History
Week 1: Cord Phelps
Week 2: Cord Phelps
Week 3: Nick Weglarz
Week 4: Beau Mills
Week 5: Jared Goedert
Week 6: Matt McBride
Week 7: Jared Goedert
Week 8: Lonnie Chisenhall
Week 9: Lonnie Chisenhall
Week 10: Jason Kipnis
Week 11: John Drennen
Week 12: Matt McBride
Week 13: Matt McBride
Week 14: Jason Kipnis
Week 15: Matt McBride
Week 16: Jordan Henry
Week 17: Jason Kipnis
Weekly Spotlight: Nick Hagadone, LHP
Every week one player on the Akron roster will get a spotlight on their outlook for the 2010 season and where they are currently at.
Nick Hagadone arrived in the Cleveland organization last year at the trade deadline when the club acquired him for Victor Martinez. He was in the deal that landed the Indians Akron teammate Bryan Price and current starter Justin Masterson.
All three pitchers came into the organization as starting pitchers, but it is a real possibility all will end up as relievers. Right now Masterson is trying to prove he can be a starter, where as Price has already made the transition to late inning reliever.
And now it looks as if that is where Nick Hagadone's immediate future stands. After starting the year in Kinston's rotation, not being pushed due to the Tommy John surgery he underwent while with Boston, Hagadone started seven games for the Aeros. As a starter he pitched in 26 innings and held a 5.19 ERA.
Things have been much more positive since his move to the bullpen. Hagadone's stuff can play up in the bullpen, but if he has the stamina, Hagadone is much more valuable as a left-handed starter. As a relief pitcher, Hagadone has actually pitched in nearly half the innings he did as a starter and has carried a 2.92 ERA.
In another light, the move to the bullpen may actually help Hagadone progress through the system a little quicker and get him to Cleveland sooner, rather than later.
Who's Hot?
Johnnie Drennen - Past 10 Games: .372 AVG, 3 R, 1 HR, 7 RBI, 2/4 BB/K
John Drennen has been a model of consistency this year and month by month he's kept his production up. The past ten games he's recorded seven multi-hit games and he's now the team leader in hits this season.
Infirmary Report
Recapping any and all of the injuries in the past week.
Right-handed reliever
CC Lee
made his return to the bullpen this past week, making the trainers room a scarce place at Canal Park. The Aeros currently don't have anyone on the disabled list. Lee returned and made two appearances, striking out three and not giving up a single hit or walk in three innings.
Weekly Randoms
For all the other random information that got away.
Pay attention to
Omar Aguilar
and the job he's been doing out of the bullpen. Not only has he been reigning in his control, he's putting up zeros on the board. He's given up just two earned runs in his past 10 innings. This season he's struck out 67 hitters in 54 innings pitched for Akron and his numbers have steadily improved from April on.
It was a quick call-up for
T.J. McFarland
, who was returned to Kinston a week after he came up and made what is now a spot start for the Aeros.
You just can't make these things up.
Anthony Reyes
had yet another horrifying outing in Akron as he resumed his rehab assignment with the Aeros this past week. Reyes retired the side in the first inning, but then fell a part in the second, unable to record an out and walking six hitters. In the process he threw three wild pitches and ended up giving up seven earned runs. As they say with Tommy John surgery, command is usually the last to come back and that is clearly evident with Reyes.
Corey Kluber
made his second start for the Aeros since being acquired by the Indians in the Jake Westbrook trade. It was just as disappointing as his first start, but on Sunday, Kluber showed everyone why the Indians traded for him. The former Texas League strikeout leader shut down New Britain on Sunday for six innings and struck out four. In his second start, Kluber was only able to go four innings yet again, giving up six runs off 11 hits.
On the subject of getting on track,
Alex White
did just that after some rough times as of late. Against the Rock Cats, White struck out three and gave up one run over six innings to earn his seventh win of the season.
Career night for
Lonnie Chisenhall
against New Britain on Saturday. The Indians former first round pick had five RBI and three hits as the Aeros clobbered the Rock Cats. The third baseman now has 15 home runs on the season, which is good enough for the active club lead.
Anyone notice the job
Juan Apodaca
has done since coming over from the Boston organization? This past week he actually walked just as many times as Lucas Montero has had at-bats. In 20 plate appearances this past week, Apodaca reached base 13 times. He also hit his third home run of the season and scored seven times, just as many as leadoff hitter Jordan Henry.
It was a triple kind of week for the Aeros. Tim Fedroff notched two while Cristo Arnal, Jordan Henry, and Jason Kipnis all rounded second and went into third safely for five triples this week.
Take them however way you can get them, right? On Thursday the Aeros avoided a sweep at the hands of Reading by getting a walk-off fielders choice from Beau Mills.
User Comments
No comments currently. Be the first to comment!