Alexander The Great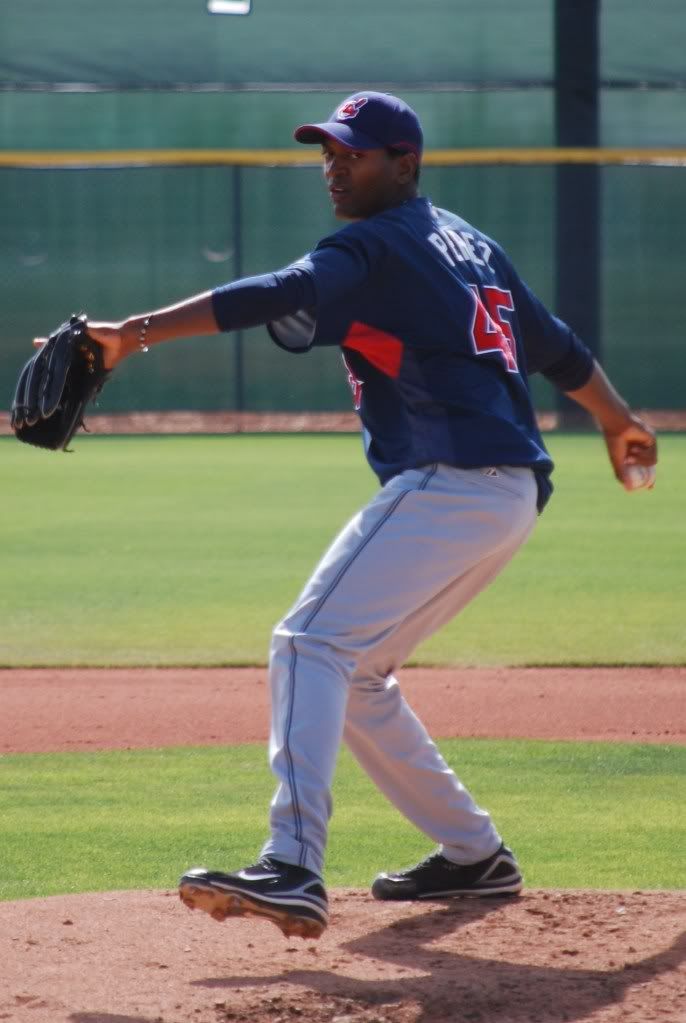 Every year of late, it seems a new hot shot young Latin American pitcher opens the season at Low-A Lake County and their career just takes off. Recently, right-handers Hector Rondon and Jeanmar Gomez did this in 2007 and last year left-hander Kelvin De La Cruz did it as well. This year, the new big Latin American pitching prospect being put on display at Lake County is right-hander Alexander Perez.
Perez, 19, is off to a great start with the Captains where through May 13th in six starts he is 2-0 with a 1.85 ERA, and in 34.0 innings he has allowed 28 hits, 8 walks and has 30 strikeouts. His success to start the season is from the springboard he received from a very good campaign last year with the rookie level Gulf Coast League Indians where as an 18-year old he went 2-4 with a 4.26 ERA in ten starts.
Perez is making his full season debut in the Indians organization this year with the Captains, and is excited about the opportunity the Indians have given him.
"I am very happy with the organization because being here at this level with only three years as a professional I am very pleased with the opportunities the Indians are giving me," said Perez through interpreter and teammate Paolo Espino. "Starting here in Lake County is nice to be on a full season team at 19-years old. I am very happy, and I know a lot of players would like this opportunity, so I am very thankful."
Starting Perez off in Lake County also shows how much the organization values him, which is a big boost to his confidence as a player.
"It is a great experience here in Lake County because last year when I used to pitch in the Gulf Coast League I used to just pitch for the manager and club because there were no fans," said Perez. "I feel good because this is a higher level and I am progressing. Now I don't pitch for only the manager and club, I also pitch for the fans."
Performing in front of fans is something that Perez and a lot of young Latin players are not used to at first when they come stateside to the United States and play with a full season team for the first time. After an early bout of jitters, Perez has started to settle in.
"Because I came from the Gulf Coast League, at the beginning of the season I used to get nervous with the fans," said Perez. "Down in the Gulf Coast League if you made a mistake with a pitch no one screams or does anything, where up here if you miss and they hit a home run off you they scream and let you know (laughs). Now I feel better and I am more confident. I have had a good start, but I was struggling a little bit early in the season. I think I am improving and have better command and feel good."
The Indians signed Perez as an undrafted free agent out of the Dominican Republic in May of 2007. The Indians had him go to their baseball academy located in Boca Chica, Dominican Republic, and with several of their top scouting staff present they observed him for five days before deciding to sign him. At the time, the Philadelphia Phillies were also interested in him too, but he decided to sign with the Indians because of how strong they felt about him as a player.
"When the Phillies were watching me, I felt there was really no big interest," said Perez. "But then the Indians saw me and showed more emotion and interest in me. They liked my fastball, curveball and changeup, all of my pitches. Also they talked to me about where they saw my progress and projection, which I liked."
Perez throws a standard three pitch mix of a fastball, curveball and changeup. His fastball sits in the low 90s, and his arm works so easy that with maturity the Indians expect he is going to add more velocity. His two secondary pitches - a curveball and changeup - are much more advanced than most players his age and both have the potential to be plus pitches and weapons for him. His ability to throw them both for strikes and command them well in the zone is something you don't see from a pitcher his age. The curveball is the slightly better of the two pitches, but both the changeup and curveball have the potential to be an out pitch at the major league level.
"My breaking ball is my strikeout pitch, though I am working on my changeup a lot too," said Perez.
Being so young and at an advanced level, Perez is still learning to refine himself as a pitcher. While he has been impressive with the statistics in the early going, behind the scenes in bullpen sessions he continues to work with Captains Pitching Coach Tony Arnold on many things.
"I am not working on anything specific right now, but we are working more on my fastball command because I have been throwing a lot of changeups and curveballs in games," said Perez. "In the bullpen sessions I am working on keeping my head straight because sometimes when I throw I pull my head off to the side."
As the 2009 season plays out, Perez just wants to continue to grow as a pitcher and put up numbers to further enhance his value to the organization.
"I want to [keep the walks down] and show good command," said Perez about his goals this year. "And I want to have really good stats."
User Comments
No comments currently. Be the first to comment!