And taking the place of Fausto Carmona in the Tribe's rotation is...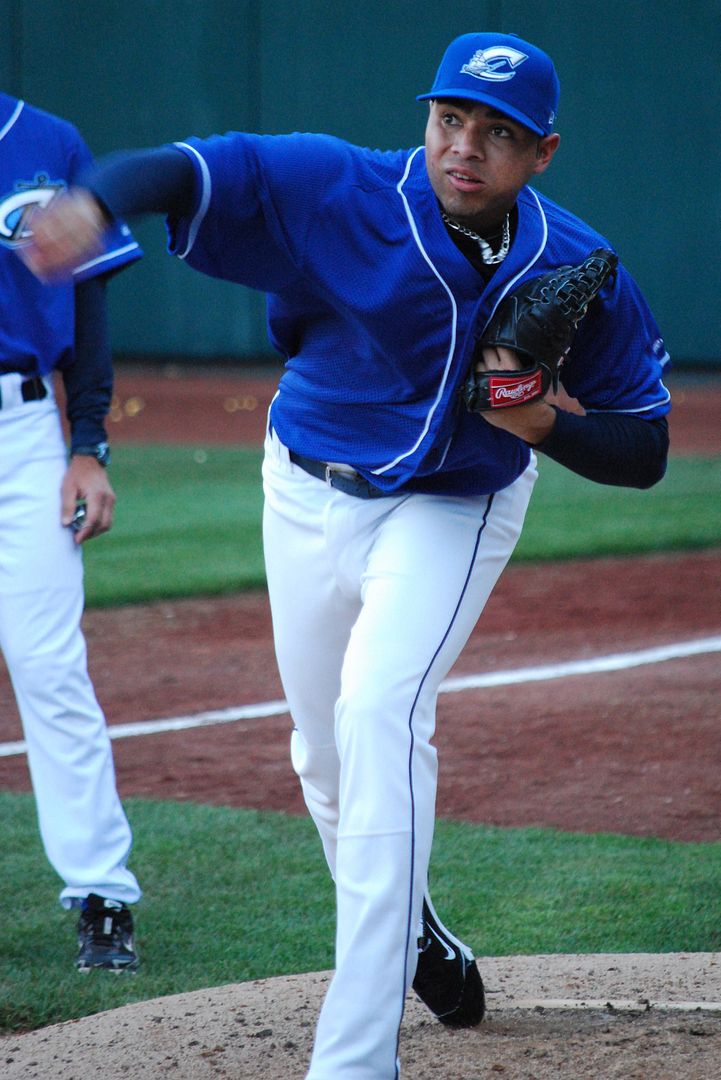 Jeanmar Gomez
(photo: Tony Lastoria)
Well, I wish it were that easy to just throw a name up there, but for once in the history of the Tribe, there are several incredible options available. But before we get there, just what happened to one Fausto Carmona?
It's distinctly hard to remember just when Carmona stopped being a factor as a top-of-the-rotation starter for the Cleveland Indians. Some will point to the playoff meltdown in 2007, when Carmona never made it out of the fourth inning and was lit up for a 16.50 ERA. Some will point to the 2008 and 2009 season, which were marred by injury and general poor play, and saw Carmona demoted to the minor leagues. Some will point to the 2010 season, in which Carmona was a more than serviceable 13-14 record, and a 3.77 ERA. Of course, Carmona was more Jake Westbrook in 2010, than he was ace 1B for the 2007 Tribe. Some will even point to his monumental slide in mid-May of this season, after six dominating starts our of seven that had many thinking he'd returned to his 2007 form.
It has becoming increasingly clear that while Carmona was busy becoming this year's opening day starter (3 IP, 11 H, 10 ER) for the first time in his career, he was nowhere near the status of a staff ace. What he had going for him was based simply on the fact that heading into this season, the Tribe staff was full of unknown commodities such as Justin Masterson, Mitch Talbot, Josh Tomlin and Carlos Carrasco.
Each of the four had major questions marks. Would Masterson better serve the Tribe in the relief role rather than as a starter? Was Josh Tomlin just another Jeremy Sowers or Aaron Laffey? Was Mitch Talbot the guy who blazed for the Indians in the beginning of 2010, or the guy who didn't at the end? Was Carlos Carrasco a front-of-the-rotation steal in the Cliff Lee deal, or just another Quad A pitcher who would never amount to anything? It's almost funny now to think that Carmona was thought to be the best of that bunch based on that single 2007 season, and laughably, 2010. With Masterson, Tomlin and Carrasco all potential All-Star additions in the coming week, it turns out Carmona wasn't the best, and it appears as though he wasn't even close.
Let's not just throw Carmona under the bus here. Can he be a quality starter? You bet he can, as he showcased from April 7th through April 17th in which he went 7+ innings in all three starts, giving up a total of only three earned runs in 21 2/3 innings. After one bad outing, Carmona was back again, with three more starts of 7+ innings, only giving up three runs in 22 innings into the middle of May. For those counting at home, Carmona made six outstanding starts in seven appearances, giving up a total of six runs in 42 2/3 innings. For those counting at home, that's a 1.26 ERA. So there is his tantalizing talent.
The problem with Carmona when he's in "ace mode" these days is that you never really know when it's going to disappear, as it did after the third game during that second stretch of games on May 8th. Starting from his next start on May 13th, Carmona has gone 1-7, and given up 4, 8, 4, 7, 4, 6, 2, 7 and 3 earned runs before he was injured in yesterday's game. His ERA during that stretch was 7.99, and people began clamoring for a change, whether it be Carmona moving to the pen, or just plain moving. With Justin Masterson, Josh Tomlin and especially Carlos Carrasco making a case to be the staff ace, Carmona slowly became an afterthought as a starter, and a major thought as a reminder to bad baseball.
To top it all off, Carmona was not only feeling pressure from starters at the big league level, but Triple A Columbus boasts a loaded staff that includes four starters not only announcing that they may be ready for a move to the big leagues, but HAMMERING on Carmona's front door, letting him know that another bad start or two, and his time would be finished in the rotation. Still, Carmona remained in the rotation...
...until yesterday.
Yesterday, Carmona has pitched a solid two innings against Cincinnati, giving up only two hits, while striking out one. Unfortunately for the big righty, his 6'4", 240 pound body wasn't built for speed...or even maybe running. Carmona laid down a bunt and began barreling down the first base line in, trying to stay out of a double play. As he approached the bag, gravity took hold as he stumbled, hit the bag, and careened over it like he'd been tackled. The result was a strained right quad muscle and a trip to the 15-day DL.
It's funny how injuries can take care of roster issues.
Enter a four-man push from Triple A to take Carmona's potential two missed starts (one before the break, and one after) and make a case for a longer stay. While it's doubtful that Carmona would return in any capacity but as a starter, it could get dicey should someone fill in and pitch as well as the staff is pitching in Columbus. Of course, Carmona's job may not be the only one under scrutiny, right Mitch Talbot?
Here's a look at the four starters from Columbus in the mix to take over for Carmona:
Zach McAllister: 8-3, 2.97 ERA, 3 CG, 1 SHO, 97 IP, 86 H, 32 ER, 6 HR, 21 BB, 71 K:
Had Carmona's injury occurred
a month ago, I doubt there would have been any doubt that McAllister would have been the player to call up. Not only was he pitching better than anyone on the Columbus rotation, but a good case could be made that he was one of the best starters in the entire minor league system. He was the first player in all the minors to get to seven wins (without a loss), and he was dominating with a sub 2.00 ERA. On May 31, he had his first true bad start, but has maintained his ace-like status since then. No, he wasn't pitching at the same clip as before, but obviously the 2.97 ERA showcases a pitcher who is clearly ready for a push. Still, McAllister has never pitched in the majors before, and likely won't be the guy they choose for two-spot-starts. He's been overshadowed over the past month by three others who have been lights out. Still, McAllister started on Friday night, so he'd be in line to make the start on Thursday with six-days rest. Corey Kluber, who started yesterday, is just depth fodder, and doesn't figure into this mix.
David Huff: 8-2, 3.74 ERA, 0 CG, 89 H, 35 ER, 7 HR, 23 BB, 51 K:
Huff has the most experience of the bunch, having pitched much of the 2009 and 2010 with the Indians. The lefty was the favorite heading into 2011 to become the #5 starter, but was simply outpitched by Josh Tomlin. Huff started off the year with Columbus scuffling a bit, but since June 8th, Huff has made four fantastic smarts against one bad start, to get his name into the mix. During those four outstanding starts, Huff has gone 4-0 (5-0 overall, winning the bad start against Gwinett), giving up 17 hits, three runs and six walks in 27 innings pitched, while striking out an impressive 24 batters, which isn't really his game. His 1.00 ERA during that span certainly has the Tribe brass taking notice, and with only two starts planned, Huff may have the best mentality to come up. He certainly isn't the most flashy of pitchers, fitting into that Jeremy Sowers, Aaron Laffey mold as being a location pitcher. Still, when he's on, he's pretty darned good.
Jeanmar Gomez: 8-2, 2.49 ERA, 2 CG, 1 SHO, 79 2/3 IP, 22 ER, 4 HR, 27 BB, 68 K:
Gomez is the only one of the current Clippers' starters who has played at the big league level this season. While he wasn't dominating by any stretch, his last two starts were very, very good before being demoted. Gomez was rolling through the end of May and most of June, absolutely dominating the International League. Over his last eight starts, Gomez has gone eight innings three times, seven innings three times, and six innings once. He's gone 56 1/3 total innings, giving up 46 hits, 13 runs, 19 BB and struck out 45 batters. Don't forget, Gomez also made 11 starts with the Tribe in 2010, so there is definite experience there. It appears that Gomez is a pitcher the the Tribe brass like right now, so he could be the favorite. The issue with Gomez is that he started today, and pitched eight strong, getting his team leading ninth win. No, the issue isn't the that he pitched well. Just the opposite. The issue is that he'd be pitching with only four days rest after 105 pitches today. While he looked good, I just don't see the Tribe messing with him. It may make McAllister the favorite. Of course, we don't know the direction they'll go in the coming days.
Scott Barnes: 7-2, 3.40 ERA, 0 CG, 76 2/3 IP, 29 ER, 11 HR, 31 BB, 82 K:
Barnes may have the best upside of all the starters. While he has similar intangibles as Gomez, being a power lefty certainly helps. He's had a hot June, which has placed the 23-year-old directly in the mix. Since his May 24th start, Barnes has gone 47 1/3 innings, giving up 35 hits, 10 earned runs, 4 HR and 16 walks, while striking out and impressive 55 batters. When this kid is on, he can absolutely dominate with an attacking, 94 MPH fastball, a plus changeup and an improving slider. While Barnes certainly has the most ups of this group, his one downfall is that he didn't play a Triple A game until this season. If it were a normal season in which there weren't three other starters pitching extremely well, Barnes would clearly get the call. As it stands now, I can't see the Indians rushing Barnes to the majors. While he'll be a factor in 2012, I think 2011 will go to Tribe vets Gomez and Huff, and McAllister, who's in his second full season at Triple A. Still, Barnes is an intriguing pick.
At the end of the day, the Tribe can't go wrong with any of the four starters, but if I had to put odds on it, I'd say Gomez is the guy at the head of the back, followed by Huff, McAllister and Barnes. The irony is that I think Barnes has the best stuff, but will likely get the last look. Gomez seems to be the flavor of the month, and he's absolutely earned it. Of course, his current outstanding start may have ironically moved him to the back of the line, at least for the initial start on Thursday. Should Carmona miss two starts after Acta resets the line-up, then things could get interesting.
The Indians could go in a different direction altogether, and call up Gomez or Huff prior to the break, and if they struggle, bring up the other after the break, looking at both as spot starts. While I doubt they'd do that, it could be a possibility based on timing. With Huff scheduled to start for Columbus on the fourth, they could call up Gomez on Thursday, then Huff after the break with enough rest. Of course, this isn't taking into account McAllister and/or Barnes, who could both do the same.
Of course, days rest is a big issue. Huff is scheduled to start on Monday, Barnes is scheduled to start on Tuesday, McAllister is scheduled to start on Wednesday and the unmentioned Corey Kluber is scheduled to start on Thursday. If there's anything odd about the rotation heading into Thursday's game with any of the starters prior, then you'll have your likely starter. Manny Acta could also take the easiest rode, which ironically would be the road less traveled, and throw Kluber in for just one start. While he's the last on the list, I'm sure the Tribe wouldn't be worried about options.
Of course, if the 4-5 Kluber, with the 6.38 ERA were to make the spot start, thousands of Tribe fans would likely have to have their heart jump-started.
As for Carmona? Get healthy, and come back like the guy that dominated in 2007 as well as earlier this season. Add Mitch Talbot to that equation as well. If either of you don't, watch out for the Clippers buzz-saw.
From the IPI...have a fantastic Fourth of July everybody...
User Comments
No comments currently. Be the first to comment!