Around the Farm: April 13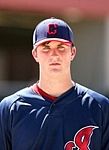 Around the Farm takes a quick look at some of yesterday's performances by Indians prospects throughout the system. The positions listed below are where the player was playing in yesterday's game.
Drew Pomeranz - SP, Kinston: 5.2 IP, 1 H, 1 R (0 ER), 2 BB, 8 K.
For the second straight outing, Pomeranz threw a gem. The only run Pomeranz surrendered was an unearned run in the top half of the sixth inning, off the error of catcher Roberto Perez. In his first two professional starts, he's thrown a combined 11 innings, surrendering 3 hits, 1 run (unearned), and two walks. He's also faned 17 batters. Pomeranz has held opposing batters to a .088 average. The Indians organization couldn't have asked for a better start to his career than the one he's given them.
Jason Donald - 3B, Akron: 2-4, R. Played six full innings for the Aeros in his rehab stint. He's a combined 3-11 with Akron.
Matt McBride - 1B, Akron: 3-3, R, 2B, RBI, BB. McBride has had a hot bat of late, hitting 9-13 in his last 4 games.
John Drennan - RF, Akron: 2-3, R, HR, RBI, BB, K. Drennan has been showing a little pop lately, hitting solo home runs in his past two games.
Nick Hagadone - RP, Akron: 2 IP, H, 3K. Talk about a guy who has been lights out to start the year. He's pitched in three ball games, allowing only two hits and not surrendering a walk, while striking out six.
Tyler Cannon - SS, Lake County: 2-5, 2 R, RBI. Somewhat of a guy who not many people are looking at this year, may turn some heads.
Giovanny Urshela - 3B, Lake County: 3-5, 2 R, 2B, RBI. Urshela's a guy who sees his prospect stock rising quickly. Great glove and his offense is finally coming around.
Alex Lavisky - C, Lake County: 2-5, RBI, 3K. Lavisky has struggled starting his pro career, but it's to be expected. He's a young kid. Striking out 13 times in seven games though is a bit startling.
Mike Rayl - SP, Lake County: 6 IP, H, 2 BB, 6K. Turned in a dominant performance for the Captains that led them to victory. He picked up his second win on the early season.
Follow Tony and the Indians Prospect Insider on Twitter @TonyIPI. Also, his latest book the 2011 Cleveland Indians Top 100 Prospects & More is available for purchase for $20.95 to customers in the US (shipping and handling extra).
User Comments
No comments currently. Be the first to comment!