Around the Farm: April 8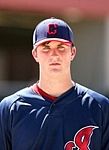 Around the Farm takes a quick look at some of yesterday's performances by Indians prospects throughout the system. The positions listed below are where the player was playing in yesterday's game.
Drew Pomeranz - SP, Kinston: 5.1 IP, 2 H, 0 R, 0 BB, 9 K.
As far as pro debuts go, you can't get any better than the one Pomeranz had on Friday night. He was a strike machine all night and seemed to carry over all the success and momentum he had built in spring training right into his first start of the season. He not only limited the opposition to two hits, but amazingly had 9 strikeouts without even walking a batter. He threw 79 pitches and relied heavily on his fastball as he threw just a handful of curveballs and only one changeup all game. He also reportedly touched 97 MPH on the gun with his fastball a few times. If he continues to pitch like this, he will be in Akron by early May.
Mike Rayl - SP, Lake County: 5.0 IP, 1 H, 0 R, 1 BB, 5 K.
The starting pitching so far for all the affiliates has been impressive with Huff/Gomez in Columbus, De La Cruz/Gardner in Akron, Pomeranz in Kinston, and Goodnight/Rayl in Lake County. Out of all of those pitchers, Rayl may be the most surprising to some, but this is because he is one of the more underrated pitchers in the organization. He doesn't throw very hard as he typically sits at 87-90 MPH, but he has a nice frame (6'5" 180 pounds), is athletic, and knows how to pitch. It's early, but could he take a Matt Packer-like leap this year?
Ezequiel Carrera - CF, Columbus: 3-for-4, R, 3B, RBI, BB, SB. Jose Constanza who? The names may have changed, but things look no different at the top of the Clippers batting order.
Lonnie Chisenhall - 3B, Columbus: 2-for-5, R, 2B, HR, 2 RBI. Looks like the week off between spring training and the start of the season has not cooled off the Chiz Kid.
Cord Phelps - SS, Columbus: 1-for-4, BB, 2 K. Not nearly as good a game as Thursday night, but noteworthy that he played shortstop.
Jeanmar Gomez - SP, Columbus: 5.2 IP, 7 H, 2 R/ER, 2 BB, 4 K. Solid first outing for Jeanmar, though you would expect him to go at least six innings to get the quality start.
Joe Martinez - RP, Columbus: 1.1 IP, 0 H, 0 R, 0 BB, 2 K. Nice, clean Indians debut for Martinez and a guy who is a depth option this year as a swing guy.
Josh Judy - RP, Columbus: 1.0 IP, 0 H, 0 R, 1 BB, 3 K. Judge Judy mowed 'em down in the 8th...the setup role is something he could settle into down the road in Cleveland quite nicely.
Jensen Lewis - RP, Columbus: 1.0 IP, 2 H, 0 R, 1 BB, 1 K. Apparently, Lewis is the closer for the Clippers, and he made it interested closing out Clipper wins the last two nights allowing five baserunners in two innings but not allowing anyone to score.
Jordan Henry - CF, Akron: 2-for-5, R, 2B, 2 RBI. His 6th inning double was the key hit in the game for the Aeros.
Juan Diaz - SS, Akron: 2-for-5, 2 R, 3B, RBI. Second triple in as many games.
Donnie Webb - LF, Akron: 1-for-3, R, HR, RBI, BB, K. Okay, so who had Webb in the office pool for first Aeros homer of the season?
Joe Gardner - SP, Akron: 6.0 IP, 5 H, 3 R/ER, 4 BB, 3 K. He had a terrible start to the game allowing 3 runs on 4 hits and 3 walks in the first 2 innings, but he hung tough and finished strong allowing no runs, 1 hit and 1 walk his final 4 innings of work.
Cory Burns - RP, Akron: 1.0 IP, 1 H, 0 R, 0 BB, 3 K. Hey Eastern League, say hello to "The Tornado". Burns with his first save of the season.
Adam Abraham - 3B, Kinston: 2-for-4, 2B, RBI, BB, K. Nice Carolina League debut for Abraham.
Ron Rivas - 2B, Kinston: 3-for-5, RBI. Rivas had a heck of a spring at the plate, and he continued it into his first game of the season with the game winning walkoff RBI single in the 11th.
Marty Popham - RP, Kinston: 1.0 IP, 4 H, 4 R/ER, 0 BB, 1 K, 2 HR. Pop was knocked around pretty hard in his one inning of work blowing a 5-1 lead in the 8th inning.
Nick Bartolone - SS, Lake County: 0-for-5, 3 K. You need a short memory after games like this.
Jason Smit - RF, Lake County: 2-for-3, R, 3B, BB, K. The Aussie carried the Captains offense which as a team managed just 5 hits.
Francisco Jimenez - RP, Lake County: 3.0 IP, 1 H, 0 R, 1 BB, 1 K. The versatile lefty continues to show he can pitch in any role out of the bullpen.
Follow Tony and the Indians Prospect Insider on Twitter @TonyIPI. Also, his latest book the 2011 Cleveland Indians Top 100 Prospects & More is available for purchase for $20.95 to customers in the US (shipping and handling extra).
User Comments
No comments currently. Be the first to comment!