Around the Farm: August 11, 2014
Around the Farm takes a quick look at some of yesterday's performances by Cleveland prospects throughout the system. The positions listed below are where the player was playing in yesterday's game.
Note, Double-A Akron, High-A Carolina and Low-A Lake County had scheduled off days on Monday. Short season Single-A Mahoning Valley was postponed because of rain.
Casey Shane (SP, AZL Indians): 5.0 IP, 2 H, 1 R (0 ER), 3 BB, 1 K. Shane has been very reliable and consistent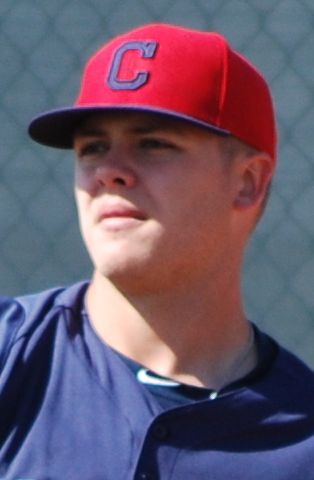 this season in Arizona. He has gone 5.0 innings in seven of his nine starts and has allowed more than two runs just one time. He has had a little problem with the walks the last two times out racking up three in each game after having just seven total his first seven starts, but a hiccup is to be expected for such a young player making all of the adjustments he has made this season. While he is repeating in the AZL this season, he is showed marked improvement as his BB/9 has dropped from 5.0 last year to 2.8 this season, his strikeout rate has jumped from 6.8 to 8.0, his ERA has dropped from 6.52 to 2.81 and his FIP has dropped from 4.70 to 3.65. It has been a nice season overall for the soon to be 19-year old.
Zach McAllister (SP, Columbus): 6.0 IP, 5 H, 2 R (1 ER), 2 BB, 2 K. McAllister continues to pitch well at the Triple-A level and was a tough luck loser in this one even though he gave his team a (good) quality start. He is 6-1 with a 1.82 ERA in eight starts in Triple-A, but is 3-6 with a 5.91 ERA in 14 starts in Cleveland. He has to find a way to get over the hump and provide consistent outings because there is no question he has the size, ability and makeup to be a good innings eating Major League pitcher. A lot of his problems stem from a confidence issue which he needs to get past, and once he does that he could take off with the Indians.
Follow Tony and the Indians Baseball Insider on Twitter @TonyIBI. Also, his new book the 2014 Cleveland Indians Baseball Insider which profiles the Indians' Top 100 Prospects and more is available for sale.
User Comments
Seth
August 12, 2014 - 2:26 PM EDT
I would wonder if it's less confidence, and more something physical where the finger still bothers him or he can't grip the baseball like he could before. Ever since he returned from the DL with that finger injury, he's had the same issues, where he'll look good for a bit, then just completely lose all command for an inning. He looked that way in spring training, and I was really surprised at his solid start to the regular season. But then he reverted to post-finger-injury McAllister. I think of him as pretty much a lost cause at this point. He was never exceptional to begin with, now that he can't consistently command his pitches, he is the guy with the 6 ERA who can probably still do ok in AAA because he's got a decent fastball.
Tony
August 12, 2014 - 1:39 PM EDT
Nick, to me, it all stems back to his finger issue last year. Since then his confidence in his secondary stuff, primarily his curveball, has really gone downhill. I also think the addition of the slider this year is a mistake.
Nick
August 12, 2014 - 1:23 PM EDT
Kind of seems there might be an arm issue with Zach, he's throwing his fastball too much and is shying heavily off of his off speed pitches, kind of screams of a possible elbow issue.
shy
August 12, 2014 - 11:54 AM EDT
McCallister is still leaving too many balls flat and up. Not going to play well at the ML level. He's going to have to make some changes if he wants to pitch at the Jake next year.
Homer
August 12, 2014 - 11:46 AM EDT
Agreed, that would probably be too aggressive with Shane, but couldn't really see him waiting for MV to start up. I think Extended and then MV is probably the plan for him. With a taste of MV a possibility at the end of their season.

I think Aguliar and Urshela are both legit prospects. Something I look at is age and level. I think Urshela could be an everyday 3b with potential GG defense.
Tony
August 12, 2014 - 10:59 AM EDT
Aguilar should at worst be a solid depth bat in the Major Leagues, though his lack of versatility will hurt him in that regard. Perhaps at worst a platoon bat at first base. I don't see a core bat in the making- though you never know - but I see a Gaby Sanchez kind of guy (his good years) or as I mentioned in another thread yesterday a Paul Sorrento-type at first base from the right side. That's actually a pretty solid player.
Tondo
August 12, 2014 - 10:55 AM EDT
Adding: Aguilar is 9th in OPS in the IL and is the only player born 1990 or later in the top 10. In fact, of all .800+ OPS bats in the league qualifying, Aguilar and Urshela are the two youngest. They are legit
Tondo
August 12, 2014 - 10:51 AM EDT
The Indians have probably learned their lesson on pushing young specs who had successful AZL seasons to LC too early: Paulino, Santander, M.Brown, Martinez, NRod, Hamrick, McAdams etc. Changed that approach with Brady and Mejia. Will be interesting to see if they push Bradley and/or Chang next season. Both are top 10 players in my opinion.

Have to disagree on Aguilar. While his RBI numbers aren't as impressive as last season, he's still a monster with runners on and in scoring position (.919 OPS). He's 6th in the league in RBIs. Last year's RBI % was unsustainable. He has improved in virtually every other category, BA, OBP, SLG, ISO, OPS, BB%, BB:K ratio while jumping a level. Somehow prospects get lost in the hype hoopla when they get to AAA for some reason. Same thing happened to TJ House. Goes to show how much hype there is in this fun game. I think he has more upside than just a bench bat/complementary player. He has improved from year to year while being young for the level, so I dont think he's a finished product yet.
Tony
August 12, 2014 - 10:25 AM EDT
While Lake County is certainly a possibility, I think the odds are that Shane will open next season in extended spring training and then progress to Mahoning Valley once their season starts in June. Sort of like what Brady did this year.
Homer
August 12, 2014 - 10:14 AM EDT
I'm glad the Tribe has taken it slow with Casey Shane. I expect the same treatment with Micah Miniard and Sam Hentges next yr. Shane came to Indians as a 17 yo 7th rd draft pk last season. He was one of the youngest players drafted last yr and turns 19 in about two weeks. He's been solid all yr and seems to have really taken a step forward with his progression this season. It will be exciting to see Shane in Lake County next yr? Although, I suspect he see some time MV, maybe at the end of this season as the Tribe looks to expose some younger players to higher levels of competition.