Around the Farm: August 11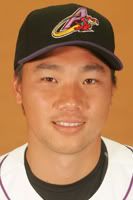 Around the Farm takes a look at some of yesterday's performances by Indians prospects throughout the system. The positions listed below are where the player was playing in yesterday's games.
Chen Lee
-RP, Akron:
IP
, 2 K
June 25. That's the last time Lee gave up an earned run, spanning his last 12 appearances. On the season, Lee has struck out 64 in his 57 1/3 innings of work and has a 3.77 ERA. Over his last 12 appearances, Lee has more strikeouts (23) than
baserunners
allowed (12). Eastern League batters hit just .070 against him in the month of July, and are at .200 in his two appearances so far in the month of August. Any way you look at it, Lee has been one of the hottest pitchers in Akron over the past month and a half.
Cord Phelps-2B, Columbus: 2-4, 2 1B. Phelps has hit in 7 of his last 8, and is 10-32 over that span.
Wes Hodges-1B, Columbus: 2-4, 2B, 2 R. Back-to-back multi-hit efforts for Hodges.
Anthony Reyes-SP, Akron:

IP

, H, 7 ER, 6 BB. Reyes struck out the first batter he faced, and the next two grounded out. After that though, Reyes did his best Ricky Vaughn impression, walking the next 5 and mixing in 3 wild pitches. A RBI single and another walk later, Reyes was mercifully done for the day.
Matt Packer-RP, Akron: 7

IP

, 3 H, 4 K, 3 BB.

Ahh

, much better. Packer did allow 3 inherited runners to score, but held down Reading for 7 innings, allowing the

Aeros

to climb back into the game. He even picked two runners off first.
John

Drennen

-OF, Akron: 3-5, 2B, 2 R. Multi-hit games in 3 of his last 4, and 4 of his last 6.
Carlos

Rivero

-SS, Akron: 2-4, HR (5), 2 RBI, R, CS. Another down year for

Rivero

, whose OPS is at an even .600.

Delvi

Cid-OF, Lake County: 2-4, 2 2B, 2 RBI, 2 R, BB, SB. Stolen base number 58 for Cid, who is hitting .302/.348/.465 over his last 10.
Kevin

Rucker

-OF,

Mahoning

Valley: 2-3, HR (1), RBI, BB, 2 R. 2007 47

th

round pick with his first HR for the Scrappers.

Isaias

Encarnacion

-RP,

DSL

Indians: 2 IP, 2 H, ER, 4 K, 2 BB. Just turned 19 years old, Encarnacion has 13 K in 11 2/3 IP...but also 14 BB.
Erik Gonzalez-3B,

DSL

Indians: 2-4, 2 1B. 18-year old 3B is putting up an OPS over .800 so far in the

DSL

.
User Comments
No comments currently. Be the first to comment!