Around the Farm: August 15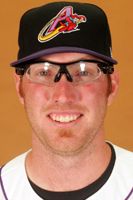 Connor Graham
– RP, Akron: 2.0 IP, 2 H, 0 R/ER, 1 BB, 1 K.
Graham looks to have found a permanent home in the bullpen, a move that occurred in May with no looking back. Since arriving in the bullpen he has really began to settle in, and in his last 11 appearances is now 1-0 with a 1.04 ERA and in 17.1 innings has allowed 11 hits, 4 walks and has 19 strikeouts.
Jon Burnette
– 1B, Mahoning Valley: 2-for-4, BB.
Burnette just continues to hit as he is up to a .292/.335/.498 line on the year. His 8 HR already have him tied for 6th all-time in Scrappers history and is 4 away from tying the franchise record of 12 set by Rickie Morton in 2001. Being a college bat and his good performance this year it looks like he could skip Low-A Lake County next year and go right to High-A Kinston, especially since first base options are limited in the lower levels of the organization.
Jason Knapp
– SP, Arizona: 4.0 IP, 1 H, 1 R (0 ER), 1 BB, 4 K.
Another solid outing for the big 19 year old right-hander who turns 20 at the end of this month. In five games out in Arizona he has thrown 12.1 innings and allowed 5 hits, 4 walks, and has 18 strikeouts. It looks like he is about ramped up to go five innings and with this being the last scheduled outing in Arizona it looks like he may be on the move to Mahoning Valley, Lake County or Kinston soon unless the Indians decide to give him another outing or two to ensure he is ready (but he looks ready).
Yohan Pino – SP, Columbus: 6.0 IP, 9 H, 0 ER, 2 BB, 5 K. We've gotten to know Pino this year, and it looks like he is just a solid depth pitching option in the system (which is a good thing to have). Big outing in a big game for the Clippers.
Bryce Stowell – RP, Columbus: 1.0 IP, 0 H, 2 R/ER, 3 BB, 0 K. Ouch. Two runs without recording a hit? Still struggling with the walks in Triple-A.
Jose Constanza – OF, Columbus: 1-for-3, 2 R, BB, SB. When is this guy ever going to get some well deserved respect? Just continues to perform every year. Hitting .306 this year with .731 OPS and 30-for-34 in stolen base attempts.
Cord Phelps – 2B, Columbus: 1-for-3, 2B, 2 RBI, BB. Just another day at the office for Mr. Robert Phelps, or just "Cord" for short.
Matt McBride – DH, Columbus: 2-for-4, 2 R, HR, RBI. Hitting .382/.397/.545 in 14 Triple-A games. The Indians wouldn't send him back to Double-A with Jordan Brown coming back….would they?
Corey Kluber – SP, Akron: 6.0 IP, 6 H, 0 R/ER, 1 BB, 4 K. After two dreadful starts to being his Indians career, this was good to see.
Jordan Henry – OF, Akron: 2-for-5, 2 R, 2B, K. Three straight multi-hit games for Oh Henry.
Jason Kipnis – 2B, Akron: 2-for-2, 2 R, HR, 2 RBI, 2 BB. Making a strong case to win the organizations' Lou Boudreau Award as top position player this year in the minors.
Lonnie Chisenhall – 3B, Akron: 2-for-3, 2B, 2 RBI, 2 BB. Some may not be too impressed with his overall offensive performance this year, but he's having a very solid year with the bat and very good with the glove.
T.J. House – SP, Kinston: 5.0 IP, 9 H, 5 R/ER, 1 BB, 5 K. After string of four consecutive dominant outings in a row, House shows a crack in the foundation.
Kyle Bellows – 3B, Kinston: 2-for-4, 2 R, K. Not a flashy prospect or appears destined for great things, but having a solid season offensively and has Major League potential because of his defensive ability.
Abner Abreu – OF, Kinston: 2-for-4, R, 3B, 2 RBI, K. Disappointing power numbers this year, but may be due to compensating for shoulder after offseason surgery.
Giovanni Soto – SP, Lake County: 5.0 IP, 6 H, 2 R/ER, 1 BB, 4 K. Looks like a lock to win Pitcher of the Year honors in the Midwest League.
Tyler Holt – OF, Lake County: 0-for-2, RBI, BB, K. Number of hits in pro career to date: 1. Number of thrown bats: 1. Intense is not the word with Holt.
Delvi Cid – OF, Lake County: 4-for-5, R, RBI. Hitting .307 with .732 OPS in 49 games since the All Star break.
Greg Folgia – OF, Lake County: 3-for-3, R, RBI. After an awful first half where in 47 games hit .192/.283/.298, in 36 second half games is hitting .312/.355/.464.
Cole Cook – SP, Mahoning Valley: 3.0 IP, 3 H, 4 R/ER, 1 BB, 2 K, 2 HR. Rude welcoming to pro ball for big righty.
Moises Montero – C, Mahoning Valley: 2-for-5, 2 R, HR, 3 RBI. Reliable defensive catcher who chips in with some much needed offense.
Kyle Petter – RP, Arizona: 3.0 IP, 3 H, 0 R/ER, 0 BB, 3 K. Solid start to pro career where in 19.0 innings covering ten appearances he has allowed just 4 walks and has 22 strikeouts.
User Comments
No comments currently. Be the first to comment!