Around the Farm: August 19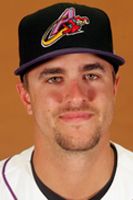 Around the Farm takes a quick look at some of yesterday's performances by Indians prospects throughout the system. The positions listed below are where the player was playing in yesterday's games.
Lonnie

Chisenhall
-3B, Akron: 2-5, 2B, 3 RBI, 3 R.
The
Chizz
has been on fire lately, hitting in 7 straight games. Over that span, he is 11-25 (.440) with a HR, 12 RBI, 3 2B, and even a stolen base. He's also showing excellent plate discipline, walking seven times against three strikeouts.
Chisenhall
will likely fall on some of the national prospect lists due to his
perceived
off year in 2010. But when healthy, he has produced and I expect him to have a big
bounceback
year in 2011 and would love to see him in the Arizona Fall League as one of the Indians reps this year.
Jerad Head
-OF, Akron: 3-4, 2 HR (15), 4 RBI, BB, 3 R
Sent back down from Columbus, Head has picked up right where he left off in Akron. Over his last 10 games in the Eastern League, Head has put up a line of .425/.465/.875 with 6 HR and 14 RBI. Those are some serious numbers. Head's OPS for Akron is 1.015 on the season, and was solid in his time with the Clippers, posting a .270/.338/.476 line in his 18 games in AAA. Head is 27 years old, and has pretty much proven all has has to prove in AA at this point.
Zach Putnam-RP, Columbus: 2

IP

, H, 2 K, BB. Four scoreless outings in a row for Putnam, spanning his last 6

IP

.
Drew Sutton-OF, Columbus: 3-3, 2B, BB, SB, 2 R. Sutton is hitting .282 with a HR and 6 RBI since coming to the organization.
Matt McBride-DH, Columbus: 1-4, HR (3), 2 RBI, R, K. McBride now has a 14 game hitting streak going for the Clippers, dating back to July 31.
Kelvin De La Cruz-SP, Akron: 4

IP

, 8 H, 7 ER, 2 BB, K. Back-to-back rough outings for De La Cruz, as he's given up 13 ER in his last 8 innings pitched.
Chen Lee-RP, Akron:

IP

, K. Another clean inning for Lee, running his scoreless streak to 15 consecutive appearances. Opposing batters are 3-19 (.157) off Lee in the month of August.
Jordan Henry-OF, Akron: 2-6, 2 RBI, R, CS, 3 K. Henry has yet to hit a HR this season, but his

OBP

between

Kinston

and Akron is a robust .411. He has 23 stolen bases on the season, and has been caught just 5 times.
Greg

Folgia

-OF, Lake County: 1-4, HR (6), 2 RBI, R. Only one hit, but it was a big one, as

Folgia

popped a walk-off HR in the 9

th

for the Caps.
Adam Abraham-3B, Lake County: 2-3, HR (11), RBI, 2 R. Abraham is working on a nice little 8 game hitting streak in which he has gone 12-34 (.352).
James

Reichenbach

-RP,

Mahoning

Valley: 2

IP

, H, 2 K, BB. The 22-year old has a 3.86 ERA in 22 appearances out of the bullpen.
Diego

Seastrunk

-C,

Mahoning

Valley: 4-4, 2B, RBI, 2 R, CS. Catcher out of Rice was struggling, but is heating up over his last 3 games, going a combined 8-12.
Erik Gonzalez-1B,

DSL

Indians: 2-3, 2B, R. Gonzalez had 2 of the team's 3 hits, and the 18-year old is hitting .343 on the season.
User Comments
No comments currently. Be the first to comment!