Around the Farm: August 31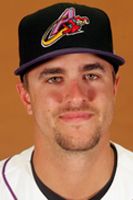 Around the Farm takes a quick look at some of yesterday's performances by Indians prospects throughout the system. The positions listed below are where the player was playing in yesterday's game.
Lonnie Chisenhall
- 3B, Akron: 2-for-4, 2 R, 2 BB.
After a very good month of August where he hit .296/.378/.528 along with 6 HR and 28 RBI in 29 games, hopefully some of the thoughts about his demise as a prospect will stop. He has had a very good year at the Double-A level and looks primed and ready to make the next step to Triple-A Columbus next year in what may be just a half year of seasoning until a call to Cleveland around the All-Star break.
Chun Chen
- C, Kinston: 2-for-4, 2 R, 2 2B, 2 RBI, BB.
Just another day at the office for Mr. Chen in a season that has seen him breakthrough as a high level prospect for the Indians. Once the season finishes he will have an interesting offseason as the Indians would like him to play in the Arizona Fall League, but a more important matter may be letting him play for his country in the Asian Games. By doing so (assuming he makes the team) his military committment would be waived and he would only be required to serve 12 days (similar to C.C. Lee).
Cord Phelps - 2B, Columbus: 2-for-3, R, 2 2B, RBI. Two more doubles for Phelps, and now 29 extra base hits in 229 AAA at bats compared to just 13 in 199 AA at bats. Interesting.
Jordan Brown - OF, Columbus: 0-for-5, 2 K. Not a great AAA sendoff, and finished 3-for-17 before today's callup.
Jared Goedert - 3B, Columbus: 1-for-3, R, HR, 2 RBI, BB. Suddenly finding his power stroke again with two home runs in last three games. Brutal .222/.322/.394 August comes to an end.
Paolo Espino - SP, Columbus: 7.0 IP, 3 H, 2 R/ER, 3 BB, 7 K. Another sensational outing for little Paolo who has been a lifesaver for a Columbus rotation ravaged by injuries and callups.
Beau Mills - 1B, Akron: 2-for-4, 2 R, HR, 3 RBI, BB, K. Nice night, just wish there would have been a lot more of these this season.
Tim Fedroff - OF, Akron: 2-for-4, BB, K. Like last year, another second half surge where he is hitting .291/.366/.479 since the All Star break.
Shane Lindsay - SP, Akron: 3.0 IP, 5 H, 4 R/ER, 3 BB, 3 K. Wild thing, you make my heart sting.
Steven Wright - RP, Akron: 3.0 IP, 4 H, 0 R, 0 BB, 3 K. With the new knuckleball, he restores order and gets the win.
Bo Greenwell - OF, Kinston: 3-for-5, R. Has looked worn down the last month or so, but two straight multi-hit games so maybe a strong finish is in order.
Kyle Bellows - 3B, Kinston: 2-for-5, 2 R, 2B, HR, 3 RBI, K. He has impacted every game this year with his plus defense, and now impacting games with bat with 2 HR and 7 RBI in last two games.
Donnie Webb - OF, Kinston: 2-for-4, R, K. A disappointing season with the injuries, but finishing strong with .280/.375/.770 clip since All Star break in June.
Marty Popham - SP, Kinston: 6.0 IP, 2 H, 2 R (0 ER), HR, BB, 2 K. Another good outing from Louisville area product.
Tyler Holt - OF, Lake County: 2-for-4, K. In 17 games with Lake County he is hitting a healthy .310/.408/.483 and living up to his draft scouting report.
Francisco Jimenez - SP, Lake County: 5.0 IP, 3 H, 0 R, 1 BB, 4 K. Since being pressed into starting duty because Giovanni Soto is temporarily out with a tricep strain, he has made two great starts (9.1 IP, 5 H, 0 R, 1 BB, 10 K).
Carlos Moncrief - OF, Mahoning Valley: 0-for-5, 4K. Now 11 strikeouts in last 18 at bats.
Michael Goodnight - SP, Mahoning Valley: 5.0 IP, 1 H, 0 R, 3 BB, 6 K. A good night for Goodnight...ba dum pum! (this will obviously be the most overused phrase while he is in the Indians system the next few years).
User Comments
No comments currently. Be the first to comment!