Around the Farm: December 18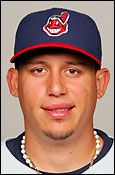 (Photo: MLB)
Here is a quick recap of how the players in the Cleveland Indians' system did in fall/winter league action on Saturday December 18th:
Asdrubal Cabrera - SS, Leones del Caracas: 2-for-4, 2 R, HR, 2 RBI, BB. Cabrera connected and went yard for his first homer in winter ball play this offseason. He currently has a 6-game hitting streak and has hit safely in 12 of his last 13 games.
Jayson Nix - 3B, Senadores de San Juan: 0-for-3, R. Nix returned to the lineup for the first time in ten days after being sidelined with a minor injury after being hit by a pitch on December 8th. He is still struggling with the bat as he is now only 2-for-27 (.074) in 8 games out in Puerto Rico.
Roberto Perez - C, Indios de Mayaguez: 1-for-3, BB. Perez with a solid night once again reaching base in two of his four plate appearances and playing very good defense. He is not flashy but you have to like his .483 OBP in Puerto Rico so far in 12 games.
Ezequiel Carrera - CF, Navegantes del Magallanes: 0-for-4, R, K. Carrera's modest 6-game hitting streak comes to an end, and even with the streak he is hitting just .226/.314/.258 in his last ten games.
Juan Apodaca - C, Aguilas del Zulia: 1-for-3, RBI, 2 K. It was a hit-or-miss night for Apodaca as the one time he connected he got a hit and the two times he did not he struck out. He now has 10 strikeouts in his last 20 at bats.
User Comments
No comments currently. Be the first to comment!