Around the Farm: December 30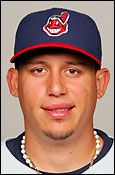 (Photo: MLB)
Here is a quick recap of how the players in the Cleveland Indians' system did in fall/winter league action on Thursday December 30th:
Asdrubal Cabrera - DH, Leones del Caracas: 0-for-2. Cabrera had a rough end to his campaign out in Venezuela as he went hitless in 6 of his last 7 games. He finished just 2-for-24 at the plate in those final 7 games. Even with the poor finish he was still able to get over 100 valuable at bats to make up for some lost time in the 2010 season.
Jerad Head - RF, Gigantes de Carolina: 0-for-3, BB, K. Head's second game after a week long layoff was no better than his first game back as he was hitless once again. He finished the Puerto Rico regular season just 2-for-18 in his last 5 games.
User Comments
No comments currently. Be the first to comment!