Around the Farm: January 15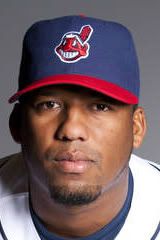 Fausto Carmona
Around the Farm (ATF) takes a quick look at some of the daily performances by Indians prospects. This is a special winter ball version of ATF that recaps all the offseason action by Indians players in the Caribbean Leagues. The positions listed below are where the player was playing in the game.
Here is the rundown of what Indians players in winter ball did yesterday.
Australian Baseball League
Andrew Campbell (LF, Brisbane Bandits):

1-for-4. That is now 3 games in a row Campbell has gotten a hit and now 14 of his last 15 games that he has had at least one hit in a game. In his last 3 games he is 6-for-12 with 4 runs scored, 1 walk and no strikeouts.

Ryan Battaglia (C, Brisbane Bandits):

1-for-3, R, HR, 2 RBI. Battaglia pounded his first homer out in the ABL, and now 4 of his 6 hits have gone for extra bases. He is only hitting .222, but thanks to the extra base hits he has a .720 OPS.
Dominican Republic Winter League
Fausto Carmona (SP, Aguilas Cibaenas):

5.2 IP, 1 H, 2 R (1 ER), 1 BB, 9 K, 0 HR. Carmona picked up the win for his Aguilas team in the playoffs with his best performance by far this offseason. Not only did he rack up 9 strikeouts, but he also got 9 groundballs to boot. He has been inconsistent this offseason pitching in the Dominican Republic, so hopefully he can build on this performance.

Eric Berger (RP, Gigantes del Cibao):

0.2 IP, 0 H, 0 R, 0 BB, 1 K. Berger with another good outing and he has now pitched in 4 playoff games in the Dominican Republic and been near perfect. In those 4 games he has pitched a total of 3.0 innings and allowed no runs, 1 hit, no walks, and has 4 strikeouts.
Follow Tony and the Indians Prospect Insider on Twitter @TonyIPI. Also, his latest book the 2011 Cleveland Indians Top 100 Prospects & More is available for purchase for $20.95 to customers in the US (shipping and handling extra).
Follow Tony and the Indians Baseball Insider on Twitter @TonyIBI. Also, his new book the 2014 Cleveland Indians Baseball Insider which profiles the Indians' Top 100 Prospects and more is available for sale.
User Comments
No comments currently. Be the first to comment!