Around the Farm: January 18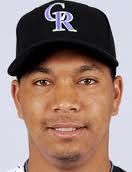 Around the Farm (ATF) takes a quick look at some of the daily performances by Indians prospects. This is a special winter ball version of ATF that recaps all the offseason action by Indians players in the Caribbean Leagues. The positions listed below are where the player was playing in the game.

Here is the rundown of what Indians players in winter ball did yesterday.

Venezuela Winter League
Jose Lopez (3B, Caribes de Anzoategui): 0-for-4. Ouch. Lopez has now gone hitless in 3 straight games and is currently in an 0-for-14 stretch at the plate. With play in Venezuela wrapping up this weekend, he is not finishing up very strong as he is hitting just .191 in 12 playoff games, which is a far cry from how well he did in 43 games during Venezuela's regular season when he hit .310 and was very productive at the plate. Because of his right-handed bat, versatility and Major League experience he has a decent chance to make the Indians opening day roster as a player off the bench, but if he is to make the team he is going to need to play extremely well this spring for the Indians and benefit from a few injuries as well.
Follow Tony and the Indians Prospect Insider on Twitter @TonyIPI. Also, his latest book the 2011 Cleveland Indians Top 100 Prospects & More is available for purchase for $20.95 to customers in the US (shipping and handling extra).
Follow Tony and the Indians Baseball Insider on Twitter @TonyIBI. Also, his new book the 2014 Cleveland Indians Baseball Insider which profiles the Indians' Top 100 Prospects and more is available for sale.
User Comments
No comments currently. Be the first to comment!