Around the Farm: January 19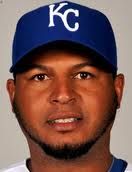 Around the Farm (ATF) takes a quick look at some of the daily performances by Indians prospects. This is a special winter ball version of ATF that recaps all the offseason action by Indians players in the Caribbean Leagues. The positions listed below are where the player was playing in the game.


Here is the rundown of what Indians players in winter ball did yesterday.

Australian Baseball League
Andrew Campbell (LF, Brisbane Bandits): 0-for-4, BB, 3 K, PO. The three day lag between Brisbane's last game on Sunday and their game last night apparently cooled down the hot hitting Campbell. Coming into the game he had hits in 14 of his last 15 games and was 6-for-12 in his last 3 games.
Ryan Battaglia (C, Brisbane Bandits): 0-for-4. Battaglia hit his first homer in his last game on Sunday. The bad news is he went hitless in 4 at bats, though the good news is he did not strike out in any of those at bats as he was averaging a strikeout every 2.7 at bats coming into the game.
Robinson Tejeda (RP, Tigres del Licey): 0.1 IP, 1 H, 0 R, 0 BB, 0 K. Tejeda faced just two batters, but a lot happened while he was on the mound. He came into the game in the 4thinning with 1 out and runners on 1st and 3rd. The first batter he faced hit a sacrifice fly that scored a run (not charged to him) and while pitching to the second batter the runner that was on first stole second and scored because of a throwing error by the catcher that allowed him to advance to third and a throwing error by the center fielder that allowed him to score. The second batter eventually singled and Tejeda was replaced. And so ends his winter ball season.
Jose Lopez (3B, Caribes de Anzoategui): 1-for-3, R, RBI, BB. A better outing for Lopez who reached base in 2 of his 4 plate appearances and also ended an 0-for-14 stretch with a single in the 2nd inning.
Follow Tony and the Indians Prospect Insider on Twitter @TonyIPI. Also, his latest book the 2011 Cleveland Indians Top 100 Prospects & More is available for purchase for $20.95 to customers in the US (shipping and handling extra).
Follow Tony and the Indians Baseball Insider on Twitter @TonyIBI. Also, his new book the 2014 Cleveland Indians Baseball Insider which profiles the Indians' Top 100 Prospects and more is available for sale.
User Comments
No comments currently. Be the first to comment!