Around the Farm: January 3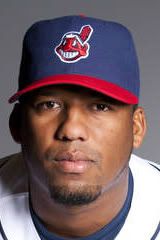 Fausto Carmona
Around the Farm (ATF) takes a quick look at some of the daily performances by Indians prospects. This is a special winter ball version of ATF that recaps all the offseason action by Indians players in the Caribbean Leagues. The positions listed below are where the player was playing in the game.
Here is the rundown of what Indians players in winter ball did yesterday.
Dominican Republic Winter League
Fausto Carmona (SP, Aguilas Cibaenas):

5.2 IP, 5 H, 4 R (2 ER), 1 BB, 4 K, 1 HR. Carmona actually pitched much better than his line score suggests. He made one real mistake all night serving up a 2-run homer in the 4th inning, but we the victim of some bad defense and relief pitching in the 6th that lead to 2 additional unearned runs. His shortstop booted a ball to start the 6th inning and then after a strikeout, throwing error, fly out, and walk he was removed from the game with two outs in the inning. The reliever who replaced him promptly came in and served up three straight singles thus allowing both of Carmona's inherited runners to score.
Puerto Rico Winter League
Roberto Perez (C, Indios de Mayaguez):

0-for-1, 2 BB. Perez is a walk machine. There is no question about that after 62 walks in 284 at bats this season at High-A Kinston and 80 walks in 378 at bats in 2010 at Low-A Lake County. He also has 18 walks and 14 strikeouts this offseason in 64 combined at bats between the AFL and Puerto Rico. But he still needs to start hitting as he is just 14-for-64 (.219) this offseason at the plate.
Jose Lopez (3B, Caribes de Anzoategui):

0-for-1, BB, K. After drawing a walk in the 4th inning and getting on base he was removed from the game. That is an odd time to remove a regular from the lineup, especially in the second game of a playoff series. Lopez probably hurt himself during his at bat or from a play in the field in the previous inning. No confirmation why he was removed yet, but it will be interesting to see if he plays on Wednesday night.
Follow Tony and the Indians Prospect Insider on Twitter @TonyIPI. Also, his latest book the 2011 Cleveland Indians Top 100 Prospects & More is available for purchase for $20.95 to customers in the US (shipping and handling extra).
Follow Tony and the Indians Baseball Insider on Twitter @TonyIBI. Also, his new book the 2014 Cleveland Indians Baseball Insider which profiles the Indians' Top 100 Prospects and more is available for sale.
User Comments
No comments currently. Be the first to comment!