Around the Farm: June 12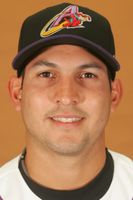 Paolo Espino (MiLB.com)
Around the Farm takes a quick look at some of yesterday's performances by Indians prospects throughout the system. The positions listed below are where the player was playing in yesterday's game.
Paolo Espino - SP, Akron: 6.0 IP, 6 H, 2 R/ER, 1 BB, 4 K
Espino made the spot start on Sunday for lefty Matt Packer who is on the disabled list with a calf injury (he's not hurt, just a paper move). Steven Wright would have likely started, but he had to go five innings on Saturday night when T.J. McFarland could not come out when the game was delayed by rain for close to an hour after one inning of play. Espino stepped up and pitched well, something he has done all season at Akron where in 14 games (2 starts) he is 3-0 with a 2.91 ERA (52.2 IP, 42 H, 10 BB, 56 K). His performance to date this year and in his minor league career should have him in Columbus, but the Indians' unreal pitching depth has pushed him back a level. He may not be a priority prospect, but he has proven to be good pitching depth. Some housecleaning could occur soon at Columbus with some guys like Justin Germano for instance being let go, and when that does it could mean Espino moves up.
Jeanmar Gomez - SP, Columbus: 6.0 IP, 5 H, 1 R/ER, 3 BB, 5 K
Another fine performance for Gomez, and now his fourth start in a row where he allowed one run. In 9 starts for Columbus he is now 6-1 with a 2.28 ERA (59.1 IP, 50 H, 21 BB, 48 K). He is proving to be nice insurance and depth at Columbus, and his performance is finally starting to match the talent/potential. At the moment there are no open rotation spots in Cleveland as Carmona, Carrasco, Masterson, Tomlin, and Talbot all appear to have good holds on their spots, but if someone goes down injured or anyone not named Carmona slides with their performance, then Gomez should be the first option called up. It would be nice if the Indians had this kind of hitting depth to pull from huh?
Ezequiel Carrera - CF, Columbus: 2-for-3, 2 R, 2B, 2 BB. He continues to do a good job being a table-setter at the top of the Clippers lineup reaching base four times in five plate appearances.
Jason Kipnis - 2B, Columbus: 2-for-5, 2 R, 3B, 2 RBI, 2 K. That's three multi-hit games in a row. Now with a slash line of .295/.370/.494 and could be on verge of callup to Cleveland.
Shelley Duncan - LF, Columbus: 2-for-5, R, HR, 3 RBI. Still a head-scratcher sending him down and keeping Kearns in Cleveland.
Luis Valbuena - SS, Columbus: 1-for-3, R, 2B, 2 BB. One game after getting his 19-game hitting streak snapped he bounces back by reaching base three times.
Jared Goedert - 1B, Columbus: 2-for-5, R, 2B, HR, 3 RBI, K. Goedert now with six homers in 22 games. Possible bench option in near future for Tribe?
Justin Germano - RP, Columbus: 3.0 IP, 5 H, 3 R/ER, 1 BB, 4 K. Can't get guys out in AAA either. ML opportunity in future looks like toast now.
Chun Chen - C, Akron: 2-for-5, R, 2B, RBI, 3 K. Solid .284 average, but struggling at the plate with just a .327 on-base% and 59 strikeouts in 208 at bats. Could strikeout 150 times this year.
Matt McBride - DH, Akron: 2-for-3, RBI. He may not like being in Akron, but he has been a pro and having another solid year.
Kyle Bellows - 3B, Akron: 1-for-4, R, K. Easily one of the biggest disappointments of the season so far, though hopefully bounces back in second half.
Matt Langwell - RP, Akron: 1.0 IP, 1 H, 0 R, 0 BB, 1 K. Just continues to put up great numbers every year and is finally starting to get the respect he deserves.
Casey Frawley - 2B, Kinston: 2-for-11, RBI, 6 K. When you play 23 innings in one game you are going to rack up the at bats. Amazingly had 6 strikeouts in one game, but got the big hit to win it.
Roberto Perez - C, Kinston: 4-for-9, 3 R, 2B, HR, RBI, BB, K. He hit his first long ball of the year and continues to swing a hot bat where in his last ten games he is hitting .462/.523/.692.
Brett Brach - SP, Kinston: 6.0 IP, 3 H, 1 R/ER, 2 BB, 3 K. He is not flashy and doesn't impress you when you see him, but Brach just continues to perform and get results.
Francisco Jimenez - RP, Kinston: 5.0 IP, 2 H, 0 R, 2 BB, 8 K. What an outstanding showing in relief and picking up the team in extra innings when they needed length out of the pen.
Jesus Aguilar - 1B, Lake County: 2-for-4, R, 2B. A nice solid first half for the big, powerful first baseman. Turns 21 years old at the end of the month.
Ronny Rodriguez - SS, Lake County: 1-for-4, R, HR, 2 RBI, K. The numbers overall may not be pretty, but R-Rod has a nice swing and lots of potential.
Alex Lavisky - C, Lake County: 0-for-4, 2 K. He is learning a lot from the school of hard knocks in his first pro season. Now hitting under .200 (.198) and with 65 strikeouts in 177 at bats.
Michael Goodnight - SP, Lake County: 3.0 IP, 2 H, 3 ER/R, 4 BB, 2 K. Not a good night for him (sorry, couldn't resist!), especially coming off of two straight scoreless starts and five straight starts allowing one run or less.
Rob Bryson - RP, Lake County: 1.1 IP, 3 H, 1 R/ER, HR, 0 BB, 0 K. A solid outing and return to the mound so far. Could be on the move to Akron or Kinston very soon.
Follow Tony and the Indians Prospect Insider on Twitter @TonyIPI. Also, his latest book the 2011 Cleveland Indians Top 100 Prospects & More is available for purchase for $20.95 to customers in the US (shipping and handling extra).
User Comments
No comments currently. Be the first to comment!