Around the Farm: May 23, 2011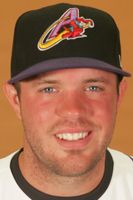 (photo: Akron Aeros)
Around the Farm takes a quick look at some of yesterday's performances by Indians prospects throughout the system. The positions listed below are where the player was playing in yesterday's game.

Toru Murata made one mysterious start last night, in a move that Tony and I were watching very closely. Drew Pomeranz was scheduled to make his next start last night, and the decision to start Murata didn't come until immediately before game time. The only thing confirmed in all this is that Pomeranz isn't hurt, and he's on schedule for Saturday's start. Was Pomeranz missing because of personal reasons, or was it a travel day for the 2010 #1 pick? Like I said, it's just speculation for now, but imagine this rotation Akron: Drew Pomeranz, Joe Gardner, Austin Adams, Kelvin De La Cruz and T.J. McFarland. All Five pitchers find themselves in Tony's 2011 top 50. On with the ATF:

Tim Fedroff, LF, Akron: 2-4, 2 R, 1 2B, 1 3B, 1 RBI:

The writing is on the wall for Cleveland management to move Fedroff up the organizational chain, and if they can't see it, Fedroff's nightly statistical assault will likely open up their eyes. Fedroff went off again last night, and added to his 17-game hit streak. This isn't one of those slap-hit streaks either. During the streak, he's hitting .492 (32-65), with six doubles, two triples, 14 RBI and 13 Runs. He's currently leading the Eastern League in hitting by 16 points. Fedroff's time in Akron may be fleeting, or at least it should be.
Jason Kipnis-2B, Columbus: 1-3, 1 2B, 1 RBI, 1 K: Kipnis may be starting to heat up. His average is back up to .285, and he's on a current seven game hit streak.
Cord Phelps-DH, Columbus: 3-4, 2 2B, 1 RBI: Phelps continues to make his case for being a summer call-up to the Tribe in some sort of utility role. He's currently on an eight-game hit streak, and is 5-9 in his last two games, to bring his average up to .311.
Lonnie Chisenhall-3B, Columbus: 2-4, 1 2B: Like Kipnis, Chisenhall may be heating up as well. He's currently on a three-game hit streak, and is 4-9 in his last two games.
Luis Valbuena-SS, Columbus: 2-4, 1 R, 1 K: Valbuena may have been motivated by his brief call up to the show. He's gone 4-8 in his last two games.
Luke Carlin-C, Columbus: 2-3, 1 R, 1 RBI: Carlin, one of the hottest players on the team in April, hadn't had a hit since May 14th. It was good to see a good game from the Tribe's "Crash Davis."
Jeanmar Gomez-SP, Columbus: 8 IP, 7 H, 2R/ER, 2 BB, 3 K, 1 HR, W (4-1): The lanky righty had his first good start since being sent down, and a game-shortened complete game at that.
Matt McBride-RF, Akron: 1-4, 2 R, HR, 2 RBI, BB: McBride is riding a four-game hit streak, and his homer was his second in as many days.
Chun-Hsiu Chen-C, Akron: 3-5, 1 R, 3 2B, 2 RBI, 1 K: Chen continues to show that last season was no fluke. He has hits in seven of his last ten, with three of those games of the multi-hit variety.
Karexon Sanchez-2B, Akron: 2-3, 2 R, 1 HR, 2 RBI, K: At his best, Sanchez is a super-utility guy that has speed and power. At his worst, he's streaky and can disappear. Let's hope this is Sanchez at his best, and not the Mendoza-line player he's been all season.
Beau Mills-PH/1B, Akron: 1-1, 1 R, 1 2B, 2 RBI: Shhh, Mills is on a three-game hit streak, and is batting .333 six games into his 2011 season, and that's all I have to say about that.
Kelvin De La Cruz-SP, Akron: 5 IP, 6 H, 3 R/ER, 2 BB, 6 K, W (3-3): DLC gets the win, but it's another shaky performance.
Tyler Holt-CF, Kinston: 1-4, 1 R, 1 BB: Not a special night for Holt, but he does continue his on-base streak. It's currently at 23-games, and 12 away from tying Fedroff's K-Tribe record.
Casey Frawley-SS, Kinston: 1-3, 2 R, 2 BB, 1 K: Frawley is starting to hit the ball well, and is riding a five game hit streak. He's showcasing power (2-homers during the streak) and with a little more patience like he showed off last night, he may develop into a decent prospect.
Bo Greenwell-DH, Kinston: 2-5, 1 K: While Greenwell hasn't been hitting the ball very well (.189 in his last ten games), he has hits in five of his last six games. Last night's game was his first multi-hit game, so perhaps it's a sign of a slump-breaker.
Jeremie Tice-1B, Kinston: 2-3, 2 R, 1 HR, 3 RBI: Welcome back, Mr. Tice. The K-Tribe offense certainly could use you. Tice hasn't played since April 12th, so this was a welcome return for sure.
Toru Murata-SP?, Kinston: 3 2/3 IP, 2 H, 1 BB, 5 K: Did I mention that Murata was called on at the last second? A good spot start for a guy that may, or may not be getting ready to move into the rotation full-time.
Adam Miller-RP, Kinston: 1 IP, 1 K: Ho-hum, a perfect inning for "Atom." Nobody on the roster deserves to move up more than Miller, but Tribe management remains cautious.
Preston Guilmet-Closer, Kinston: 1 IP, 1 K, S (9): Another perfect inning for Guilmet, who has now gone 16 2/3 innings this season, and still not given up a run. Would be interested to see Guilmet get called up, so Miller could apply his trade as a closer.
Carlos Moncrief-CF, Lake County: 2-4, 1 R, 1 2B, 1 HR, 2 RBI: Moncrief has a huge night in a Lake County win.
Argenis Martinez-2B, Lake County: 2-5, 1 R, 1 2B, 1 3B, 2 RBI, 1 K: Martinez did his best Tim Fedroff impression tonight, with a double and a triple.
Follow Tony and the Indians Prospect Insider on Twitter @TonyIPI. Also, his latest book the 2011 Cleveland Indians Top 100 Prospects & More is available for purchase for $20.95 to customers in the US (shipping and handling extra).
Jim is currently the senior editor and Columnist, as well as the host of IBI's weekly online radio shows, Smoke Signals and Cleveland Sports Insiders. You can follow Jim on Twitter @Jim_IBI, or contact him via e-mail at jpete@indiansprospectinsider.com.
User Comments
No comments currently. Be the first to comment!