Around the Farm: November 27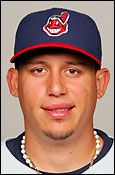 Photo: MLB
Here is a quick recap of how the players in the Cleveland Indians' system did in fall/winter league action on Saturday November 27th:
Asdrubal Cabrera - SS, Leones del Caracas: 1-for-6, 2 K. Cabrera made his winter league debut and got to play two in the process as Caracas played a double-header. He played SS in Game 1 and then was the DH in Game 2.
Jerad Head - 1B, Gigantes de Carolina: 1-for-4. Head with at least one hit in four of his last five games. In his last 10 games he is hitting .237/.302/.368.
Luis Valbuena - 2B, Cardenales de Lara: 0-for-5. Valbuena has been on an interesting streak of late as in the games he has started he has multiple hits in every other game, and in the games inbetween he has gone 0-fer in every game.
Juan Apodaca - C, Aguilas del Zulia: 1-for-2, RBI, BB. Apodaca with a rare second start in the same week, and he responds with a solid performance at the plate. Hitting just .219/.306/.313 in 32 at bats in Venezuela.
User Comments
No comments currently. Be the first to comment!