Around the Farm: October 19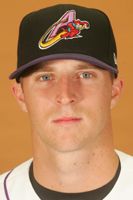 Here is a quick recap of how the players in the Cleveland Indians' system did in fall/winter league action on Tuesday October 19th:
Cord Phelps - 3B, Peoria Javelinas: 2-for-5, R, 3B, K. Phelps got in his first game action at third base and made a fielding error in his first game. He hit from the leadoff spot in the lineup.
Jason Kipnis - 2B, Peoria Javelinas: 1-for-4, 2B, RBI. Nothing spectacular on this day, but good to see him chip in and not take another 0-fer.
Bryan Price - RP, Peoria Javelinas: 0.2 IP, 4 H, 3 R (3 ER), 2 BB, 2 K. A rough outing for Price as he threw 33 pitches but only 18 for strikes. He was handed a 2-1 lead in the 6th inning and he left with a blown save.
Jared Goedert - 3B, Leones del Caracas: 2-for-2, 2B, 2 BB. Goedert had a nice game getting on base in all four plate appearances. He is off to a nice start so far as in six games (22 at bats) he is hitting .318/.444/.455 and has a solid walk (5) to strikeout (6) ratio.
User Comments
No comments currently. Be the first to comment!